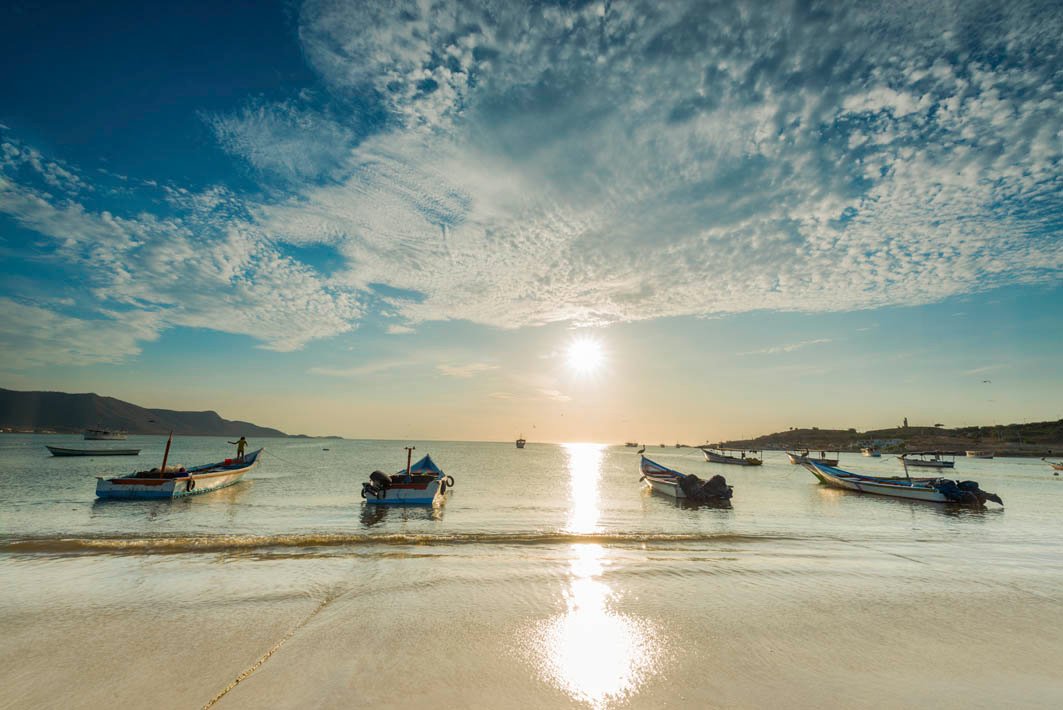 Margarita: shines again
The horizon off Margarita Island looks calm. The Venezuelan Caribbean island is once again polishing up the infrastructure and excellent hospitality sector that made it so famous in the not so distant past.
By: Arianna Arteaga Quintero – @arianuchis
Photos: Shutterstock
If there is one place Venezuelans like to visit again and again, it's Margarita. There was a time when Margarita was a pearl that shone the length and breadth of the Caribbean. The island's incredible natural beauty, duty-free prices, and mammoth festivals made it the vacation destination of choice for generations of Venezuelans. Many purchased seafront properties, becoming "navegaos" (newcomers), as the islanders dubbed them. Venezuelans weren't the only ones to appreciate the island's charms. Margarita also welcomed many foreign tourists, some of whom decided to stay.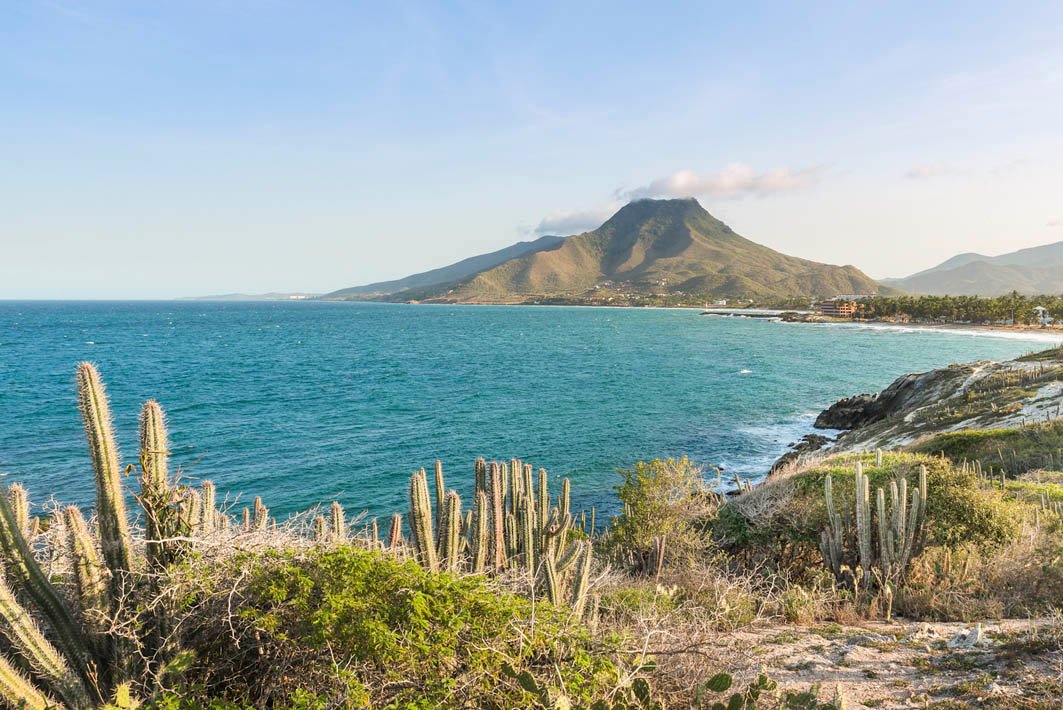 Then the economic crisis reached its nadir in Venezuela and tourism dropped off. The fishing industry tried to keep the island afloat, but incoming flights stopped, the navegaos returned to the mainland or emigrated, and the beaches, hotels, and shopping malls emptied. Just as circumstances began to allow domestic tourism to resume, the pandemic threw its ominous shadow over the island. 
Even so, Margarita never went completely under. As seafaring people of faith, the inhabitants carefully cultivated the land and their traditions, harkened back to their roots, and found reasons to persist and believe that the storm would pass and that their generous patron saint, the Virgin of the Valley, would protect them. There is now a tangible air of hope; the breeze carries a touch of determination and a cheerful sun shines over Margarita. A few seasons of intense domestic tourism, a wave of Venezuelans deciding to stay and make a life on the island, and repeat visits by foreign tourists have prepared Margarita to shine again. What is more, Copa Airlines flights to the neighboring port of Barcelona will undoubtedly contribute to this new awakening. 
The Caribbean is the Place to Be
Margarita is synonymous with fascinating beaches. The most popular lie half an hour by car from Porlamar, toward the northeast. Playa El Agua has a good selection of hotels and Playa Parguito also offers full-service beach clubs. A short walk along the broad beaches will put you under a palm tree, giving you the feel of being on a deserted island. The beaches on this coast are known for their warmth, waves, and shallow waters. 
Further along is Manzanillo, a fishing beach with a deep, gentle sea and impressive sailing. Services are modest, but the restaurants serve the freshest seafood. Toward the northwest, you'll find the tranquil waters of Playa Zaragoza and Playa Caribe. About an hour away, there is Juan Griego, famous for the best sunsets in all of Margarita, which can be seen from the beach or La Galera, one of the island's colonial forts. 
If want to go sailing, then you need to head to El Yaque, on the southern part of the island, minutes from the airport and about half an hour from Porlamar. Conditions are perfect for kitesurfing and windsurfing. You'll be spoiled for choice when it comes to lodging, not to mention all the services, water sports schools that rent equipment, and restaurants like Casa Mare. 
On the Macanao Peninsula to the west are Punta Arenas, renowned for its sunsets, broad beach, and restaurants, and the special, virgin beach Playa La Pared. If you've come this far, make time to continue on to Laguna de La Restinga.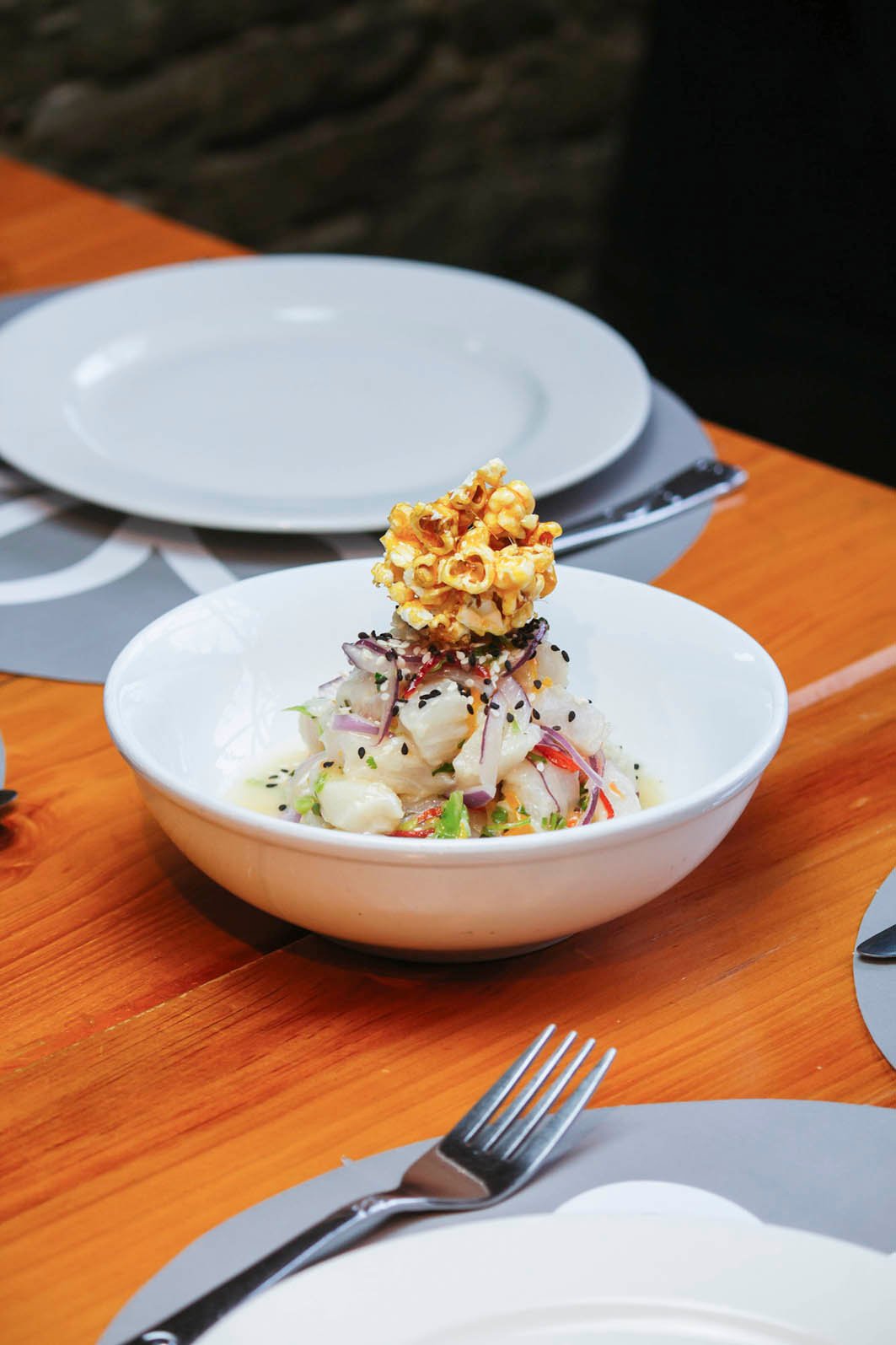 The island's economic centers, Porlamar and Pampatar, are home to most of the dining, entertainment, and cultural options. 
If you want to be in the thick of the action in Porlamar, seek out Aldonza Manrique Street, where new businesses seem to pop up every week. This busy thoroughfare boasts international fine dining, fast food, informal restaurants, and souvenir shops. 
Apostadero (@apostaderofusion) serves classic cuisine. New businesses include Mahalo Gastroplace (@mahalogastroplace), which serves a varied menu in an informal atmosphere. Carissa (@carissarestaurant) is small, delicious, and a bit more elegant. For ice cream, I would go for Nice Cream, available at the Subway on this street.  
The La Vela (@lavelacc) and the Costa Azul shopping malls boast the island's most opulent shops, along with the famous Sambil de Margarita (@sambilmargarita), where you can shop, see a movie, and eat at the food stalls. As with the beaches, ask the local inhabitants for suggestions; Venezuelans are delighted to chat and share their thoughts and recommendations. Make the most of this agreeable Venezuelan trait. 
Pampatar is packed with bars and restaurants in an atmosphere that crosses a town square with a seaside resort. One must-see is the San Carlos de Borromeo Fortress; the ocean panorama from the cupolas is spectacular. It stands just across from the plaza.
If you want trendy and sophisticated, make sure to try Amaranto (@amarantomgta), Portarossa (@portarossamgta), and Juana La Loca (@juanalalocarest). The recently reopened Casa Caranta (@casacarantamgta) is an all-time classic housed in a lovely colonial mansion. If you want to savor traditional fried fish with fried plantains and coleslaw and delicious, uncomplicated seafood, visit Pola (@polarestaurant) and head up to the terrace for a wonderful view of Pampatar Bay.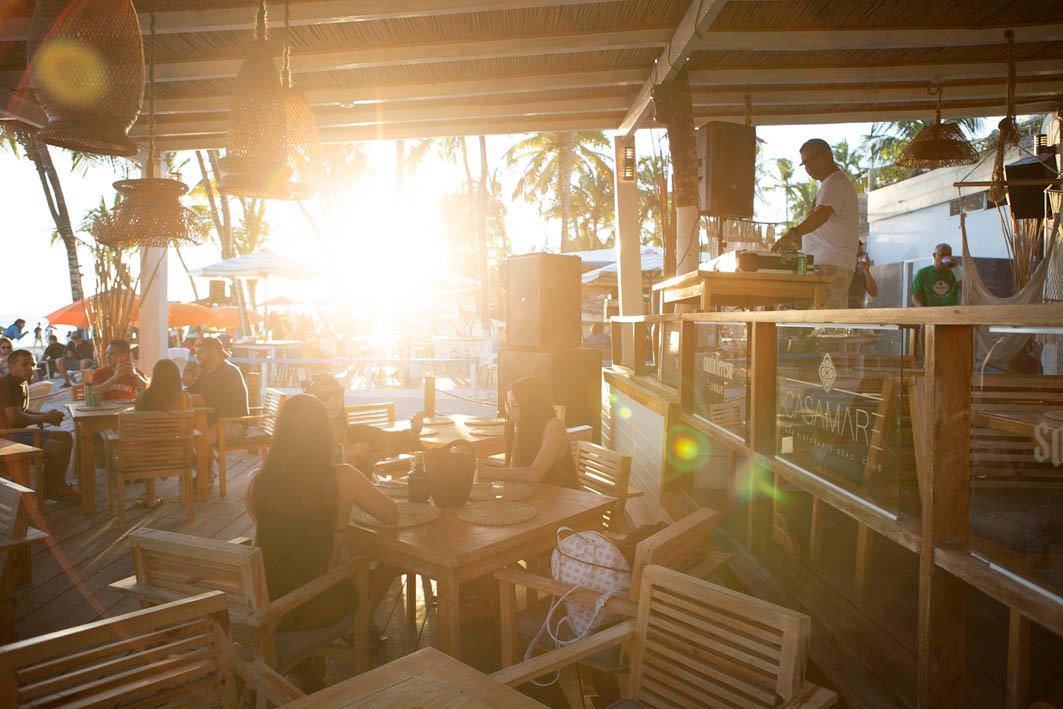 Don't forget to visit Velero (@velerobeachclub), the latest beach club and restaurant. The chef is fantastic, and it's a pleasant place day or night. 
There is also ConTenedor Plaza (@contenedorplazapampatar), a space that offers different types of food from shipping containers grouped around the informal bar. Food Kart (@foodkartmgta) presents a similar concept but on a larger scale. In addition to food and beverages, visitors can enjoy live music, a go-kart track, and a children's playground. 
And speaking of parks, Porlamar's Diverland (@diverland_ne) is a time-honored choice. The roller coaster and Ferris wheel are city icons.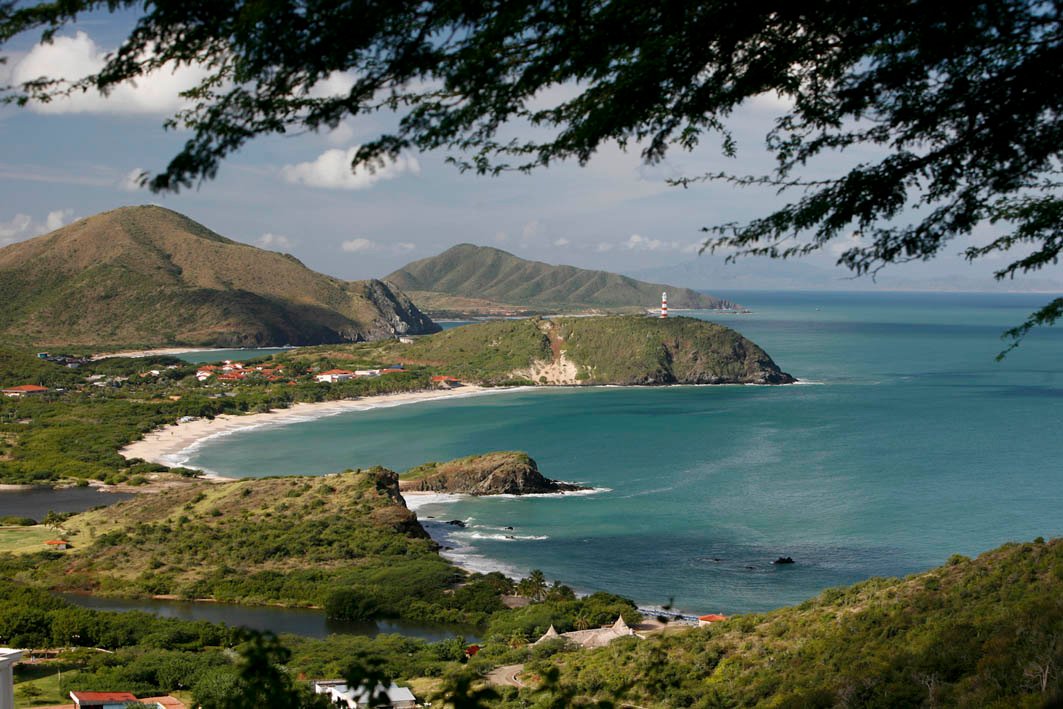 Exploring small towns is another a good way to spend time on Margarita Island. With its church, tree-lined Plaza Bolívar, and narrow and colorful colonial streets, La Asunción is an enchantingly walkable town. 
Look up La Empanadería (@laempanaderiamgta) before you arrive. This tree-shaded establishment pays homage to the ultimate in local cuisine.  
Santa Ana is likewise an enclave of tranquility, with its picturesque houses, the oldest church on the island, and its own Plaza Bolívar.  
El Cercado is known for artisan clay pieces that are a cultural symbol of the island. Stop along the way to watch basket or hammock making; these jewels of Margarita tradition are well worth carrying home.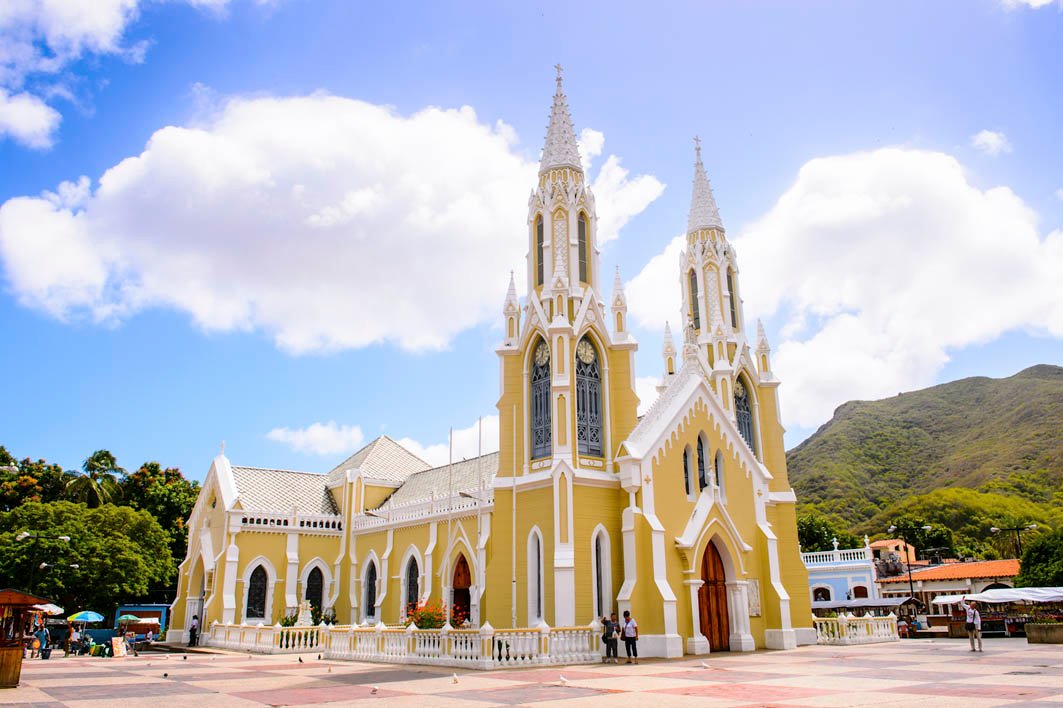 While the island faces significant logistics challenges, there will always be nature, happiness, drive, and spirit. This island doesn't give up. It was able to go back to the earth, its roots, its culture, and its iconic products, such as sweet chile and the local tomato. It understood the importance of tourism and is now experiencing a rebirth on a different level, leaving it agreeable and brimming with self-confidence.
What You Need to Know Before Going to Margarita
Venezuela's official currency is the Bolivar, but dollars are widely accepted. However, there is little change, so bring bills in small denominations. Most large businesses accept international credit cards. 
You can get a taxi or rent a car at the airport. It's a good idea to try to contract the same taxi driver for the return journey. You can also download the Yummy Rides app.  
Take reasonable safety precautions and always ask the local inhabitants for advice.  
Don't leave Margarita without trying the island's iconic empanadas: a range of fillings tucked into dough with a touch of sweetness and crunch.