Barquisimeto: A Symphony of Colors, Flavors, and Passions
If you travel to Copa Airlines's new destin-ation, Barquisimeto, get ready to fall in love with the sunsets. They create a veritable symphony of colors.
By Martha Beatriz Rodil
Photos: Rodolfo Pimentel y Héctor Segura
Barquisimeto, the capital city of the state of Lara, is the music capital of Venezuela and the home of the guaros, as the people of Lara are known. I wasn't born here, but rather transplanted. In this corner of the world, you'll fall in love with the sunsets, which create a symphony of colors that paint music across the sky. As if by magic, you can choose your preferred weather and visit landscapes of extreme contrasts, from mini-deserts to Andean mountains. You'll experience the explosion of a thousand flavors across your palate. Everyone will tell you about the champion baseball team, the Lara Cardinals, and, as a gift to make your trip perfect, you'll be blessed by the Divine Shepherdess, who inspires the largest Virgin Mary procession in Latin America. Every January 14th, three million faithful undertake the 5-mile walk. On a global scale, homage to the Divine Shepherdess is exceeded only by México's Virgin of Guadalupe and Portugal's Virgin of Fátima.
Barquisimeto is the music capital of Venezuela and you'll find musical notes lurking in surprising places, drifting off the staff and sneaking into every nook and cranny of the state of Lara. Great music and song festivals were held here during the 1970s and 80s. Lara is the birthplace of several internationally famous musical groups and musicians, such as maestro Alirio Díaz, one of the most influential guitarists of the 20th century.
What would you like? Cold, temperate, or hot? In Lara, you decide. Leave the warmth of Barquisimeto, and in less than an hour you'll feel the freshness of the Andean mountains. Or, if you like, head for semi-arid lands like Bobare. Thirty minutes will take you to the small, rocky desert of Minas Blancas de Yay, which measures about 107,000 square feet. Two hours on the road from Barquisimeto will deposit you on the spectacular beaches of Morrocoy National Park in the neighboring state of Falcón.
A city like Barquisimeto, so balanced, and also very flat, orderly, and structured, had to have monuments of a size worthy of its people and cultural expressions. One example is the Obelisk in the western part of the city, which was constructed in 1952. The rectangular tower stands 246 feet tall, and an inside elevator carries visitors to a viewpoint that provides a panorama of the whole city. The upper part of the monument sports a giant clock that marks only positive moments in regional history.
The heart of the city is home to the spectacular cathedral of Our Lady of Carmen, characterized by sweeping and extremely precise architecture. This unique work from 1968 features two wings that come together in a central tower, topped by a roof formed of acrylic panels. Seen from above, it resembles an upside-down flower. It welcomes the Divine Shepherdess every January 14th.
You can find the Flower of Venezuela monument (a National Cultural Heritage Site) in the eastern part of the city. This magnificent metal work of art is crowned with 16 petals —each measuring nearly 33 feet— that open and close. It served as Venezuela's entry at the Expo 2000 in Hanover, Germany.
Very near the small town of Santa Rosa, to the east of Barquisimeto, stand the House of the Divine Shepherdess (our patron saint) and the imposing Manto de María (Mantle of Mary). The structure is an enormous three-dimensional sculpture of the Virgin Mary. It is an original example of kinetic art, consisting of more than 3,700 pieces of hanging aluminum tubing that give it movement. The sculpture can be viewed from all angles; it is visible from more than 40 miles away. This is at 203 feet high, it is the tallest religious sculpture in the Americas.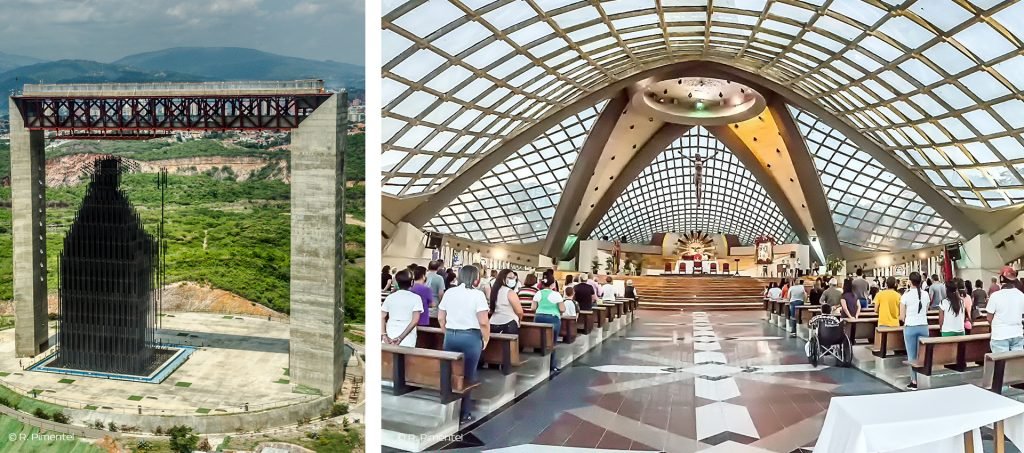 Oh, just thinking about where to eat makes my mouth water!
The most heavenly and succulent traditional goat dish is the mondongo de chivo, a thick soup prepared with the goat's backbone, stomach, feet, and head, along with vegetables. Wash it down with semeruco (acerola cherry juice) or sugarcane juice with lemon. The best place to eat goat is Pavia, about a fifteen minute drive from Barquisimeto.
Lara's artisan liquor is cocuy de penca, a distillate from the agave plant that has won international awards, sometimes even beating out tequila.
Sanare: Mountain Mists Scented with Coffee
Sanare sits at one end of the Andes mountain chain (part of the Lara Andes), 90 minutes from Barquisimeto and 4,455 feet above sea level. This Andean town is known for coffee and mist, along with innumerable cold spring waterfalls. It's the garden of Lara, and it even boasts its own volcano. The most intense revelry enjoyed by these good people are the festivals of the Holy Innocents or "Zaragozas," in which dancers dressed as "loonies" dance and spook visitors. You'll find gorgeous family inns in Sanare, including El Encanto, Altos de Veracruz, Casa Campo, and El Rincón de las Golondrinas.
An hour's drive will take you to Lara's second largest city, which has been named a National Monument for its historic quarter that spreads over some 20 acres. Carora is full of colonial houses and streets. It's a cattle-raising town, with its own hardy Carora breed that is an outstanding milk producer. After admiring the city, don't leave without trying the delicious tostada caroreña (corn fritter with pork and white cheese), accompanied by a refreshing glass of cold local milk, or if you prefer, local red wine from the country's principal wine producer.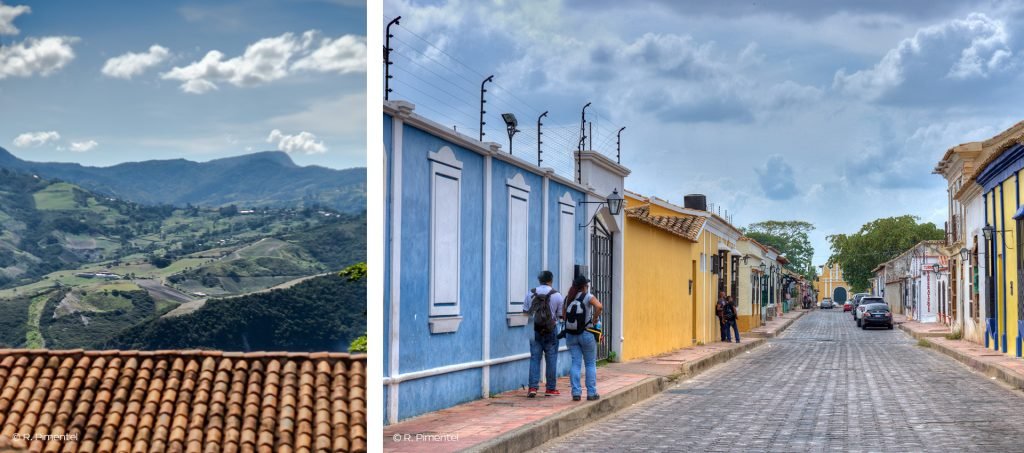 Quíbor: Ancestral Handicrafts
The artisan town of Quíbor is located just 20 minutes from Barquisimeto. It is home to archeological sites that inspire its inhabitants, who offer crafted clay items and replicas of indigenous goods that recall a rich indigenous past. The highway is bordered by artisans and their market, where you can also tuck into a feast of beef soup.
This is a quiet, colorful hamlet of textile arts. Tintorero is less than 20 miles from the capital of Lara. It is an avant-garde hub of hand-crafted fabrics, hammocks, blankets, tablecloths, and decorative fabrics. All of the inhabitants are devoted weavers. I once spoke with an elderly woman who used only white wool in her weaving. I asked her: "Grandmother, why don't you weave in color?" She answered with a gentle smile: "White contains all the colors, my child, and I see them." Perfectly right! White isn't a color, it's the totality of all the colors in spectrum. In August, Tintorero holds its famous International Fair, attended by the world's best textile artisans. It is a benchmark for textile production.
Whoa! Barquisimeto, what a place! Our country has many places to party, but before letting loose, you'll surely want to enjoy the cultural events, theater, concerts, dance, ballet, book fairs, poetry recitals at the Juárez Theater, museums, cultural facilities, and galleries on offer.
At night, Barquisimeto is full of eateries, bars, and pubs where you can delight in a passionate bolero and good wine, not to mention the discos for those who want to dance. You can also try your luck at the Tiuna and Royal casinos on the eastern side of the city.
Everything in Lara is always filled with color, music, celebration, flavor, and culture.
Come and explore. We're expecting you.
Barquisimeto has three modern malls with hundreds of shops, cafés, and restaurants. The Metrópolis shopping center is in the west, and the Las Trinitarias and Sambil shopping centers are in the east. Sambil mall was built in the shape of our national instrument, the cuatro, or four-stringed guitar, in homage to the musicality of the guaros.