Azuero and Portobelo: Two Halves of a Whole
Panama is a place where different people meet and coexist. Panorama of the Americas suggests visits to Portobelo and Azuero, two areas of the country that are deeply steeped in tradition. Visitors can compare these two destinations for an experience that few other countries can match.
By: Juan Abelardo Carles R.
Photos: David Mesa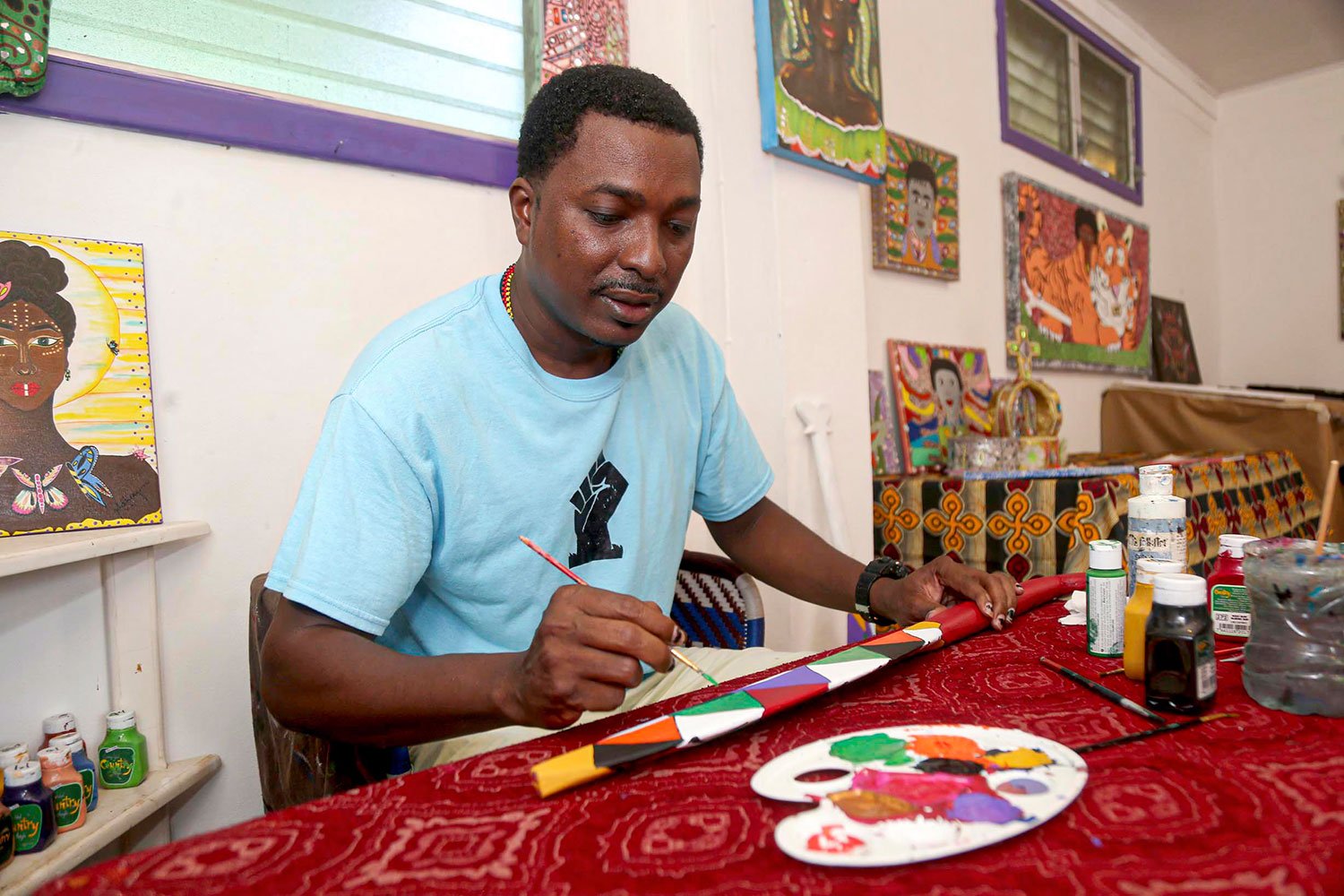 In the old Colonial port of Portobelo, Dámaso Arrocha and Enrique Arias sit in the shade of a doorway and work on their devil masks. hey sometimes sell visitors the red and black masks with white eyes, beards, and large ears that resemble the helmets worn by the European enslavers. They are part of a group of dancers that perform on weekends, beginning on January 1 until Ash Wednesday, and challenge other groups to see who has the best moves. The Devils and Congos Festival is celebrated during Lent.
Enrique Arias (+507 6663 2611) / Damaso Arrocha (+507 6446 6065).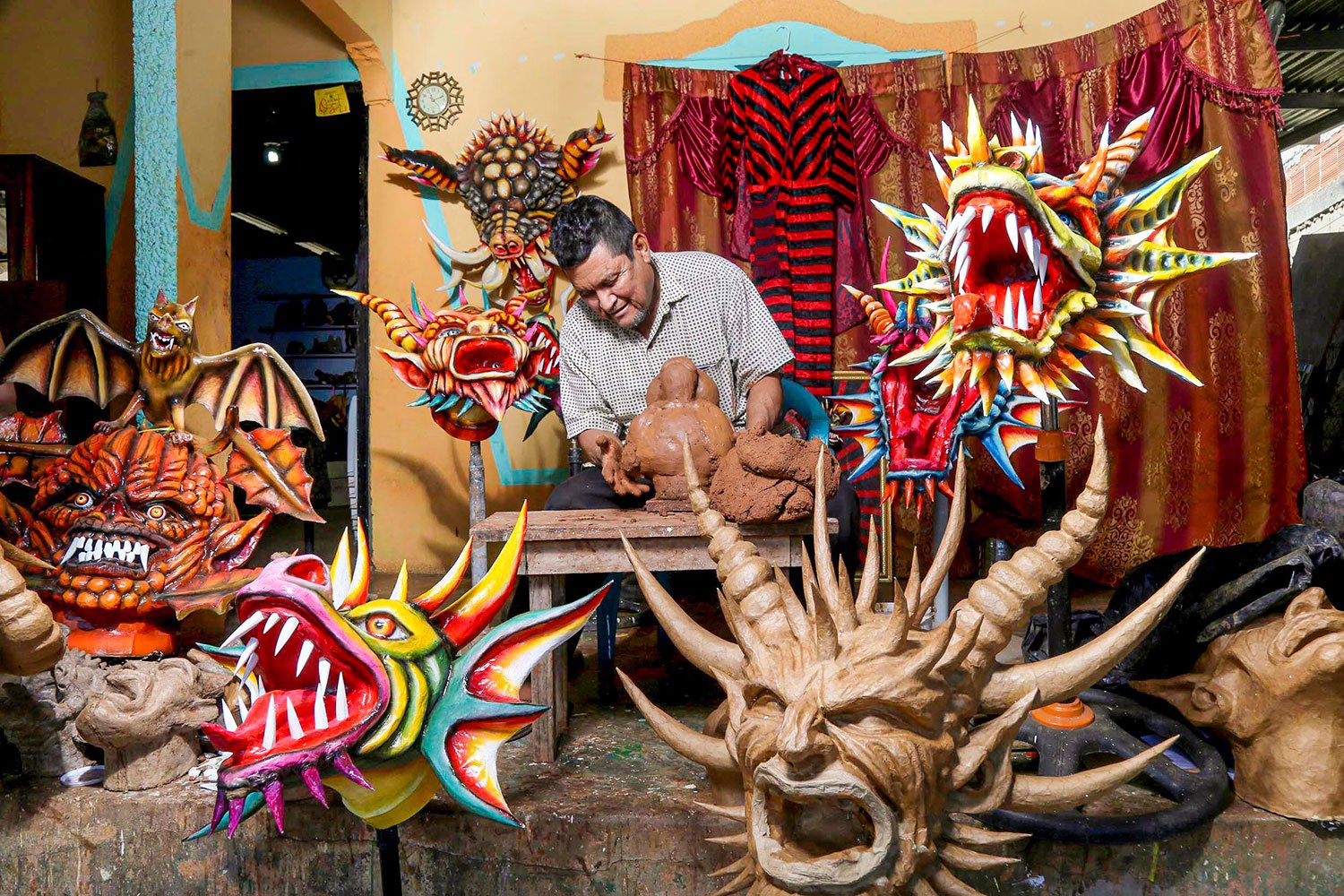 Devils have their moment of glory during Corpus Christi. Even though the festival takes places in La Villa de Los Santos it is in Chitré where mask maker José del Carmen González lets visitors craft their own masks. He works behind the church in the Llano Bonito neighborhood. José also creates other traditional Corpus characters such as the parrampanes and mojigangas.
Jose del Carmen Gonzalez, WhatsApp +507 996 2314 o +507 6524 7702.
Mama Ari understands the legacy of the inhabitants of Portobelo, and she leads a congo dance group focused on passing the tradition down to children. "The congo dance changes us even before we start dancing; we begin to feel closer to our ancestors when we get dressed".
Grupo Congo Mama Ari en Instagram o WhatsApp +507 6693 5690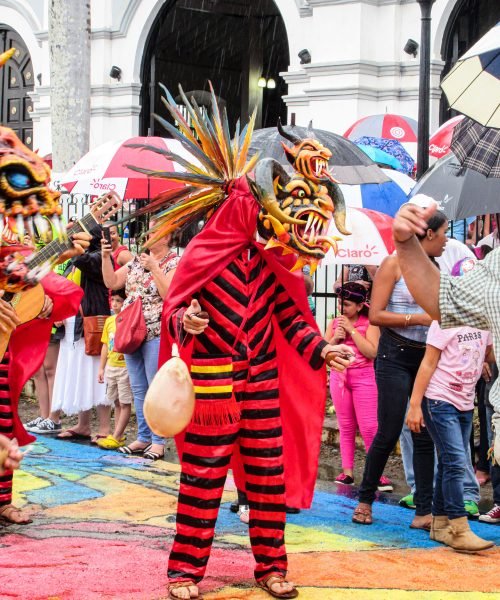 No town in Panama has preserved the traditional Corpus Christi dances each June, better than La Villa de los Santos. The most symbolic one is the battle between the devils and the archangel St. Gabriel. If you aren't able to visit in June, you can get in touch with the Miguel Leguízamo Dance Rescue Association to arrange a performance.
Call Aristides Burgos (cel. +507 6920 2442), at the Miguel Leguízamo Dance Rescue Association.
Creativity on the Doorstep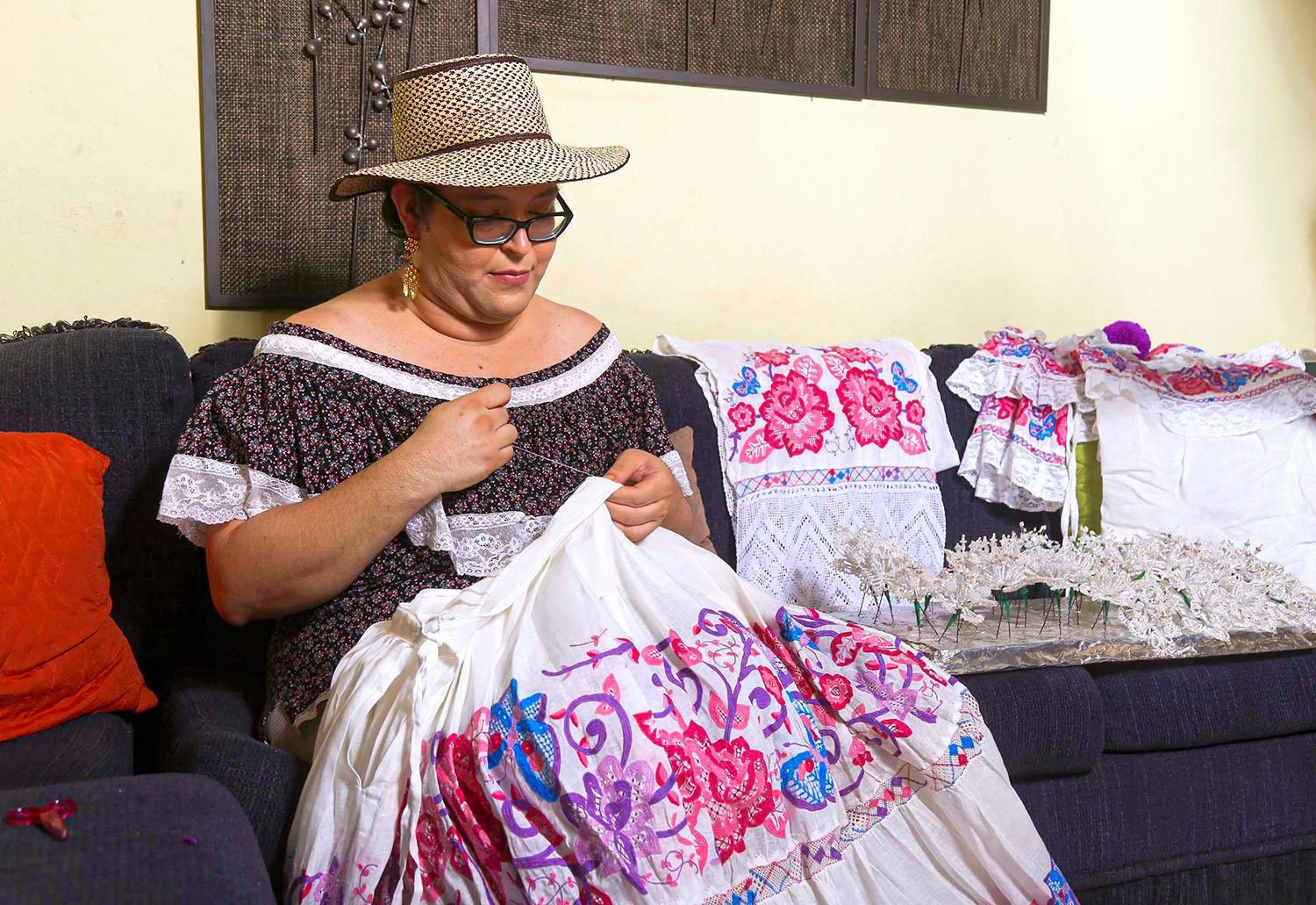 Artisans from Azuero are well-known for creating complex, elaborate, and enduring traditional dresses. n Santo Domingo de Las Tablas, Eufemia Domínguez, or "Dochita," "assembles" Panamanian skirts by hand, bringing together its various components. Dochita's creations are made-to-order, however, in the center of Las Tablas, Lourdes Vásquez sells ruffled blouses, skirts, men's traditional shirts, and shawls.
Lourdes Vasquez (cel. +507 6763 5883) / Eufemia "Dochita" Dominguez (+507 6915 7886).
Starting early in the morning, Manuel Golden, known as "Tattoo," opens the Portobelo workshop and starts to paint. He is a member of a collective of around ten creators who explore topics such as the Diaspora from Africa, their legacy and deities, the struggle for freedom, and their identity. Given advance notice, they can organize art activities for visitors who would like a taste of the artistic side of congo culture. His work is displayed in the Casa Congo gallery.
Delicious Panamanian Cuisine
Nostalgia Tastes like Coconut
Restaurante Ile Oshun Miwa in Portobelo recalls loving home cooking with pickled fish, crustaceans (such as nerite snails or shrimp), octopus with coconut, and clams in white sauce, always served with coconut rice. A special mention goes to mamita, a delicately-flavorful puree of green bananas cooked with coconut. For a grand finale, there is choca'o, a puree of ripe bananas with coconut, ginger, and cinnamon.
Restaurant Ile Oshun Miwa (cel. +507 6682 3452)
From the Mountains to the Plains
On the other side of the Isthmus, in Azuero, culinary traditions reflect the flavors of the great crops of corn, rice, and tubers that extend across the plains. A starter of comforting chicken soup with culantro, smoked or salted beef jerky rehydrated in a tomato-based dish, or traditional chicken and rice enlivened with achiote (annatto). Tamales, in banana leaves or pan-cooked, are a good choice. Round out your journey with a pesada, a type of corn pudding set with juice from the nance fruit.
Raise Your Eyes to the Altar
Black Christ in Portobelo
The Black Christ stands on the church's left altar since the 17th century. Each October 21st, thousands of penitent pilgrims wearing the saint's purple tunic, accompany the long-suffering Black Christ in a rhythmic procession (four steps forward, three steps back) through the streets of the old Colonial town.
St. Librada or "The Moñona," as the figure of the saint in the Las Tablas church in Azuero is known, is honored every July 19th in a procession. St. Librada is generally serenaded in the church atrium after the procession, which is definitely worth a listen. Starting on the 20th, there are other events such as the National Dress Festival, dances, and bloodless bullfights.