Barquisimeto In Two Days
Two days in Barquisimeto are enough to wrap yourself in its twilight sunsets and dance to the sound of the golpe. Prepare yourself for a hot, powerful, monumental experience. Enjoy the exquisite goat-based cuisine and the semeruco citrus juice, which has a hundred times more vitamin C than lemon juice, although the "guaros" (as the local "Larense" people are known) are as sweet as can be. Visitors to the musical capital of Venezuela are in for a delightful surprise thanks to the contrast between the grand modern buildings and the 472-year-old Centro Colonial neighborhood.
By Martha Beatriz Rodil
Photos: R. Pimentel
07:00 a.m. – Step Back in Time
At dawn, take a walk back in time through the old houses of Barquisimeto's magical Historic Center, located between Calle 21 and 27 and Carrera 14 and 18. First, treat yourself to a delicious breakfast of shredded beef empanadas and a glass of papelón guarapo (raw cane sugar lemonade), available on any street corner. Then visit the Plaza Bolívar where you'll find early traces of this 472-year-old city. The doors of El Museo (The Museum), an old 19th century hospital, open to allow you to enjoy the fine arts and culture of the Lara region.
10:00 a.m. – "Guaro" Grandeur from the Obelisk
Our tour of Venezuela's musical capital takes us to the iconic Obelisk, a 245-foot tower surrounded by a park and serviced by an elevator that will take you up to contemplate the richness of this warm region, where beautiful sights and sounds are certain to seduce. Once you're back on the ground, pass the Redoma monument and walk about .2 miles along Avenida Libertador to enjoy a lunch of exquisite grilled sheep at the Madeira International restaurant, which specializes in all kinds of grilled meat, and savor all the truth contained in a glass of delicate red wine.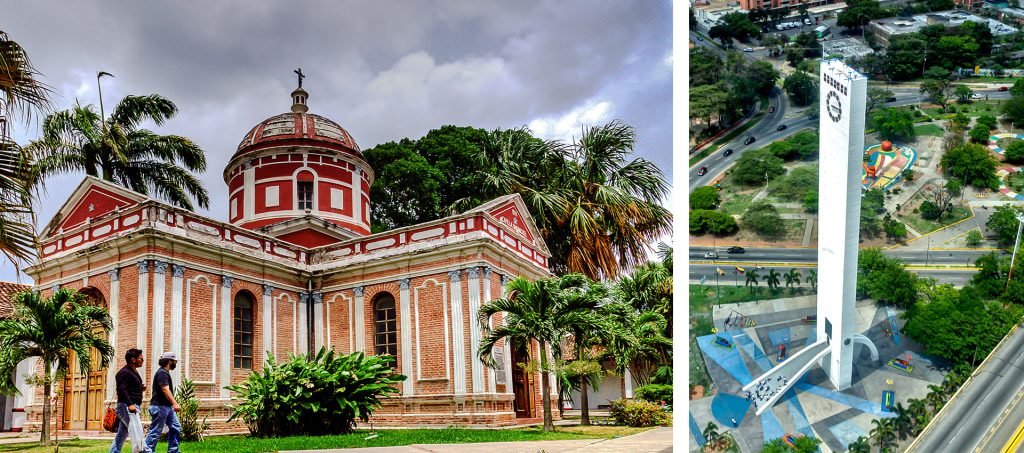 01:00 p.m. – The Cathedral: World Architectural Gem
In the late afternoon, we suggest a visit to the unconventional Nuestra Señora del Carmen Cathedral, an architectural gem built between 1953 and 1968. This hyperbolic paraboloid, a three-dimensional structure in which two wings join together at a tower to simulate a four-petaled flower, has become a meeting place for the people of Barquisimeto. Its acrylic panel ceiling is a truly incredible visual spectacle. It is the only church in this style, recognized worldwide for its demanding architectural calculations. Located on Avenida Venezuela between Avenida Simón Rodríguez and Calle 30.
04:00 p.m. – A Flower-Shaped Cultural Center
It is a pleasure to walk through the La Flor de Venezuela Cultural Center (@laflordevzla), a metallic monument in the form of 16 giant petals, which open during the day and close at sunset. The work, declared part of Venezuela's cultural heritage, is located on Avenida Venezuela at the intersection with Avenida Bracamonte. It offers art exhibitions, aquariums, cultural events, and craft kiosks. La Flor is definitely worth a visit. While you're there, savor some traditional sweets, one of the delicious cheeses, a relaxing ice cream, an icy cocuy de penca drink, or a thick guayoyo-style coffee at @tukuigastrobar, @pedroypablo.rodizioandgrill or the Los Andes Ice Cream Parlor.
07:00 p.m. – Have a Pepito Sandwich
The "Pepito," king of street food in Barquisimeto, was declared part of the area's Intangible Cultural Heritage by the municipality. This year, this regional symbol brought together more than four hundred "pepitero" sandwich makers from sixty restaurants to break the record for the World's Largest Pepito, measuring over 193 feet. A pepito is constructed from bread stuffed with vegetables or grilled minced meat and topped with a variety of sauces. There are even gourmet versions stuffed with tenderloin, chicken, or shrimp and topped with lots of gourmet cheese. No one should leave town without eating at La Terraza (@gastronomicopaseo), or "Hungry Street," as it is known locally. Located on Avenida Lara.
09:00 p.m. – Nueva Segovia: Bars, Discos and Boleros
And don't miss the "rumbita." On the east side, in Nueva Segovia, are dozens of taverns, bars, and discos with different shows featuring live talent for all ages and tastes, from bolero and trio performances in cozy bars like
@gayonrestaurante at the Jirahara Hotel to salsa and meringue music at @montaditas_. Or, if you feel like singing, try the karaoke at @fridas.cafevzla or @andrea.gastrobar where they'll make you sound good, even if you're not. Give it a try!
08:00 a.m – A Delicious Breakfast
Locals and tourists alike rave (literally) about breakfast at the old La Alianza Bakery (24 Moran Avenue), which is known for its gourmet sweet and salty snacks as well as its special ham and cream cheese pastries that melt in your mouth and delight your palate. This patisserie is so traditional that during the December holidays the local "Larenses" line up to buy its ham, olive, and raisin-stuffed bread. As they say in Barquisimeto: "Naguará, it's the best in the world!"
10:00 p.m – Vibrant Bararida Zoo
Visit the heart of the city to meet a newborn 100–pound baby hippopotamus at the Bararida Zoo. This 44-acre park features close to 3,560 animals (65% of them endangered species) and 150 botanical species. Located on Avenida Moran at Calle 13. Zookeepers at the park have helped spectacled bears, tapirs, manatees, Andean condors, jaguars, and macaws to reproduce. You can visit all of them in their natural surroundings on a tour that lasts about two hours. Fill up on their strength and vitality. The only risk is being bitten by the joys of wildlife!
01:00 p.m. – "Coleo" Rodeo and Venezuelan Barbeque
@laparrilladeleste, one of the city's most iconic barbecuerestaurants, makes you feel like you're on the Venezuelan plains as you experience the aroma and tastes of roasted goat, beef, or pork. You can even dance the joropo zapateado while listening to live llanera music. Located at Kilometer 6 inside the Juan Canelón Agrotourism Complex (Canelón was a famous rodeo star from the Lara region and a legend of this national equestrian sport). Spend the afternoon watching bulls be grabbed by the tail, knocked down, and hailed by shouts of "efectiva!"
04:00 p.m. – Manto de María Viewpoint
Give yourself the gift of a Barquisimeto evening by riding 200 feet into the air in an elevator and letting yourself be brushed by the twilight at the imposing Mantle of Mary monument. Unique in the world, this immense three-dimensional sculpture of the Virgin is dedicated to the Divina Pastora, patron saint of Lara, and stands just five minutes from the "manga de coleo" rodeo strip. It is the largest Marian kinetic artwork in the world, with aluminum tubes hanging down to give it movement. It can be seen from a distance of 40 miles in all directions. From up above you'll understand why the Larenses say they are "embraced by heaven."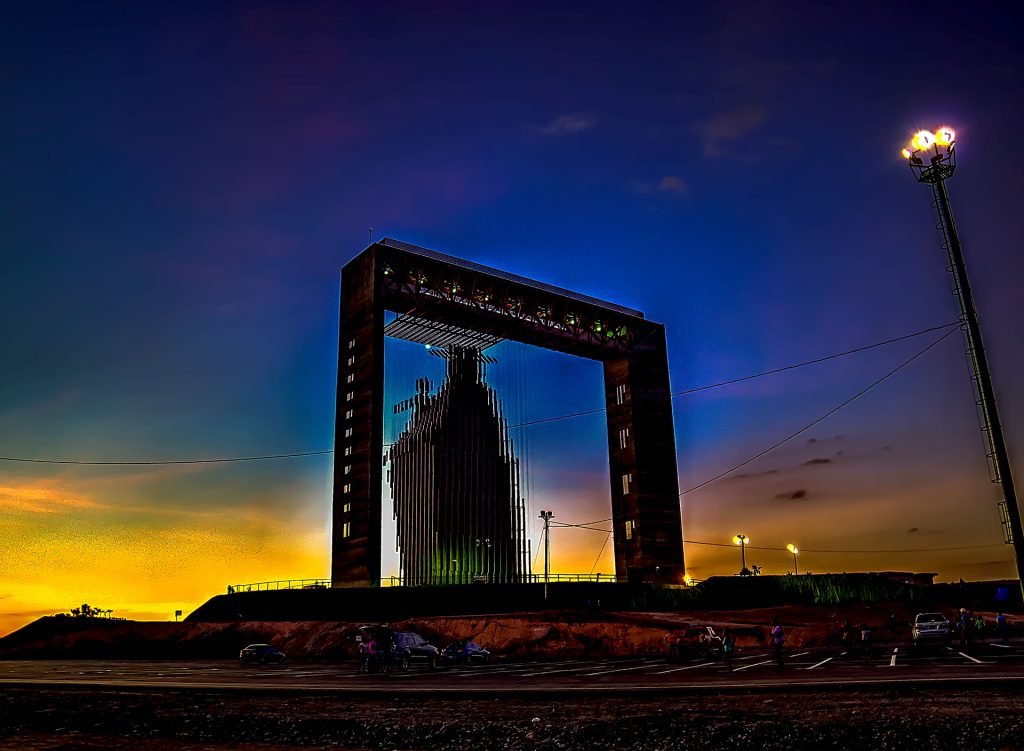 06:00 p.m. – Picturesque Santa Rosa
Colorful Santa Rosa, southeast of Barquisimeto and bordered by the Turbio Valley and its river, is part of the region's religious and tourism heritage. At dusk, the shadows make it look like a manger and, in the village's main square, flocks of doves settle in front of the La Divina Pastora church, where you are certain to be blessed. Main street Santa Rosa, inclined perhaps to its own beauty, has several sweet shops and ice cream parlors where you can relax while listening to children rehearsing with the symphony orchestra.
08:00 p.m. – Galleries with Art, Folklore, and Flavor
Close out your two-day visit to Santa Rosa with a flourish, enjoying its views, art gallery, religious and arts amphitheater, dances, craft shops, and the beautiful @altagraciarestaurant for food and folklore. You'll be delighted by regional classics like the thick and nutritious crema tocuyana or a pabellón criollo rice and bean dish, accompanied by a cold Larense sangria or a semeruco and cocuy frappe. You'll be treated like you're part of the family as they share their passion for the culinary history of these traditional dishes.