Panama Jazz Festival: twenty years of pure jazz
From January 16-21, the Panama Jazz Festival will celebrate two successful decades as one of the genre's most prestigious musical gatherings in Latin America. Here festival director Danilo Pérez shares the joy he feels for all that the festival has accomplished in the past twenty years.
By Winnie T. Sittón
Photos: Cortesía del Festival
In January, the Panama Jazz Festival plans to fully celebrate its twentieth anniversary as one of the genre's best-known festivals in Latin America. And yet, renowned Panamanian pianist Danilo Pérez, the festival's director and founder, can't believe that so many years have passed since his dream became a beautiful reality. "Everything has changed; the festival has grown a lot, and the results of our work are increasingly evident. Looking back on our journey is wonderful and fills me with great happiness," he reminisces.
Everything looks rosy now, but back when the adventure began in 2003, the odds were stacked against the budding musical event. "That year I said, 'Let's do it' and I just jumped in there. I had the support of a small team that included my wife, my parents, and a group of friends who liked the project. But I do remember that, generally speaking, the idea wasn't very popular. Lots of people insisted that jazz wasn't popular enough in Panama and that the idea would never work here, but I wanted to do it so badly that we took a chance."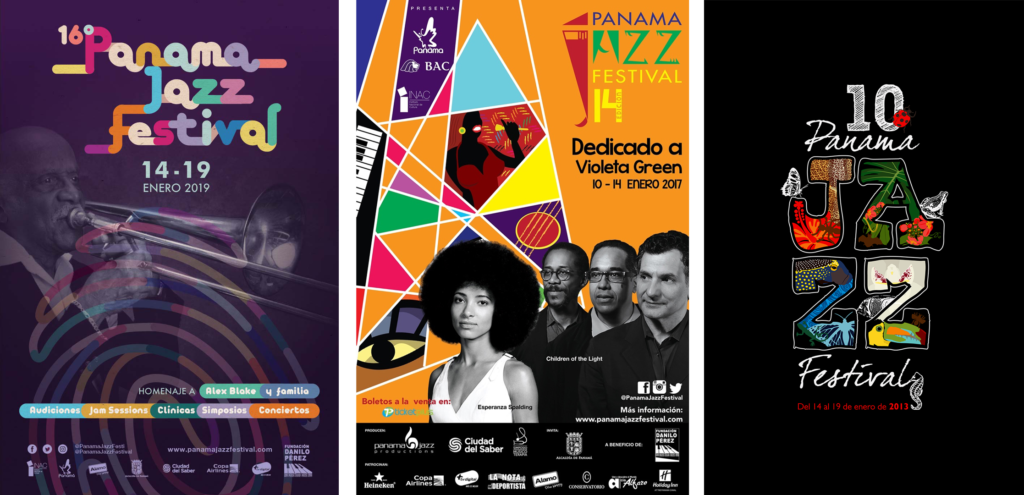 It's lucky they did because, as he tells us, although "not many tickets were sold" for that first festival, it didn't fold thanks to the small contributions they received. And taking that first step forward helped prove that the idea had a lot of potential. "I'd say it was really a heroic act. We jumped into the pool without knowing if there was water in it," he observes with a laugh.
Of course, the Panama Jazz Festival —like many cultural events of this type and magnitude— has had to overcome several challenges over the last twenty years, and not just at the beginning. But far from complaining or focusing on the difficulties, Danilo Pérez is proud of how much the festival has achieved through love and hard work, especially in the educational field, thanks to the numerous workshops and clinics with great jazz players that have been offered to young musicians. And there is also the festival's scholarship program, which allows young musicians to study at famous U.S. educational institutions, such as Berklee College of Music and the New England Conservatory.
"That was always my great dream, ever since I left Panama in 1984, when I was just a boy. I made a promise that if things went well for me, if I finished my education and achieved success, I would give back to my compatriots and, above all, open doors for them in the educational field, so that they could train and continue growing. And you have no idea of the joy I feel in my heart today, having fulfilled that promise," Pérez asserts.
He also feels very pleased to have brought iconic jazz figures like Wayne Shorter, Herbie Hancock, Jack DeJohnette, John Scofield, Susana Baca, and Omara Portuondo to play in his homeland and connect with the Panamanian public. For this year's twentieth year anniversary celebration the artistic lineup is pure fire.
Una edición para celebrar en grande
The 2023 Panama Jazz Festival welcomes renowned artists to its stage, including Chucho Valdés, one of Cuba's most important jazz figures; singer Catherine Russell, daughter of Panamanian jazz pioneer Luis Russell; the Children of the Light trio, with bassist John Patitucci, drummer Brian Blade, and maestro Danilo Pérez; and Panamanian composer Erika Ender, one of the music and entertainment world's most versatile artists. Also performing will be Celsito Quintero, Farayi Malak Quartet, Nadia Washington Quartet, Chase Morrin Trio, Lihi Haruvi, and instrumentalist Carlos Romero's acoustic project.
Concerts will take place at the Teatro Ateneo, the City of Knowledge, and the Teatro Anayansi in the Atlapa Convention Center. Plaza V Centenario will host evening concerts and jam sessions. The grand closing concert will be on Saturday, January 21 at the Cuadrángulo in the City of Knowledge. In addition to the concerts, the festival also offers a week of educational events such as workshops, clinics, and the XI Latin American Music Therapy Symposium with experts from Panama, Chile, and the United States.