Panama: A Day At The Beach
Panama, a narrow isthmus that threads between two seas, not only gives you the chance to see sunrise over the Pacific and sunset over the Atlantic, it also boasts countless opportunities for a day at the beach. Whether you're a visitor or a resident in search of new experiences, we suggest a list of sites that are similar on paper but quite excitingly different in reality.
By Alexa Carolina Chacón
Photos: Javier Sucre, Paul Castillero and Eduardo Estrada
If you're a faithful reader of Panorama of the Americas, you'll have noticed that my writing is inspired by my personal experiences. In this case, a friend visiting from London asked how she could enjoy the sea without having to rent a house or stay in a hotel. It was a very good question. She wanted to leave Panama City early in the morning and return to her accommodations at the end of the day. Day trips to the beach are a luxury avail- able to both visitors and residents. The proximity of the oceans and the short distances between destinations allow you to make the most of your time. This article was born from my answers to my friend's question. The suggestions show just how diverse Panama is: each beach on this list features a different style to experience and savor.
Known as the Island of Flowers, Taboga, just 12 miles from Panama City, is a tropical oasis that will captivate you as soon as you set foot on the island. This island offers a delightful break from the urban rat race and an escape that can easily be accomplished in one day, sending you back home with your soul refreshed.
Even as the ferry approaches the island, the view of colorful houses basking in the sun welcomes you like a warm embrace. What will really make you smile is the atmosphere of its beaches: light-hearted, cheerful, and active. The beaches are sweeps of golden sand fringed by a green tapestry of mountains and palm trees, alongside a town of narrow alleyways. Every wave that kisses the coast seems to whisper stories of pirates and celebrities who found refuge on Taboga at some point. One activity is strolling to Villa Caprichosa, an Italianate luxury hotel where breakfast and coffee, at the very least, are a must. More adventurous souls can head for the Cerro La Cruz trail and take in a view of the whole town and the queue of ships waiting to transit through the Panama Canal against the backdrop of the city. On your way down, you can wander through the town and visit the place where French painter Paul Gauguin lived for three months in 1887.
Then it's time for fun on the beach. If you want activities, Taboga won't disappoint you. You can practice water sports like snorkeling and paddle- boarding, or perhaps you prefer a boat ride to watch whales during the season. If what you want is tranquility, you only need a towel, a good book, and maybe a refreshing beverage to lose all sense of time.
The island possesses that magic power that makes you feel like you're part of a living painting, where the shades of blue and green dissolve into the horizon and time seems to stop for a moment.
Characteristics: Picturesque town with a beach that is lively on weekends.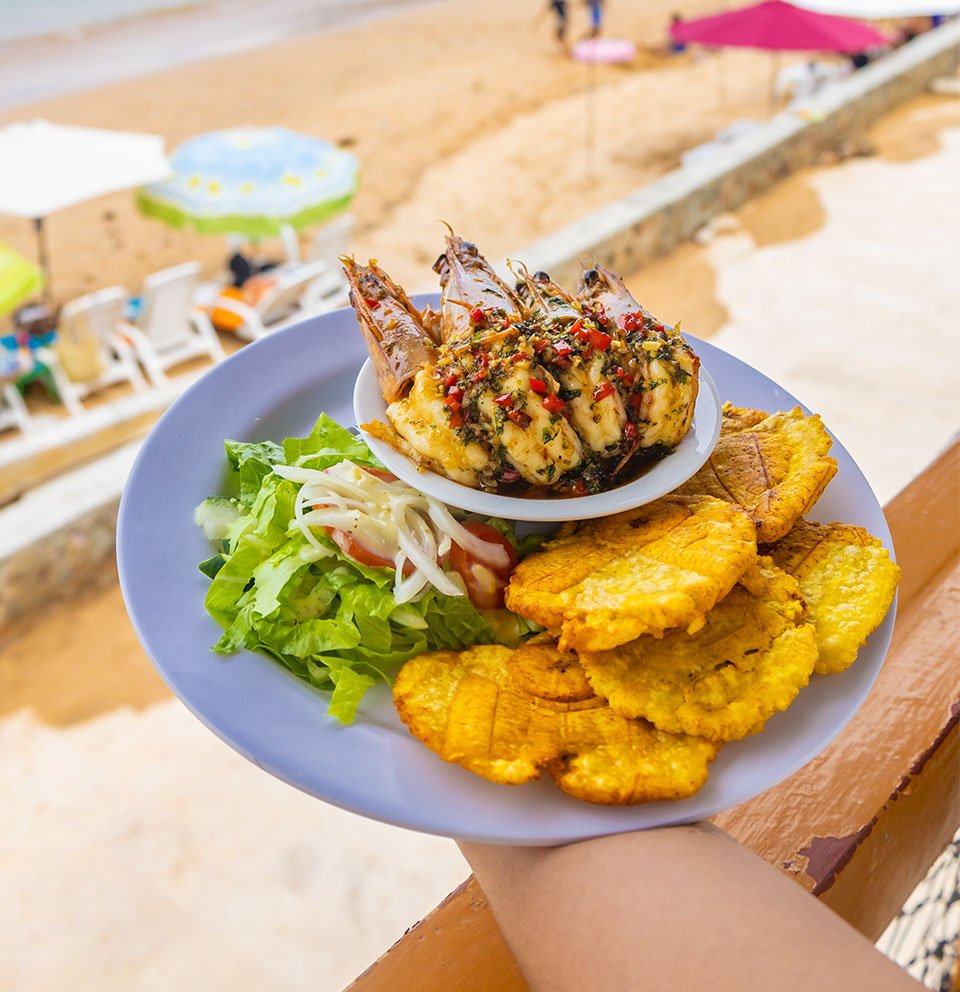 Distance from Panama City: Approximately half an hour by ferry.
Tour Operators
Taboga Express. Visit their web page to confirm departure times from Calzada de Amador.
To choose a reliable tour operator and discover the options for visiting Taboga, download the Gotuuri tourism experiences app from your app store. The app lists seven plans, from a history tour to a full day of activities.
Portobelo and its nearby beaches
Located in the province of Colón, this corner of the Panamanian Caribbean is a gem that combines history and natural beauty. This friendly picturesque town is the gateway to some of the most spectacular beaches in the Panamanian Caribbean. Playa Blanca, Playa Huerta, and Puerto Francés are the best known and attract the most visitors. The first of these is the largest and the busiest. The music drifting out from the restau- rants and purveyors of food and snacks enlivens the atmosphere. Playa Huerta is a haven for anyone seeking peace and tranquility. Somewhat different is Puerto Francés, which is a perfect place for adventurers to explore the coral reefs and rich marine life of the Caribbean. The star of the show is Venas Azules, a complex of channels of turquoise water running through the mangrove forests; its name, "Blue Veins," aptly describes how the site looks from above.
We suggest you purchase some snacks and beverages in Portobelo for sustenance at the beach, and don't forget to pick up your trash. The tour operator noted below can take you to all three beaches and provide a Caribbean lunch, but if all you want to do is relax on the beach and spend time with your friends, you can hire a panguero (small boat operator) at the town pier.
Characteristics: A coastal town with a wealth of culture and history, close to warm Caribbean beaches.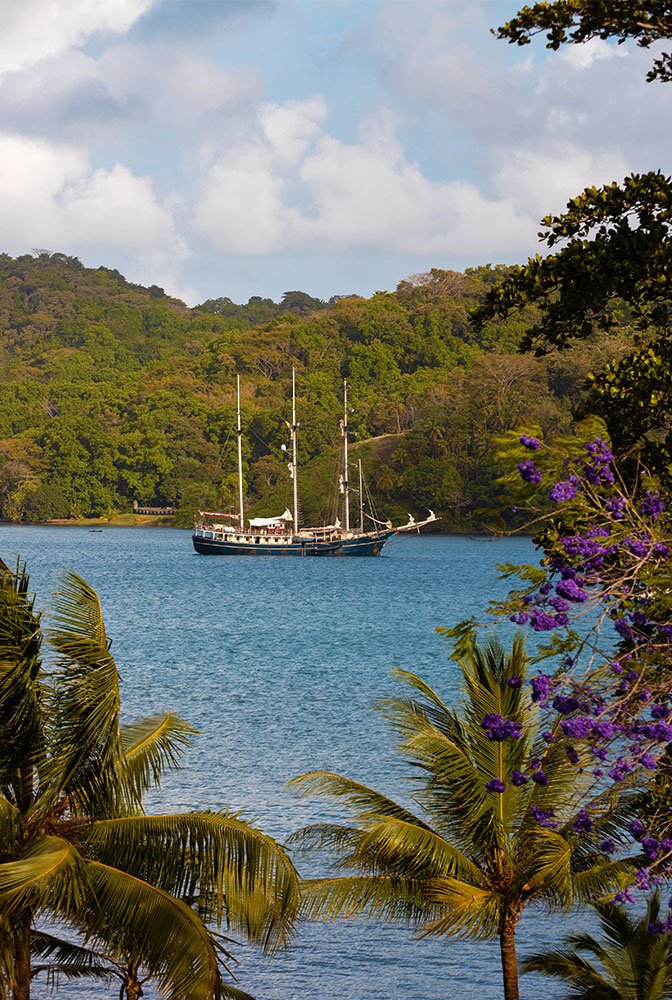 Distance from Panama City: Approximately two hours by car.
Tour Operators
Roberto Tejada,
Viajes Young 507
This tour operator also has an option for return transportation to Panama City. You can contract this tour through the Gotuuri tourism experiences app. Download it from your app store.
Mogo Mogo, Contadora, and Bartolomé Islands in the Las Perlas Archipiélago
Scattered across the heart of the Gulf of Panama in the Pacific Ocean, the Las Perlas archipelago is a group of more than two hundred islands and islets that seem to float in their own world. There are several ways to enjoy refreshing crystalline waters without leaving Panama City. We highlight two trips organized by local operators: the first is to Mogo Mogo Island, where lush vegetation and turquoise waters create a tropical retreat that will make you feel like you're on a deluxe deserted island. The only thing in sight will be a small informal eatery where the tour operator prepares lunch. The rest of the island consists of perfectly conserved nature and marine life. You'll tour the rock formations around the island, so bring water shoes to protect your feet. The second tour takes you to the islands of Contadora and Bartolomé, a touch closer to the mainland than Mogo Mogo, but similarly spectacular. There you'll find translucent waters bordered by beaches of golden sand, and the chance to dive and whale watch (during their mating season). Contadora alone makes the trip worthwhile. The island offers an opulent beach community and restau- rants with delicious food. It's a trip that will make you fall in love with Panama and let you savor a taste of paradise, all in less than 24 hours.
Characteristics: Mogo Mogo and Bartolomé are uninhabited islands carpeted with lush vegetation. Contadora features a beach community and good restaurants.
Distance from Panama City: More or less an hour and forty-five minutes to the first island via a fast boat.
Tour Operators
According to the tour operator, you'll need to be at the meeting place on Calzada de Amador at 7:00 a.m. You'll be back in the city at 4:45 p.m.
Travel time: Two hours, departing from Calzada de Amador. Once you're on Contadora, you can contract local pangueros for individual tours.
Day trip to Contadora Island by ferry. You can contract this tour through the Gotuuri tourism experiences app. Download it from your app store.
Playa Caracol at Punta Chame
This beach is the farthest from Panama City, but it is well worth the trip for lovers of water sports and a bohemian atmosphere. Known as "Chamefornia" by local residents, this spot offers some of the best waves on the Pacific coast. Surfers consider these waters a shrine to surfing. Surfing carries a very different vibe here than at the other sites on the list. Aside from surfing, the Punta Chame area is known as the perfect place to kitesurf and foil surf owing to the strong winds that lash the coast. This extensive beach of white sand is home to The Surf Shack Chame, a restaurant-bar that plays a variety of music and serves up a laid-back atmosphere that appeals to young adults who want to spend some time delighting in the seaside. The restaurant functions as a kind of nerve center for the area: they provide surfing lessons, rent boards to anyone wishing to ride the waves, and operate Mahana Tours, which offers hiking, fishing, guided visits to the islands of Otoque, Boná, and Taborcillo, tours of the Las Filipinas waterfalls, and many other experiences.
Characteristics: Beaches of white sand, perfect for water sports.