Coiba, wild nature
Coiba, a wild paradise where forest and water claim the right to continue untouched; a time capsule presenting evidence of the natural world that existed before Panama emerged from the bottom of the sea; a terrestrial break in the middle of an immense maritime corridor where whales, sharks, turtles, and dolphins move freely through borderless waters, from south to north and north to south, marking a territory that is theirs alone. Panorama de las Américas went on an expedition to the last wildlife refuge in the tropical Pacific.
By Margarita de los Ríos
Photos: Javier Pinzón and Alejandro Balaguer
How to approach Coiba? The question bothered us for several weeks as we prepared for this expedition. It's possible to describe this island and its surroundings as a wild territory, where forest and water conspire to make life difficult for human beings. But it may be wiser to approach it as a sanctuary: a window that the planet offers us so we can observe the variety of shapes, colors, sizes, and forms of life that existed before the presence of humans altered everything. We decided to take a mystical approach: observe, admire, and be grateful. Few untouched paradises remain on this earth and Coiba, one of the greatest, is within our reach.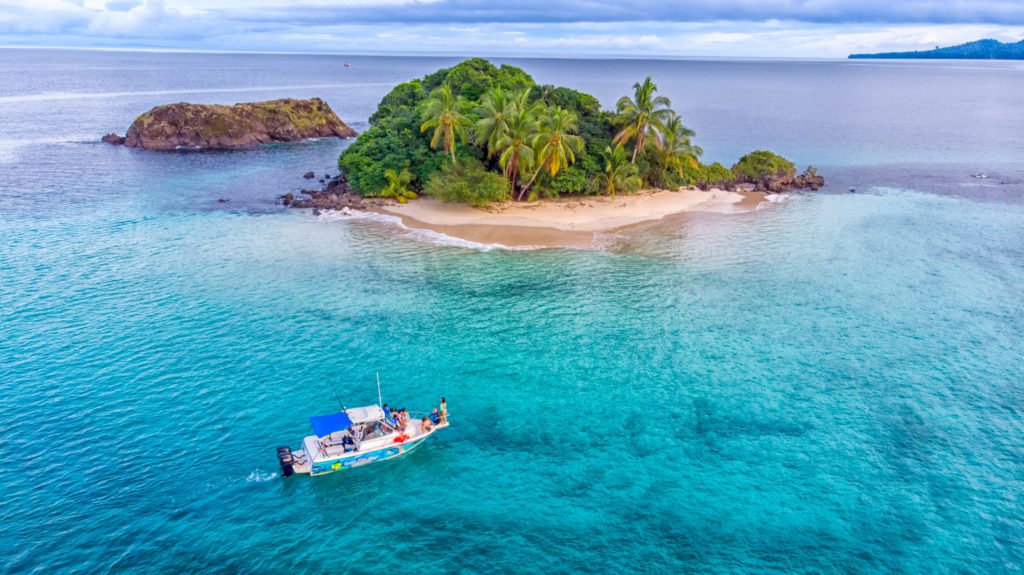 After a long debate over the best port of departure, we schedule a date to meet our guide, Ángelo Solanilla from Pacific Adventure Tours, in the port of El Banco (Veraguas province). Leaving from Las Lajas beach at 4 a.m., we arrive at El Banco at 7 o'clock and easily spot his 26-foot boat thanks to its bright colors, which stand out in the mist.
The panorama in front of us is silvery, as it is during much of the year, but a ray of light on the horizon promises some sun for our expedition. The sea is "platito" (a little dish), as Panamanians refer to a calm sea without waves, and our boat, with its two 140HP Suzuki engines, motors along smoothly. Less than an hour later, the island of Coiba comes into view with its frizzy green wig and its yellow lace collar of sand.
We barely have enough time to jump onto the beach before a ruckus catches our attention: a family of macaws flies overhead, squawking in a disorderly chorus. It is one of the last wild populations of scarlet macaws in all of Panama. They are generous in their welcome, pausing in the palm trees that shade the visitor center to give us enough time to take pictures.
Near the visitor center is the Sendero del Mono, a path climbing to the upper part of the island that provides a wonderful panoramic view. It's a great place to observe the largest still-uninhabited forested tropical island in the region. This enormous "broccoli" covers some 193 square miles and is home to 1,400 species of vascular plants such as ceibas, espavés, and spiny cedars. Across its skies fly 147 species of birds and over its soil crawl 39 species of amphibians and reptiles. Scientists have noted a high degree of speciation due to isolation among its 36 species of mammals and have identified at least one new species of agouti and three subspecies of howler monkeys, opossums, and deer.
Coiba, as Ángelo tells us, is like a "time capsule." The island existed sixty million years before Panama emerged from the bottom of the sea, connecting two continents and separating the oceans. What we're seeing began long before humans appeared on Earth.
And, as amazing as it sounds in the 21st century, parts of this jungle have yet to be touched by humans. Or at least by modern humans; there is evidence that the island was visited by pre-Hispanic communities in remote times.
It's not visible from where we are, but if we were to navigate towards the Boca Grande estuary we would witness the island's slow transition from land to water: the land becomes forested with cativals —trees that grow in freshwater wetlands—and, as they approach the sea, they are replaced by mangroves—trees that grow on land flooded with salt water. Beyond that, there is nothing but 840 square marine miles that preserve, among other treasures, a 333-acre coral reef, the second largest in the eastern central Pacific and the largest in the Central American region.
Ángelo hurries us along; if we want to enjoy the "double beach" on Cocos Island, we'll have to arrive before the tide comes in. Shortly before reaching the island, we jump out of the boat with our snorkels. The water is warm and transparent and under its mirror-like surface lies a rocky complex full of life. In less than fifteen minutes we spot a whitetip shark swimming along the sandy bottom, a black starfish with red spots, the characteristic Pacific starfish, a giant stingray, a puffer fish, and a huge school of barracudas.
And while the pristine parts of Coiba earned our admiration, there is even more to be said about its surrounding seas. Occasionally, on the winds of an August sunset, you can hear the song of the humpback whales and witness the spectacle of these 40-ton giants jumping joyfully out of the water in a behavior still unexplained by science. At other times of the year, the spotted dolphins —one, five, or hundreds— may even put on a show for you. There are also turtles that surface occasionally and slow-swimming manta rays.
The archipelago's exceptional location —in an area influenced by one warm and two cold currents— explains the explosion of life in the waters around Coiba National Park.
Before he died last year, legendary scuba diver Kevan Mantel, who knew the seas of Coiba like nobody else, provided us with a fascinating description: abundant dorado, bluefin tuna, sailfish, and needlefish in Banco Aníbal; giant manta rays, spotted eels, and schools of swordfish in the Ladrones seamounts; tiger, lemon, whitetip, and Galapagos sharks in Montuosa; hammerhead sharks and huge schools of big-eyed pike in Jicarón and Jicarita; and, under the calm and shallow waters of Canal de Afuera, an incredible variety of reef fish. Scientists have registered a total of 800 species of fish and more than 70 species of echinoderms, mollusks, and crustaceans.
From the intertidal area to the deep abysses hit by strong currents, Coiba's rocky walls hold an additional secret: soft corals whose bodies increase the three-dimensionality of the rocks and create habitats for many species of fish and invertebrates. More than 40 species inhabit the waters of Coiba, some of them endemic to this island.
But Coiba, Ángelo tells us, is a part of something much bigger: it's in the center of a borderless corridor essential to the migrations of large sea animals such as whales, whale sharks, and hawksbill turtles. The corridor begins in Mexico and passes through Costa Rica, Panama, and Colombia before coming to an end in the Galapagos Islands. In an unprecedented effort to guarantee the protection of this natural underwater highway, the countries involved created the Eastern Tropical Pacific Marine Conservation Corridor to facilitate the creation of joint policies.
Panama began by creating Coiba National Park and later, the Cordillera de Coiba Managed Resources Area (ARMCC, in Spanish), which was recently expanded from 6,500 to 26,000 square miles. With these measures, Panama fulfilled —eight years in advance— the Global Framework for Biological Diversity's "30 x 30" goal for countries to protect 30% of their marine areas by 2030.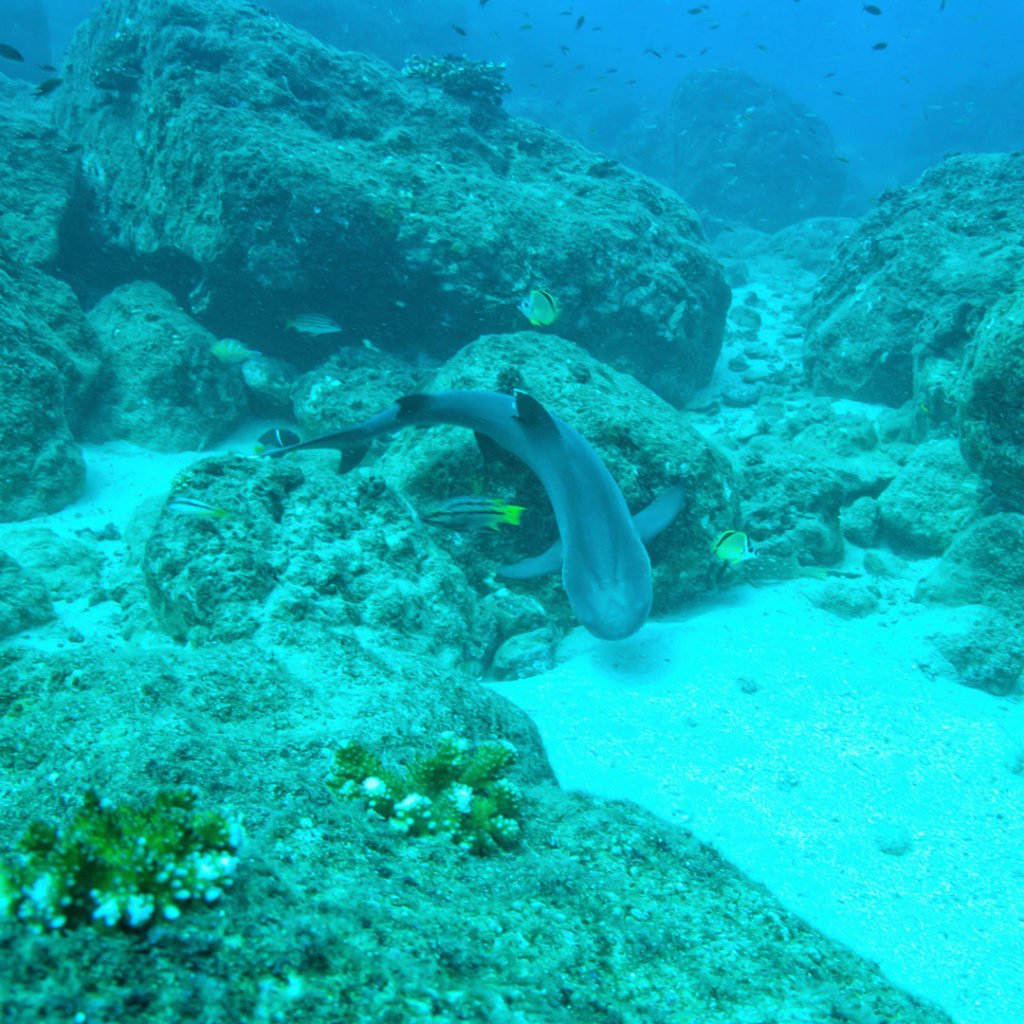 The night lights up with an apocalyptic thunderstorm. The terrifying sound of thunder is replaced only at dawn by the deafening roar of howler monkeys.
Our destination on the second day is Ranchería, a soft sand beach inhabited by a huge colony of hermit crabs, which are not comfortable with our presence. And after the beach, the river. And in the river, a family of crocodiles. Ángelo sets up his grill and prepares some delicious grilled sausage sandwiches for us while we swim over the reef. The dive is exciting: while three white-tip sharks rest below, a huge stingray brushes past us, a family of barracudas momentarily blocks our view, and a moray eel peeks out of a cave. As we rest on the sand, Ángelo warns us that we'll have to leave the beach before sunset, when the crocodiles come out to mark their territory.
Coiba is, without a doubt, an indomitable territory that can be visited for hours, or even days if you like, but whose vocation is to remain uncivilized. It is a destination for conscientious travelers capable of withstanding inclement weather, the unpredictability of the forest, and the surprises offered by the seas… and who are happy knowing that Coiba must remain wild.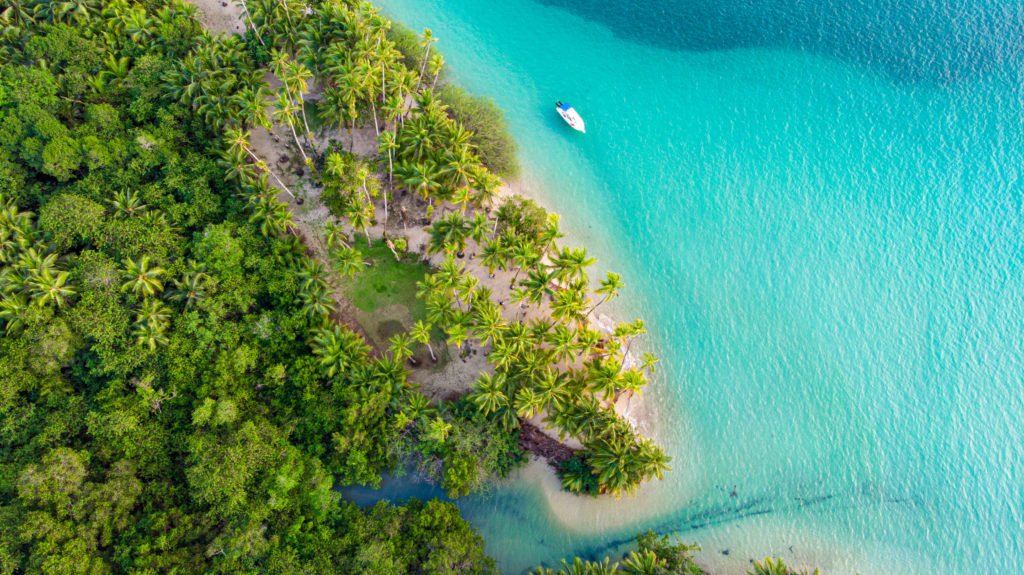 En las costas de Veraguas, varios puertos han desarrollado infraestructura y ofrecen servicios de transporte y guía:
Santa Catalina y El Banco
226 miles (five hours) from Panama City and a 30-mile (one hour) boat ride to Coiba.
El Bongo
171 miles (four hours) from Panama City and a 62-mile (two hour) boat ride.
Pixvae
212 miles (five and a half hours) from Panama City along a road under construction and an 18-mile (45 minute) boat ride.
Panorama de las Américas chartered this expedition with Pacific Adventure Tours
Our guide: Ángelo Solanillo. Cel: +507 66730256