Manhattan, South Street Seaport
We invite you to tour one of New York's most vibrant historic neighborhoods.
By Sofía Verzbolovskis
Photos: Sofía Verzbolovskis
New York is a city full of life, history, and culture, and South Street Seaport is one of its most iconic neighborhoods. Located in lower Manhattan, this neighborhood, with its inimitable panoramic views, is the perfect place to immerse yourself in the city's history and enjoy a relaxed, yet lively, atmosphere.
The South Street Seaport neighborhood is a popular tourist destination due to its old Georgian and Federal architecture and rich maritime history dating back to colonial times, when it was established as a major trading port. During the 19th century, South Street Seaport became one of New York's busiest ports, with ships sailing to its docks from all over the world, bringing a diverse community of sailors, merchants, and dockworkers. During the 20th century, however, when ports were modernized and new bridges and tunnels were constructed around the city, the neighborhood faced a series of challenges and suffered an economic decline. As a result, the port buildings were abandoned and fell into disrepair, resulting in many being demolished.
Fortunately, during the 1980s efforts were made to restore and renovate the neighborhood and South Street Seaport is now a popular tourist destination with shops, restaurants, museums, and historic buildings,such as the wrought iron Tin Building, which was built at the turn of the 20th century and recently transformed into a first-class culinary destination by internationally renowned chef Jean-Georges Vongerichten. The Tin Building houses a variety of restaurants including a seafood stand, a brasserie, an Italian restaurant, and an elegant Asian speakeasy. El Tin Building tiene una variedad de restaurantes, desde un puesto de mariscos hasta una brasserie, un restaurante italiano y un elegante speakeasy asiático.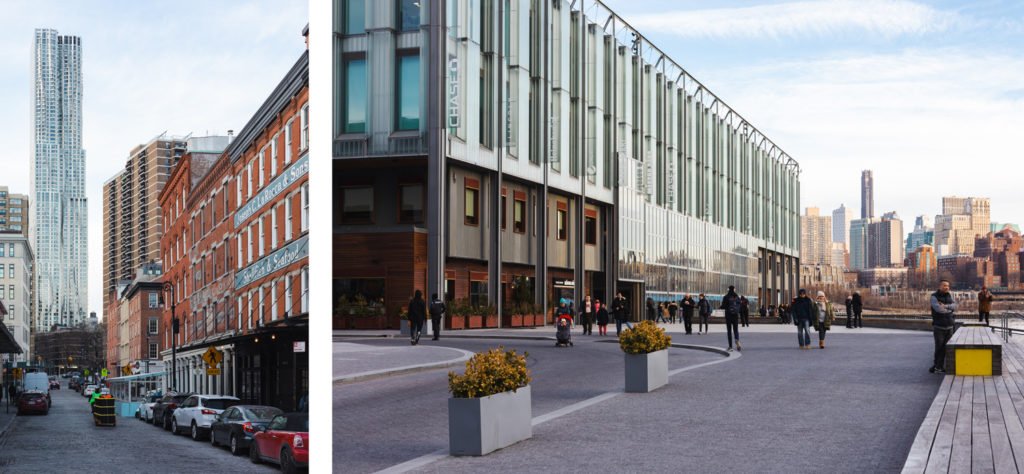 In addition to enjoying the food, you can visit the South Street Seaport Museum, which tells the maritime history of New York and the port's evolution. You can also admire the other historic buildings, such as the home of Captain Joseph Rose and the Schermerhorn stable; see the historic ships anchored at Pier 16, including the Ambrose, New York Harbor's first lightship; and of course, enjoy the breathtaking view of the Brooklyn Bridge as you walk along Pier 17.
With its rich history, impressive architecture, and vibrant cultural scene, South Street Seaport is a perfect spot to spend a day in the bustling city, relaxing and enjoying New York's maritime life.