El Chaltén: Treasure of Patagonia
The El Chaltén experience in Argentina's Los Glaciares National Park is a total immersion in nature: lakes, mountains, glaciers, silence, calm, and energy.
Text and photos: Ana Paula Prestes and Margarita Navas
During our stay in Argentina, "El Chaltén" popped up among the options every time we started to plan a new excursion. One day, we finally stopped fighting the idea, dusted off our backpacks, and set out with our luggage stuffed with instant soup, warm clothing, and camping equipment. Our idea was to take our inspiration from the place itself and totally immerse ourselves in nature: lakes, mountains, glaciers, silence, calm, and energy. The experience turned out to be one of the most beautiful in our long mileage as globetrotters.
Los Glaciares National Park
The bus brought us here from El Calafate airport via Route 23. As we approached Los Glaciares National Park in the province of Santa Cruz, the view of the mountains confirmed our decision to come. The road passes through breath-taking scenery. The information center near the entrances provides tips on the best ways to explore the area. There are easy hiking trails, short and sweet trails for people without much time, and hardcore trails that require more time and preparation. Since we wanted to see as much as possible, we opted for a centrally-located campsite that would give us access to the most popular trails.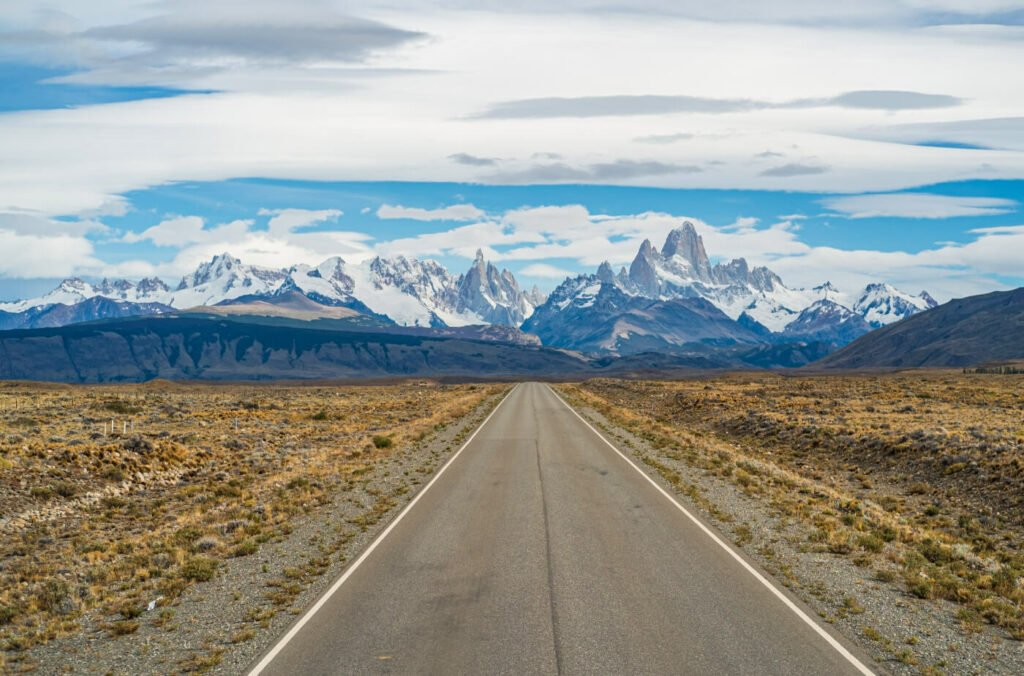 First campsite: Laguna Capri
The view from the campsite at Las Vueltas River overlook absolutely enraptured us with its surrealistic panorama of Mt. Fitz Roy reflected in a crystalline lake. Next morning peeking out of our tent it's a dream to sip coffee as part of this imposing mountain scene. As unbelievable as it seems, it was hot, but the climate of Argentinean Patagonia is generally cold, cloudy, extremely changeable, and hostile; heavy snow blankets the mountains and sunny days are few. Could we consider good weather to be "good luck"? Whatever it meant, it was a perfect start to the day.
Second

goal:

Laguna de los Tres
We walk a 3-mile path that runs through the heart of the mountains to Laguna de los Tres. The last stretch in this path was tough, since it is quite steep and requires concentration and good lungs, but the dramatic, contrasting and movie-worthy landscape that awaited us was certainly worth the effort. Snowy Mt. Fitz Roy looked lovely towering over the beautiful, vividly blue lake at its feet.
We lunched while dangling our feet in the lake and then we skirt the lake to the estuary, where a different path climbs the mountain. Ten more minutes of effort gave us another impressive view of one more gift of nature: Laguna Sucia and its amazing hanging glaciers. We absorbed all the energy of that magical place until we had to return to camp, but the day held still another surprise for us: the panorama was now washed in the violet and orange of the sunset.
The following day, after two hours of walking through wondrous, still forests we were greeted by a stunning landscape: the impressive Piedras Blancas glacier, its boundless waterfalls of serac (blocks of fractured ice), and Mts. Fitz Roy, Madsen, and Eléctrico. We could have gone closer, but we chose the wide-angle view to admire the glacier in all its splendor, along with the deep blue of the lake set against a vastness of white. We sat near the edge of Laguna Capri with glasses of wine to await the sunset and at dusk, we enjoyed shooting stars, the Milky Way, and the moon, all reflected in the water.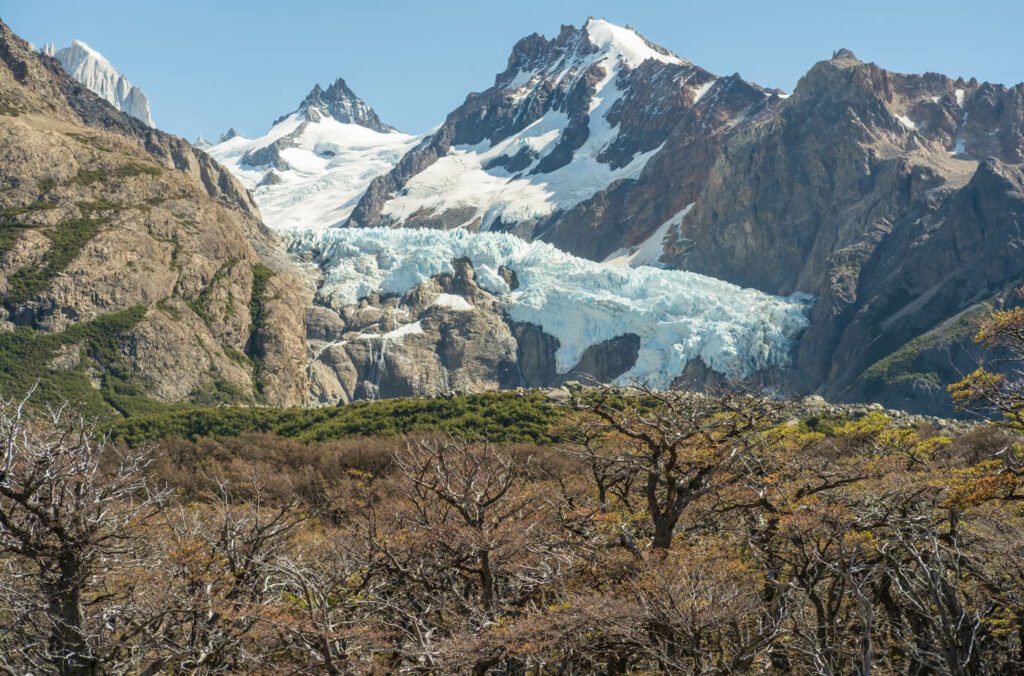 The beginning of our fourth day found us outside our tent, waiting to catch Mt. Fitz Roy at dawn. Just as if we were at a premiere, we hunted out the best seats and waited expectantly for the show to begin. We were treated to a spectacle that was not what we had imagined so many times ―it was much better. As the sun arced toward us, an invisible brush slowly painted the mountains an intense orange. The first object to pull on its colorful dress was the snowy peak; then, the color gradually descended until the entire landscape caught fire. As if that were not enough, the scene was mirrored in the lake, orange fire mingling with blue water. The image could have been a carefully painted canvas. We closed our eyes for a moment and then opened them again to convince ourselves that this was real.
An additional gift:

Mt. Torre
We did not want to leave El Chaltén without visiting the second highest height in the area. Its distinctive silhouette makes it a global icon to adventurers and climbers; for a long time, it was considered the world's most difficult mountain to climb. After 5.5-mile path slopes gently we found what we were looking for: Mt. Torre lake, with a spectacular view of the area's impressive granite needles. The fog gifted us a new palette of cold deep colors and paler neutral tones. Small icebergs floating in the water completed the picture against a backdrop of dramatic sky, freezing wind, and a movie-worthy atmosphere. It was an ideal way to celebrate the myriad sensations this splendid place kindled in us.