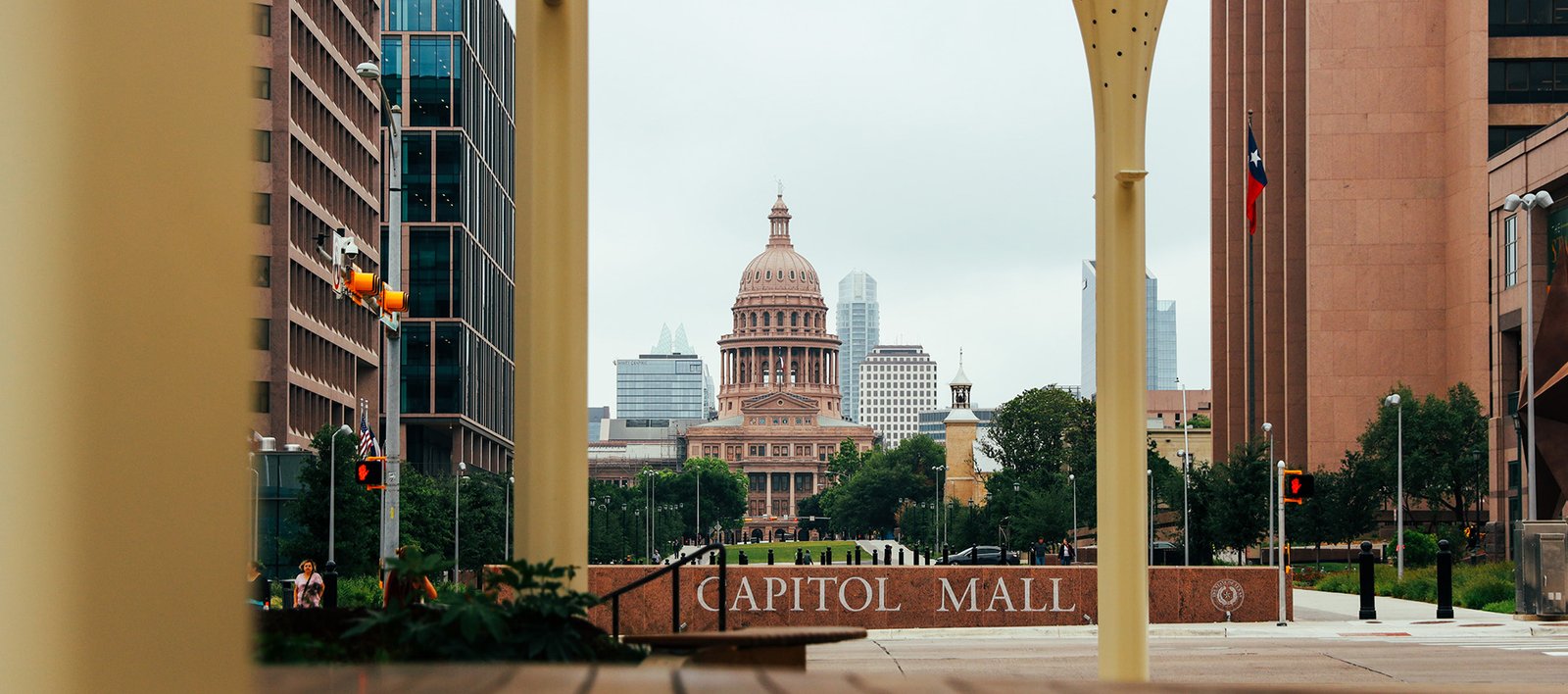 Austin: A Paradise of Live Music and Brisket
Whether it's the best brisket you'll ever taste, or the live music on 6th Street, Austin looks to be an ideal new destination for anyone who wants to decompress and relax. This city, with a pleasant climate and a terrific choice of beers, can be reached via a direct Copa Airlines flight from Panama City starting July 6.
By Alexa Carolina Chacón
Photos: Chris Salazar, Visit Austin
When I think of the state of Texas, cowboys, deserts, and football come to mind. Arriving in the city of Austin, I was definitely able to confirm that it's the perfect place to buy well-made cowboy boots and that the Longhorns college football team is practically a religion. Nevertheless, the Texan capital is much more than the stereotypes. Austin is Texas's hippie city and art center. Known as the world capital of live music, the city is a friendly place where a margarita or craft beer outdoors is a VIP invitation to enjoy a new rhythm of life: relaxed, unhurried, and welcoming, but far from boring.
It's easy to see how well its slogan, "Keep Austin Weird" fits the city. Stroll downtown or along South Congress Avenue and note all the people who come to let loose in the bars. Here, ignoring Texas's standard conservative dress code is accepted. You'll see as many hipsters with rolled-up pants as modern cowpokes with showy jewelry and distinctive beards. It's an authentic place of warm colors where natural parks and trails place a great emphasis on outdoor life.
he city's own Austin City Limits, created in 1974, is the longest-running music series in U.S. TV history. The eponymous ACL Festival popularized food trucks. It is the perfect place to climb out of a rut and slow down. Here's what you need to know.
When my family and friends heard I was going to Austin for this article, several of them wanted to tag along. Why? Brisket, that tender, juicy cut from the steer's chest, is an Austin trademark and a favorite of foodies. Franklin's BBQ is undoubtedly the most famous purveyor. You could wait in line for up to four hours to get in. And no one gets to cut in line, regardless of how famous they are. This rule is suspended only on very special occasions, such as when President Barack Obama visited the restaurant. By way of thanks, Obama paid the check for the people who were kind enough to give him their place in line. If you don't have time to stand in line, Terry Black's is equally good, and much more accessible. Anyone who likes to pile their plate high will appreciate the ritual of eating BBQ in Austin. The experience begins with the sides and ends with the meats, which can be ordered by weight. Unless you're with a large group, I'd suggest ordering slices. The brisket won't disappoint you. It's tender and juicy, and your mouth can't help but water at the buttery texture. The pork ribs are just as popular, and with good reason.
Like in all of Texas, Tex-Mex food is both popular and revered. You can't go to Austin and not down a margarita while munching some delicious tacos. We test this theory at Güero's on South Congress Ave., a local favorite serving numerous variations of the tequila-based cocktail. Another justly famous Austin icon is the food truck. The choices are staggering. You can find pretty much every kind of food. It's the ideal option for a quick bite and a taste of another country. Food trucks are parked all around the city, but they are particularly prevalent downtown on Rainey St., which is lined with hotels, bars, and restaurants. You can experience it all in one place.
Restaurants like Vixen's Wedding (Indian-Portuguese fusion) and Lenoir (romantically decorated in vintage-chic and serving Mediterranean cuisine) are a draw for anyone interested in something different and modern. People come to Austin to eat.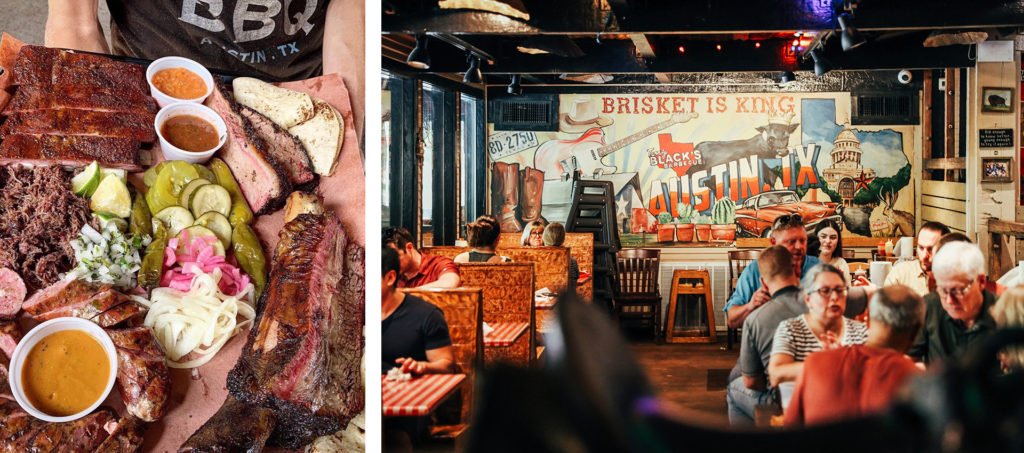 The World Capital of Live Music…and Comedy
Austin nightlife, the main attraction in the entertainment district, is concentrated downtown around 6th St. Bars, pubs, theaters, and comedy clubs abound in this area.Faint singing and guitar music drift out as you drive by. Venues offer bands or soloists, along with mechanical bulls and other inducements for both adults and families. Sixth St. is divided into three sections: Old 6th St. (also known as Dirty 6th St.), West 6th St., and East 6th St.. The first section is the street's original entertainment zone, and includes venues between Congress Ave. and the I-35 freeway. Old 6th, often compared to Bourbon Street in New Orleans owing to its reputation for outrageousness and controversy, is also home to exclusive restaurants, relaxed pubs, and family entertainment spots.
The "in" spots are found on the west side. There's an eclectic blend of some of Austin's most historic and iconic venues, with many outdoor bars. Lastly, the east side (6th St. east of I-35), was born out of gentrification and the city's original hipster movement. East 6th continues to be the most relaxed section of Austin's famous entertainment district, with many craft breweries and food trucks. The vibe is the same in all three sections: ebullience and choices for all tastes.
Drinking Outdoors: Quintessentially Austin
You'll soon realize that Austin residents are more fond of sitting outdoors than most people. Every place recommended by a taxi driver or a guide had outdoor seating available. Don't worry about the heat: the Austin climate lends itself to sitting outside, especially if you're cooling off with a craft beer at places like Easy Tiger Bakery and Beer Garden, Loro, or Banger's. All of these places also serve food. This is where fried chicken sandwiches with
coleslaw come into their own. The atmosphere at these venues encourages socializing and meeting new people, especially since seating often consists of picnic tables on a large patio that invites you to stay a while. This same concept has been adopted in a singular fashion by coffee shops on South Congress Ave. You can order coffee from a sidewalk window and sit down to enjoy it without needing to step inside.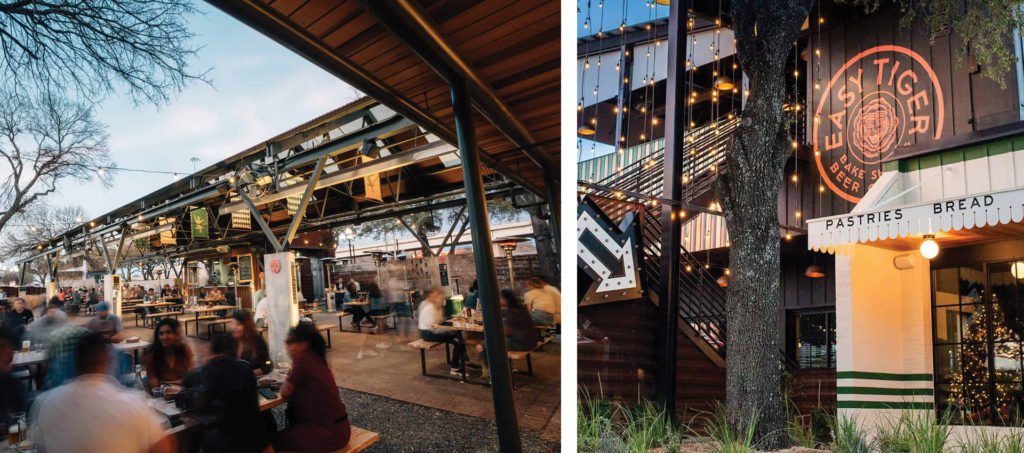 South Congress Avenue: A Different World
Lodging downtown lets you walk to South Congress via the iconic Ann Richards bridge. Once you cross Lady Bird Lake (actually a river rather than a lake), you'll notice businesses, restaurants, cafés, and hotels conspicuous for modern design and modern ideas. This is the chic zone. Besides renowned fashion stores, there are also places like Paper Work, which sells only curios, clothing, and prints by local artists, and Allen's, one of the most popular places to acquire cowboy boots and hats. This avenue is also the site of the famous Austin Motel, a local classic. Nearby is the popular café Jo's, with its iconic I Love You So Much mural, one of many murals you can see and photograph in this area. Street art and murals are Austin attractions worth visiting, and you can snap lovely souvenir photos. In fact, every developer must by law leave 2% of the surface area of new buildings blank for future artistic endeavors. In a city where everyone drives, it's refreshing to be able to walk this avenue and enjoy the parade of passers-by.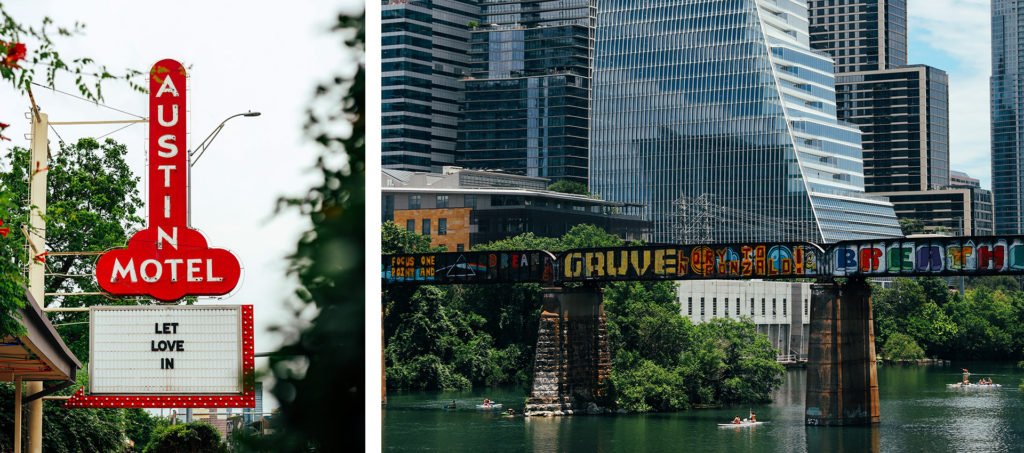 Beyond Parties: History and Culture
Austin's most iconic building is the State Capital, located downtown; it was built in 1888 in the neo-Renaissance style using an unusual red granite. And this wouldn't be Panorama of the Americas if we didn't give you some suggestions for seeing art in the city. The Blanton Museum of Art, founded in 1963 and located on the University of Texas campus, is Austin's most important art museum. After a series of renovations, the museum is once again open to the public with exhibits of U.S., Latin American, European, modern, and contemporary art. You can't go to the Blanton without visiting Ellsworth Kelly's Austin, a 2,700-square-foot free-standing gallery with high ceilings and colorful stained glass windows. The design was inspired by Romanesque and Byzantine architecture. A twenty-minute drive from the center of Austin takes you to The Contemporary – Laguna Gloria, an outdoor museum of lovely gardens with sculptures and views of the lake.
Austin in no way resembles the fast-paced, frenetic cities of the U.S. coasts. It's different in a good way. With a firm grip on its own character, it is a city given over to enjoyment, whether it's a plate of Tex-Mex food, a locally-produced IPA, or a nature walk. You choose – Austin has it.