Crop Over: The Summer Festival in Barbados
The Crop Over Festival is a celebration of Barbados's roots and history. It invites locals and visitors alike to enjoy its lively, colorful scenes and shows, as well as its food, beaches, and of course, its famous rum.
By Redacción Panorama de las Américas
Photos: Courtesy, Barbados Tourism Marketing Inc. (BTM)
Known for its food, its beaches, and of course, its "liquid gold," or locally-produced rum, the island of Barbados is the ideal destination for summer celebrations, and there's no better time to experience it than during the Crop Over Festival, where everyone is welcome. It is a celebration of Bajan roots and history that invites locals and visitors alike to relish the colorful, lively scenes and spectacles that Barbados creates during the festival and all year round.
Barbados is a Caribbean gem, rich in cultural, historical, sports, culinary, and ecological experiences. One of the few coral islands in the Caribbean, it is surrounded by idyllic white sand beaches, which is why this destination is known as the "Gem of the Caribbean."
From its rich historical attractions to its status as a thriving cultural destination, travelers will find that Barbados is a one-of-a-kind destination and Barbadians are very special people who have many stories to tell.
Visitors from all over Latin America can easily get to Barbados on Copa Airlines via Panama. Once they arrive, they'll be able to take in the island's premier cultural festival, which offers events such as visual art & craft exhibitions, calypso tents, and plenty of dancing, all culminating in the colorful Kadooment Day parade in which locals and visitors take to the streets in beautiful, elaborately designed costumes.

Enjoying the Sweetest Summer Festival in the Gem of the Caribbean
Every year, Crop Over takes place from July to August and invites locals and tourists to celebrate a 200-year-old tradition honoring the end of the sugar cane season. Its emergence can be traced back to the 1780s, when Barbados was the largest producer of sugar in the world. The Crop Over celebration was held at the end of the sugar season to commemorate the conclusion of yet another prosperous sugar cane harvest. The festival suffered from the decline of Barbados's sugar industry, and in the 1940s it was completely discontinued. When the Crop Over festival was revived in 1974, additional facets of Barbadian culture were incorporated to create the current extravaganza.
Today Crop Over is a celebration of Bajan culture. The festival is a beautiful blend of all-inclusive experiences, fetes, paint parties, and music competitions like Soca Monarch or the more traditional Pic-O-De-Crop calypso competitions. Songwriters, composers, and producers have pushed the growth of Crop Over by contributing to the festival's music, which many see as one of the highlights of the festival season. No matter the event, soca and dancing are an essential part of the celebrations.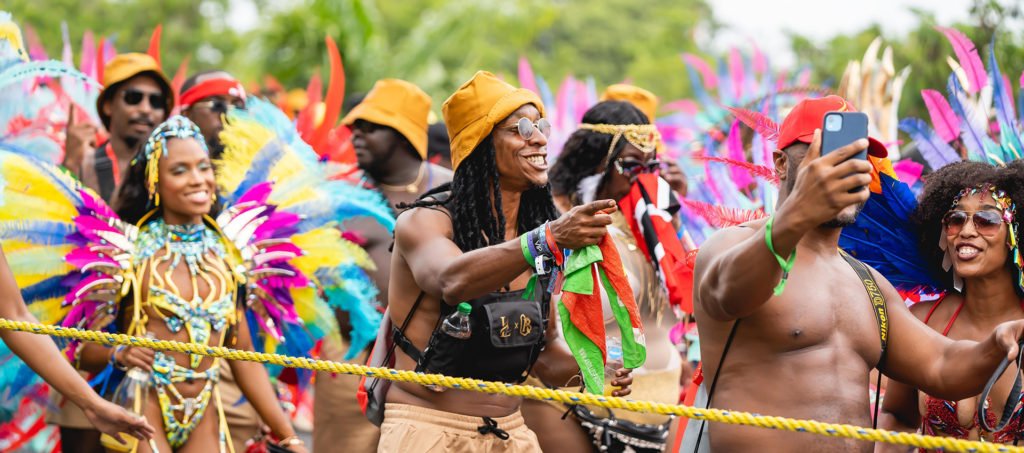 Although the Crop Over Festival runs over a two month period, the most exhilarating events occur during the last week of the festival, culminating in Grand Kadooment Day. Known as the "Last Lap," the day's numerous themed fetes and events will keep festival goers on their toes and enthralled by the natural enchantment of Barbados and its people. During this anticipated week of events, time loses all meaning. Bajans make use of every hour of the day, especially when it comes to a celebration like Crop Over.
Festival goers can start their day at a breakfast party like Mimosa, eating the best Caribbean cuisine, sipping cocktails, and dancing to live music before noon. For those who want an all inclusive sample of Barbados, the Bliss experience brings together the best of the island's culinary and musical talent. Held at the most breath-taking venues around the island, this event hosts multiple international and local DJs to set the tone while patrons feast on some of Barbados's most delectable dishes, like grilled meats and seafood, poke bowls, fish cakes, and the famous macaroni pie.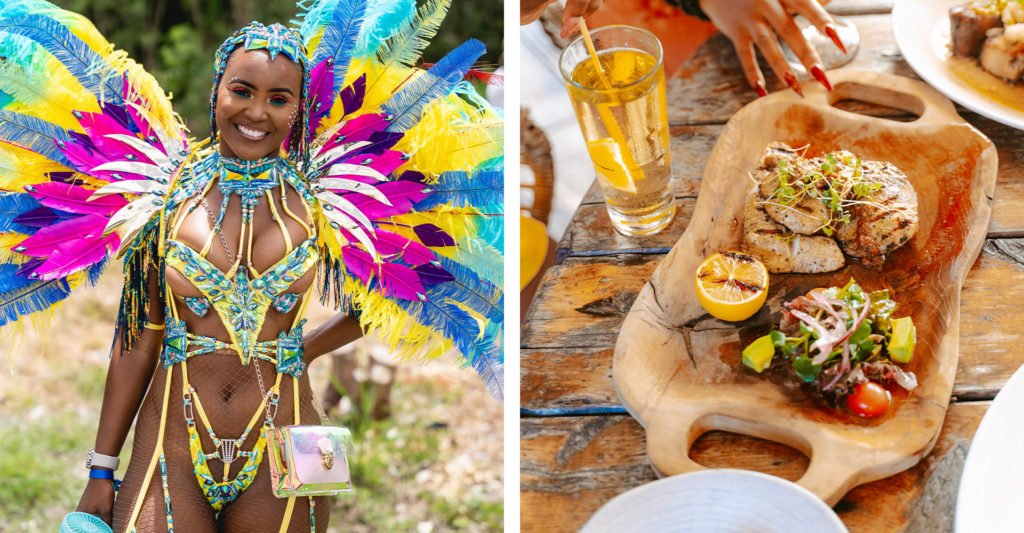 The Native Foreday Morning Fete goes into the early hours. Partygoers march, dance, sing, throw paint, and "wine" their waists to soca music, while mobile bars (trucks that refill festival goers' bottles) line up to make sure your thirst and desire for excitement are quenched.
Some of the additional exciting events include Lifted and Vibe Land, where you can party from dusk till dawn. There are also events like Spin Pooch with Spinny and Friends, a dance cardio session with artists, entertainers, and fitness gurus, and cooler boat parties like Limerz Cruise. And, of course, there is Soca on de Hill, which brings the best soca artists together with soca lovers and great vibes.
While each fete and festivity is unique, all have one thing in common: they unite individuals with the purpose of celebrating the rich traditions and infectious spirit embodied by the island of Barbados and its wonderful people. The climax of the festival is Grand Kadooment Day, a parade filled with color, soca/calypso, and all the Bajan vibes. During the celebration, travelers will see Masquerade Bands make their way through a set route with revelers dressed in sequined costumes decorated with colorful feathers, jewels, and bright accents dancing behind music trucks and moving bars dispensing the iconic liquid gold.
Each year, the dazzling and intricate carnival costumes are provided by different "bands," or design houses, that attendees can choose to use. These design houses and stylists provide festival revelers with outfits, food, drinks, security on the road, and even music to keep everyone moving!
The Crop Over Festival is one of the world's most diverse festivals, with a rich mix of history, creative arts, parties, music, and masquerade. The festival's had an exciting journey that started on plantations and arrived at a glorious mingling of tradition and innovation. Apart from being an expression of Barbadian culture and heritage, the festival has now evolved into a viable economic product, contributing millions to the national economy over a two month period.
The festival took a hiatus in 2020 and 2021 due to the COVID-19 pandemic, but came back in 2022 with a celebration that was nothing short of mind-blowing. This year, the sweet summer festival will kick off July 1 and end on August 7, the Grand Kadooment Day
The island also hosts a series of festivals and events throughout the year for every type of traveler. In October 2023, foodies can once again indulge in the island's annual Food & Rum Festival, a four-day event that showcases the talents of Barbados's most renowned rum producers, local chefs, and culinary personalities. Barbados has been called the "Culinary of the Capital of the Caribbean" and this festival showcases why.
The destination is also well-known in the Caribbean for sports tourism, as Barbadians are avid athletes. Adventure-seekers can experience thrilling activities such as car racing or surfing on many of the island's beaches. Visitors can additionally enjoy a wide variety of leisure activities, including horse racing, polo, water sports, golf, track and field, and cricket. Barbados even hosts an annual marathon weekend, Run Barbados, during which hundreds of local and foreign runners enjoy the beautiful island as the backdrop of their route.
Barbados boasts year-round natural beauty and a rich and lively culinary scene. From the endless activities and entertainment during the Crop Over Festival to its robust historical attractions and status as the birthplace of rum, Barbados is an authentic gem in the Caribbean that has something to offer to every sort of traveler.