Denver, ski adventures for beginners
If you thrill to adventure, spending time outdoors, and trying something new, this winter is the perfect time to slip on your skis and power downhill with the wind in your face. This is a real taste of the freedom we've been waiting for!
By Javier A. Pinzón
Photos: Javier A. Pinzón, Snowmass Tourism and Getty Images
Winter sports might be something from the movies for most Latin Americans (except in the Southern Cone), but ski resorts in the United States are becoming more and more inclusive, and they offer packages for beginners. What's more, the direct Copa Airlines flight from Panama City to Denver puts some of the best slopes in the world within easy reach.
That's how yours truly, a denizen of the tropics, ended up at Snowmass last season. I wanted to take advantage of the Covid slowdown, and I knew that the resorts would have the necessary health and safety measures in place. Aspen Snowmass, one of largest ski complexes in the United States, boasts 336 trails and forty-six lifts on four mountains, covering an area of more than 13,000 acres.
My adventure began at Snowmass, one of the complex's four mountains, which has twenty lifts and ninety-six trails for all levels spread over some 3,338 acres: the Family Zone, the ski school area, trails through groves of trees, obstacle trails, Extreme Park, steep, expert-level trails (including EX or extreme), terrain parks, and a gamut of wide trails for intermediate skiers.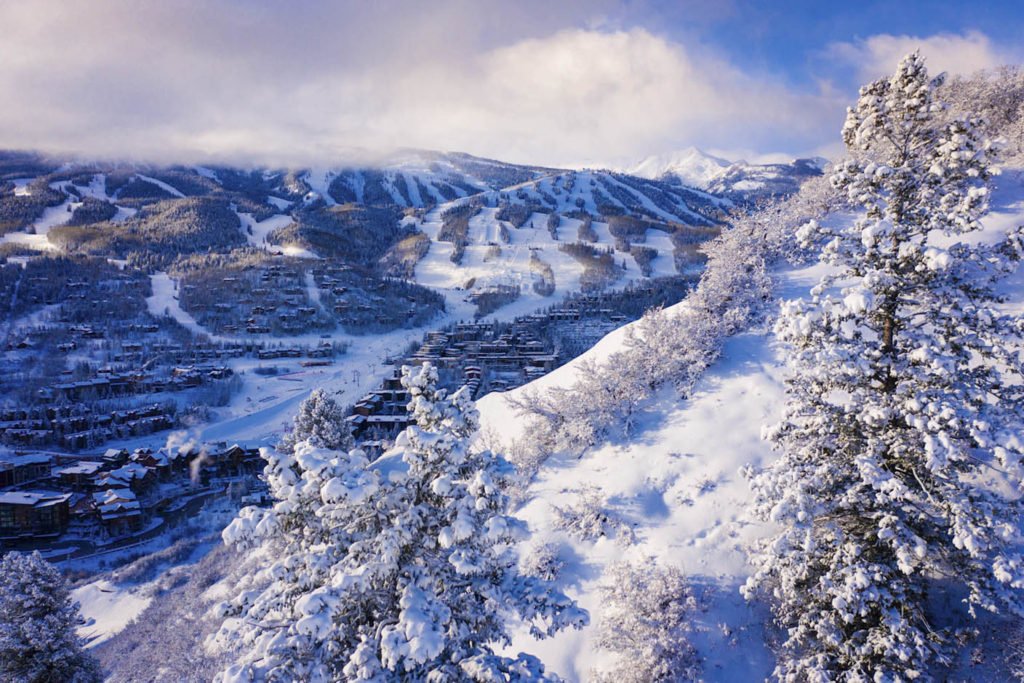 My first surprise was seeing how close everything is. In Snowmass, 95% of lodgings are "ski-in/ski-out," meaning you can go directly from the hotel to the slopes, even if you're not staying in luxury accommodations. Just steps away from your door you'll find the ski rental shop, where qualified staff will help you select the right equipment for your first winter adventure. Beginners should probably take a day or two of classes first to get the most out of the experience. The instructors are multi-lingual, and most importantly, highly qualified. You'll avoid major mistakes and unnecessary falls, and you'll enjoy your time on the slopes so much more. Green circle slopes, and especially Fanny Hill (accessed from the Village Express lift), are good choices. This lift also goes to Sam's Smokehouse, a restaurant serving delicious Italian food with a gorgeous view of the snowy peaks. 
If you are already an experienced skier, you might start with the scenic gondola that runs up to Elk Camp. There, you can grab a bite at the restaurant, appreciate the magnificent panorama, ride the Alpine Coaster or try snow tubing, before stylishly swishing down one of the blue square trails. These trails are wide and safe, allowing you to gradually regain confidence if it has been a while since you last skied. One of my favorite trails in this area was Sandy Park, a wide trail running through a lovely landscape complete with picnic tables for a mid-trail rest. The Sheer Bliss, Big Burn, and Alpine Springs lifts run to blue square trails. Daring and more advanced skiers can attack the black diamond trails.
This is one of the few mountains where skiers can start from the summit and descend 4,406 feet to the bottom. If you are an intermediate or advanced skier, don't miss Hanging Valley, reached via the Cirque lift that runs to the top of the mountain. Given the variety of black diamond and blue square trails leading to the bottom, this Panamanian adventurer was able to ascend to the summit, take in the imposing landscape, and then ski down. If you venture down the Rocky Mountain High blue square trail, we suggest you take the first fork to the right to UP 4 Pizza, where you can savor not only tasty pizza, but the most delicious freshly-baked cookies, still warm from the oven. 
Early birds who like to be first on the slopes can join the instructors for the first descent of the day on fresh, just-groomed powder before the mountain officially opens and gets crowded. This first descent is on the house and available to advanced intermediate skiers and snowboarders over the age of 11. It is offered Mondays, Wednesdays, and Fridays starting in mid-December. Space is limited so advance registration is required.
In addition to schussing down all these trails, you can try your hand at cross-country skiing and glide serenely across snowy expanses and through silent forests of pines and poplars. Here's your chance to feel like the hero of your own movie, perhaps as an international spy or a member of the jet set. This is the largest system of free trails in the United States, with sixty miles of Nordic trails suitable for all levels, all accessible from the Snowmass golf course. All you need to do is rent the right equipment and head out to enjoy the landscape at your leisure. There are also two-hour snowshoe tours guided by an ACES naturalist; these tours depart every day at 10:00 a.m. and 1:00 p.m. from the top of Elk Camp Gondola. Snowshoeing is a very meditative activity: it's just you and the mountain, so you and your companions can commune in silence with the mountain. You'll be wrapped up in the magnificent scenery and the wide-open horizon. 
As the day comes to a close, it's time for after-ski, whether at the mall or in town; people meet in the bars or around the fire to sip beverages and recount their adventures. Take a stroll through Snowmass Village, and enjoy the boutiques and ice sculptures. You can see how the sculptures evolve over the course of the season. On Wednesdays, there are entertaining live demonstrations by sculptor and multimedia artist Thomas Barlow that include neon lights, colored sand, and of course, snow and ice.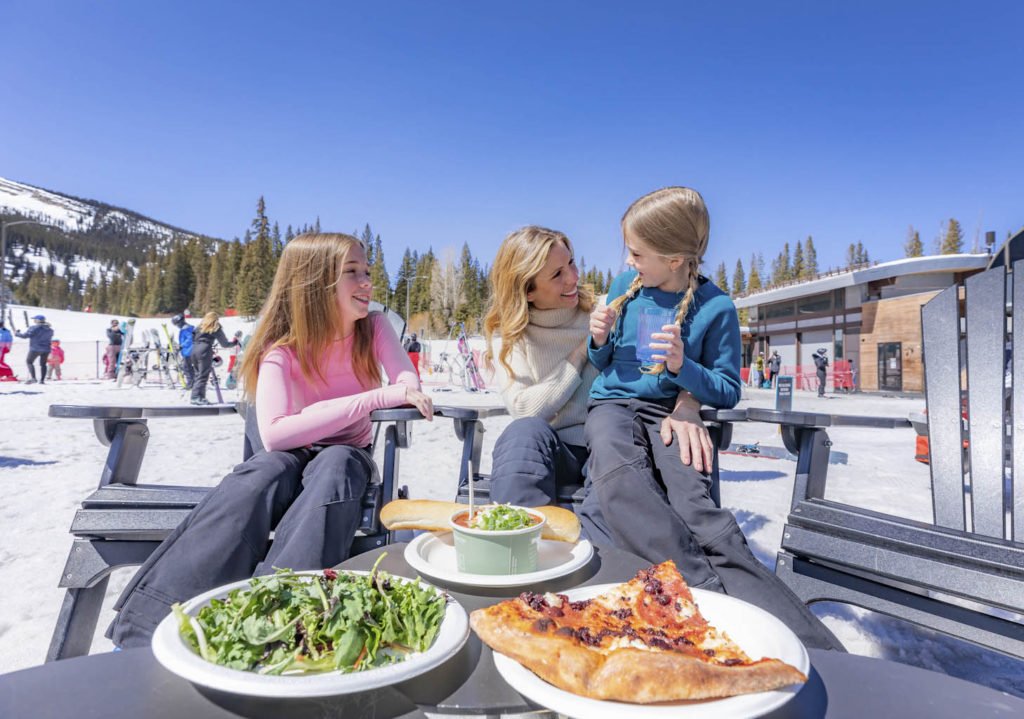 At nightfall, things literally light up with Snowmass Luminescence, an interactive art and light exhibit presented by Snowmass Tourism and Aspen Snowmass. All the guests and community residents can immerse themselves in the dazzling world of light and art, located between Snowmass Base Village and Snowmass. After the show, you can head back to your hotel for a shower or relax in a heated pool set amid the snow and end the day under the stars. In a bathing suit. In winter.
All roads lead to
(and from) Denver
Colorado is cementing its reputation as a premier ski destination. After implementing the necessary health and safety measures, the state is now welcoming thousands of ski tourists back to the slopes. Here are a few options for this practicing winter sport.
Winter Park is a resort owned by the city of Denver. A two-hour express train trip from the international airport will take you right there. Reopened this season,  Winter Park offers skiers nearly 3,000 acres of snowy slopes. 
A-Basin, as it is known, is famous for its slopes, landscapes, and relaxed vibe. Many of the slopes are above the tree line, making it suitable for skiers of all levels.  
Sitting some 9,500 feet above sea level, Cooper opened midway through last December. Nestled in the Rocky Mountains, its snow is famously soft, making this an ideal site for beginners, although it also has trails for experienced skiers. Other winter sports and hiking round out the seasonal offerings. 
Located near Cooper, Breckenridge is a major winter sports center, but it also provides visitors an opportunity to discover the history of one of the oldest mountain towns in Colorado. This picturesque town features 19th century houses, vibrant nightlife, and excellent cuisine. The city added new chairlifts in anticipation of increased demand this winter.
Vail, which is particularly popular with Latin Americans, took advantage of the pandemic recess to add nearly 200 acres to its existing 430 acres. And the Black Forest trail has been adapted to facilitate ski lessons and make it more accessible to skiers of all levels.
Another popular destination among travelers from Latin America, Steamboat has reorganized to provide more outdoor experiences and easier access to the gondolas. Both the facilities and the ski education programs for children and teens have been revamped.