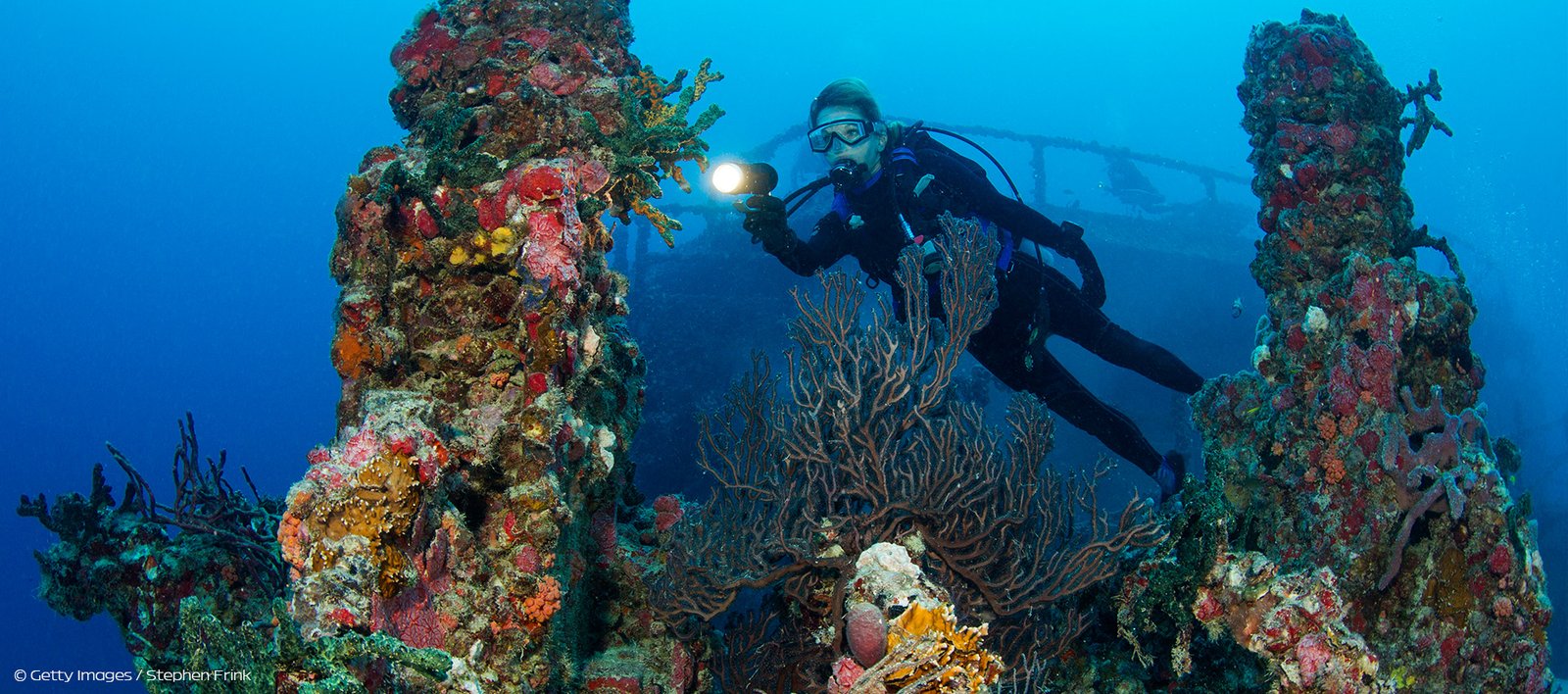 A Voyage through the Florida Keys Marine Sanctuary
The Florida Keys National Marine Sanctuary protects the coast from extreme events and hurricane tides, limits erosion, ensures ecological equilibrium, and acts as a carbon sink to mitigate climate change. It is also an incomparable eco-tourism destination.
By Javier Pinzón
Photos: Getty Images y Javier A. Pinzón
At Florida's southernmost point, beaches of soft white sand fringe 1,700 keys set in a turquoise sea. Overhead, a system of ocean bridges connects the mainland with this long necklace of islets. Below lies a complex, living and breathing system of corals, mangrove forests, and reefs. The grouping makes up the Florida Keys National Marine Sanctuary, which is home to more than 6,000 marine species. More than 800 historic underwater sites have been identified here.
The entire sanctuary comprises more than 1,800 miles of islands and over 2,100 square miles of mangrove forests and extensive beds of marine grass. . This marvelous setting, which has attracted visitors from around the world for decades, is responsible for preserving the integrity of the coast from extreme events and hurricane tides. It also limits erosion, ensures ecological equilibrium, and acts as a carbon sink to mitigate climate change.
This wealth of natural beauty has attracted millions of visitors over the years. The National Oceanic and Atmospheric Administration (NOAA) understands the importance of this ecosystem to the local economy, which is why this Sanctuary is a model of complementary tourism and conservation. Essential regulations ensure healthy resources, allowing visitors to dive, swim, snorkel, and fish. To this end, the sanctuary uses a marine zoning strategy that protects unique habitats and balances commercial and recreational interests. Besides enjoying the sanctuary, visitors can take advantage the many amenities on offer in the keys.
The island is recognized as a tropical paradise with dramatic greenery, two state parks, a national park, and part of a national marine sanctuary. Varied types of accommodations are available, as are numerous aquatic activities like diving, snorkeling, sport fishing, and moving encounters with dolphins. Key Largo is, in fact, considered the world's dive capital. It also offers several land-based attractions, such as nature trails and a rehabilitation center for wild birds.
The John Pennekamp Coral Reef State Park and the Dagny Johnson Key Largo Hammock Botanical State Park are found here. Key Largo is known for its outstanding dolphin therapy programs, and its close ties to the Hollywood film industry. Additionally, it is a very popular destination for activities such as kayaking, bird watching, and eco-tourism.
This enchanting island of fewer than 3,500 inhabitants lies about 20 miles to the south. Most of the lodging options are beachfront vacation rentals with impressive views.
Don't miss McKee Castle, where Art McKee, Jr. discovered the treasure from a Spanish fleet that sank in 1733. There is also an exuberant tropical garden and the picturesque Treasure Village for shopping.
Aquatic activities such as diving, snorkeling, and fishing are the order of the day, as is the chance to relax on the Plantation Yacht Harbor beach.
The island is known as the world capital of sport fishing. It is the site of the Keys History & Discovery Center's interesting exhibits, Robbie's Marina, and the aquatic shows put on by the Theater of the Sea.
Divers will be captivated by the impressive string of reefs and the chance to visit the History of Diving Museum. Music lovers will gravitate to the ICE Amphitheater in Islamorada Founders Park. It's an ideal spot for concerts and cultural and recreational events.
Walkers will find well-marked trails. If you're looking for great dining, there's nothing better than trying out the local delicacies, including the enormous range of fresh seafood prepared in the style of various cuisines.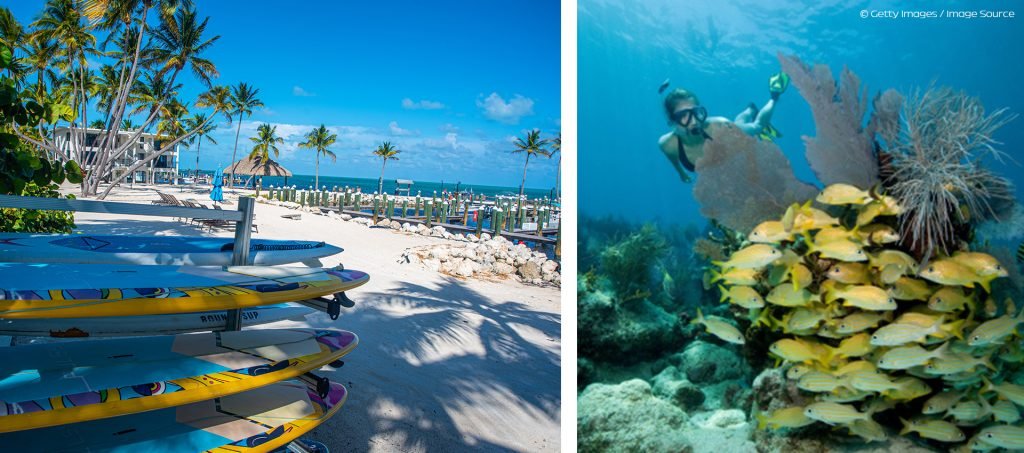 This perfect family destination is located in the heart of the Florida Keys. The city offers calm beaches, gorgeous landscapes, a chance to swim with dolphins, and snorkeling and fishing on nearby Sombrero beach.
A couple of must-sees are The Turtle Hospital, the world's first licensed veterinary hospital specializing in the care of sea turtles, and the Dolphin Research Center, a non-profit educational and research institute.
Children will be thrilled by a visit to the Florida Keys Aquarium Encounters, with its exhibit of coral reefs and a predatory fish habitat housed in an interconnected salt-water aquarium.
This group of small islands is home to several national wildlife refuges, a national marine sanctuary, and a state park.
Bahía Honda State Park features beaches of white sand and abundant wildlife. The National Key Deer Refuge gives visitors a look at these diminutive animals. You can bicycle, fish inside the park, snorkel, or dive to explore the wreck of the Adolphus Busch Sr. and the Looe Key coral reef. Kayak excursions to Blue Hole and No Name Key are also available. Stock Island, known as the center of the shrimp industry, is a unique island that offers art, bars, and restaurants for your enjoyment.
Visitors will appreciate the extraordinary night skies here.
Located at the southernmost point of Florida, this key is perhaps the best-known owing to its rich history, cultural diversity, impressive architecture, and celebrity guests like Ernest Hemingway, Tennessee Williams, Elizabeth Bishop, Robert Frost, and Jimmy Buffett. One of the city's iconic places is Ernest Hemingway's famous home, now a museum.
The island can claim a significant African cultural legacy, which is evident in the historic churches, the indigenous cuisine, and the annual festivals held near Bahama Village, founded by Bahamian immigrants in the 19th century.
At dusk the streets come alive with outdoor cafés, bars, and acclaimed restaurants that serve traditional island dishes. The local theater scene boasts a wide variety of dramas, musical comedies, and comedy shows.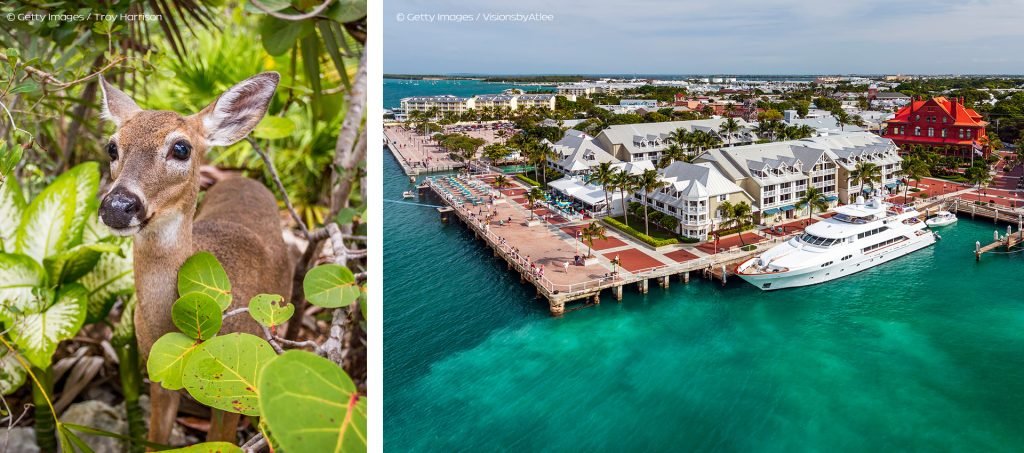 The coral reefs in the Florida keys are under serious threat from hurricane damage, bleaching, diseases, and human activity. To combat this, the National Oceanic and Atmospheric Administration (NOAA) and its partners have undertaken an ambitious project to restore seven iconic reefs. The goal is to preserve this unique ecosystem and reverse the deterioration suffered by the coral reefs and the worrying loss of coral cover.