Whale Watching Season, Where To See The Giants Of The Pacific?
A natural extravaganza takes place off the Pacific coast of Panama between July and October when approximately 2,000 humpback whales migrate to the warm waters of our coast to mate and reproduce. Although this happens in several places off the western coast of Latin America, Panama City's infrastructure and tourist services—so close to the whale watching sites—make this activity a must-do during a visit to the Isthmus. Here we describe how, when, and where to see these giants of the ocean.
By Alexa Carolina Chacón
Photos: Eduardo Estrada
Las Perlas Archipelago – Gulf of Panama
This is the magic of Panama City: the most incredible experiences can be just minutes away. The Las Perlas Archipelago in the Gulf of Panama affords the quickest and easiest access for spotting humpbacks. Several tour operators offer complete packages that depart from Panama City. Panama Whale Watching is a pioneer in these tours. Three kinds of tours head toward the islands of Contadora, Bolaños, or Mogo Mogo. These tours depart from the Flamenco Marina along the Causeway, or the JW Marriott Marina in Punta Pacífica.
Another option is to take the ferry to Contadora where you can meet up with one of the Saboga boatmen, who are trained and qualified to take you on
a tour.
A little closer lies Taboga Island, where you might also be lucky enough to catch some interesting sightings. It's a perfect day trip from Panama City.
The coast of Pedasí, in the province of Los Santos, boasts a natural diversity that merits a trip lasting several days. The tourism options are virtually infinite. The marine mammals that take refuge near Isla Iguana are a superlative incentive for travel to this area, a place any aficionado of beaches and wildlife can't possibly skip during a visit to Panama. Departing from Playa El Arenal in Pedasí, this tour will give you a chance to spot these amazing animals and do some snorkeling. Afterwards, take a moment to relax and process the experience.
Boca Chica, Secas Islands, and Parida Island – Gulf of Chiriquí
The Gulf of Chiriquí is another idyllic area for whale watching. This tour leaves from the main pier in Boca Chica and reaches the islands in thirty to forty minutes. The whale watching lasts around an hour, depending on where you encounter the cetaceans. This is a good opportunity to tour islands like Boca Brava, Las Ventanas, Palenque, and San José. The tour includes stops of two hours each on the islands of Gámez and Parida.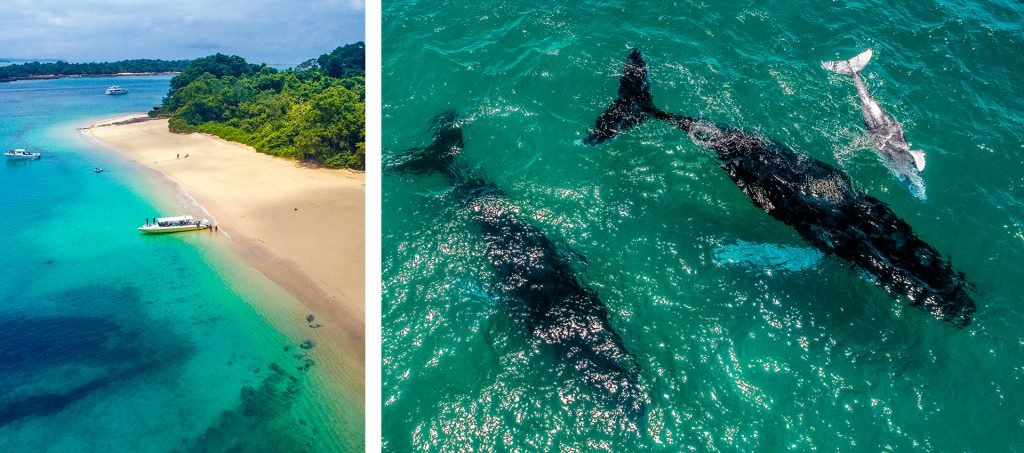 Coiba National Park – Veraguas
This UNESCO marine World Heritage Site is one of the most impressive locations in Panama. This group of islands, with golden sand and untouched beaches, is one of the world's most important protected Edens dedicated to conserving national fauna, so whale watching in this area constitutes an experience that is unique in its class. Pacific Adventure offers responsible tours that prioritize the well-being of the animals, while limiting environmental impact as much as possible.
Boná, Estivá and Otoque Islands – Chame
One more possibility, just a few miles from the capital, is Punta Chame and its lovely, sweeping beach. The excursion run by Casa Mahana is for a minimum of four people, lasts five hours, and includes a tour of the Pacific islands off the Panamanian Riviera. In addition to whale watching, you can spend an afternoon lounging on the beach on Otoque Island, where you can also snorkel.