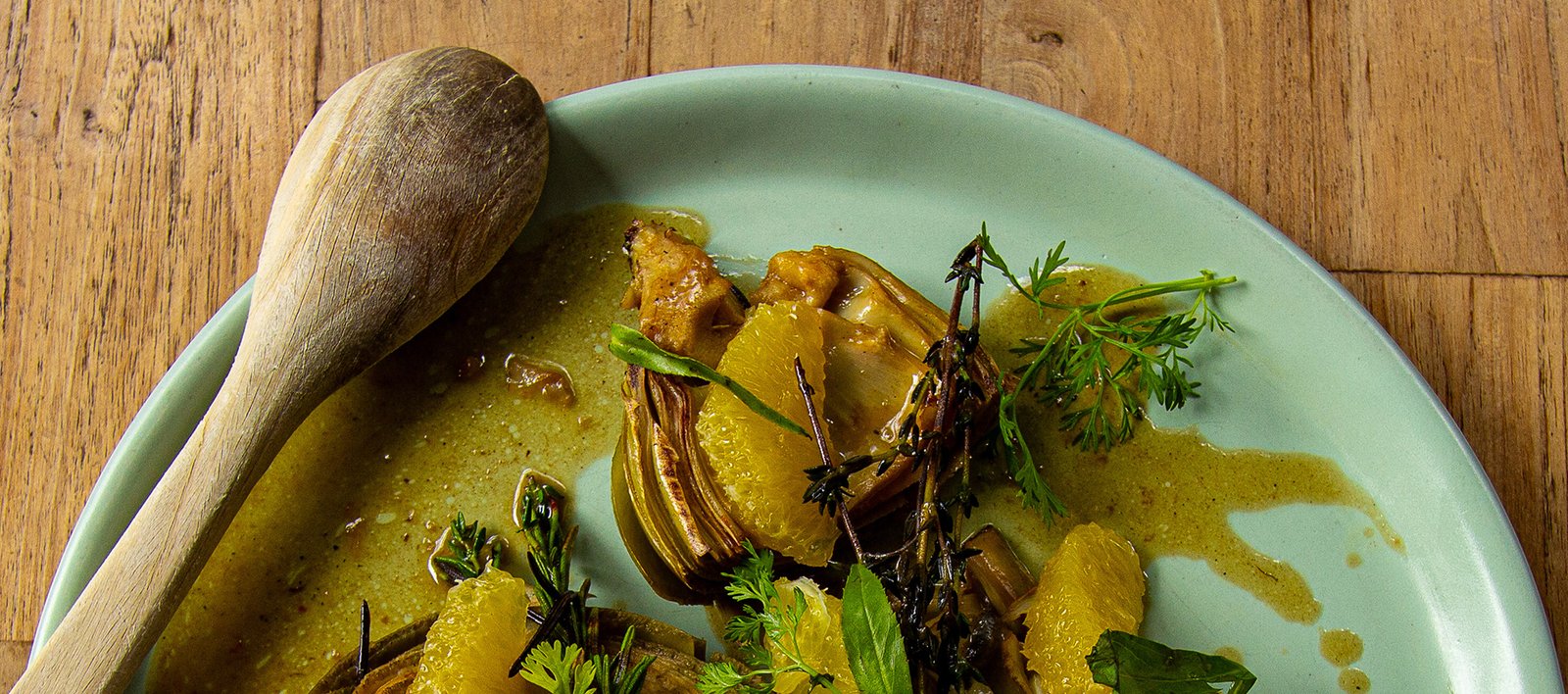 At the Table in Bogotá
Copa Airlines is celebrating thirty years of flights to Bogotá. We decided to pay a visit to the city and check out it's now-famous cuisine, which is attracting the attention of the world's most inveterate foodies.
By Julia Henríquez
Photos: Demian Colman
Today, beautiful Bogotá is attracting more and more tourists to visit this long-unnoticed destination. Its colorful streets, large avenues, amusement parks, nightlife, and exuberant green spaces enchant those who come to discover it. But on our recent trip, we were most surprised to discover everything that was cooking in this capital city.
Bogotá's culinary offerings have been growing with no end in sight. The chefs of the moment are in an amazing creative groove, embracing their own style, their roots, and the use of natural ingredients.
This gastronomic growth has not gone unnoticed. Leonor Espinosa, of the famous Leo restaurant, was named World's Best Female Chef in 2022. Her mystical cuisine attracts the finest palates. And Bogotá's contemporary cuisine has received additional accolades in the form of three mentions on last year's Latin America's 50 Best Restaurants list.
So we rode the wave, took a direct flight, and landed in the middle of these beautiful mountains, ready to eat everything. On this foodie trip, we decided to try a dish from every corner of Bogotá. With the help of William Heredia, a marketing spokesperson for the Mayor's Office of Bogotá, we divided the city into culinary districts and got started.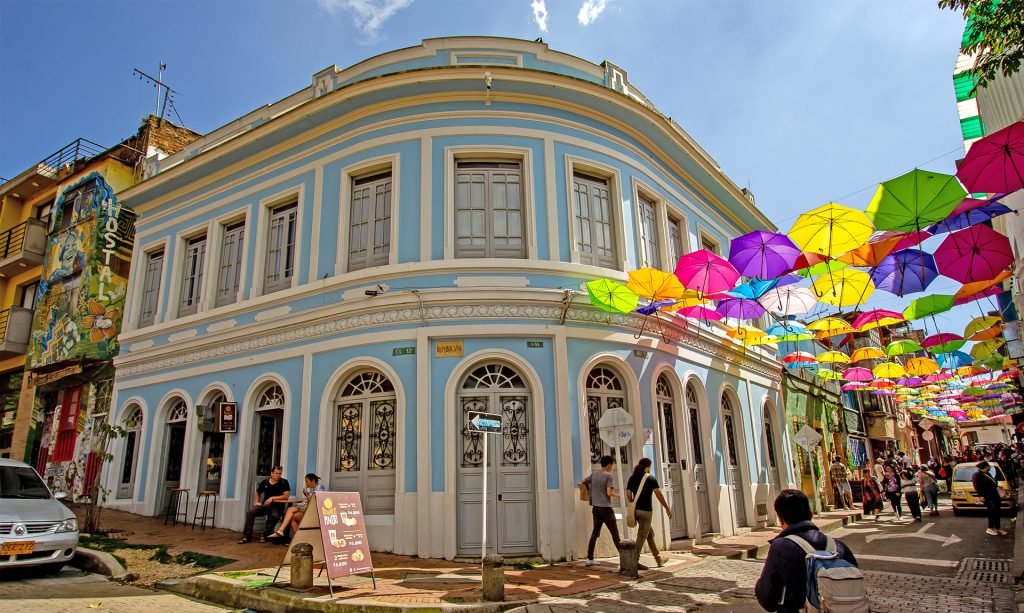 We started in Usaquén, once a neighboring town and now a neighborhood in the big city. Its mansions tell the story of the old aristocracy even today, after being converted into shops and restaurants. On weekends, the cobbled streets overlooking the park host a craft fair, flea market, music, and fashion shows, complemented by the area's immense culinary offerings.
As with any adventure, we start with a good coffee. And not just any coffee, Colombian coffee, which we enjoy at Caffa, where we meet Juan Felipe Lozano. We talk as if he was a dear friend we hadn't seen for a long time and we soon understand what he means when he says, "The most important ingredient in coffee is gossip."
Juan made sure that his venture, After Hours coffee, which started as a university project, had a serious humanitarian focus that he describes as "democratized specialty coffee." And "democratized" doesn't just refer to the fact that Juan's company tries to bring attention to coffee farmers.
After Hours is a coffee brand without its own plantations. Juan travels through Colombia visiting coffee crops, towns, and people; he measures the impact that the coffee industry has on Colombian fields and provides training. The idea is to move beyond "the fourth wave of coffee," in which the machine is boss, to highlight the stories of the people behind the coffee. After Hours also offers an "All Day Brunch," designed by Silvia Guzmán, specialized tastings, coffee and dessert pairing workshops, and barista courses.
As we speak, Juan envelops us in an extraordinary myth, the Leyenda de El Dorado coffee. He pours us a cup and, as he narrates the legend of the old cacique covered in gold, gold particles suddenly begin to fly around us. I swear, I'm not hallucinating.
The oldest neighborhood in the city and the foundation of today's endless metropolis, La Candelaria is Bogotá's smallest district, but it has the city's largest budget. Its bohemian atmosphere lends a colorful touch to its mixture of youth, tradition, and innovation. A walk among its single story houses is an encounter with the deepest layers of the city's culture. Tucked inside this neighborhood are countless theaters, cultural centers, libraries, cinemas, universities, and other strategic locations where art can soar. Naturally, cuisine shines as well.
We visit Laura and Gregorio in their cozy house built over 200 years ago: El Aquelarre (The Coven). As we settle into one of their comfortable sofas, Laura tells us that El Aquelarre takes guests on a tour of Colombia's traditional ingredients. The restaurant offers dishes, colors, and flavors that have always been there, but in ways never before imagined. Dishes come wrapped in leaves and accompanied by unexpected surprises, such as the traditional chicha drink of indigenous origin. The conductors of the experience are José Bautista, the chef, and Michael García, the mixologist.
The Aquelarre has three bars, one classic, one "de auteur," and its star bar, El Boticario (The Apothecary), where Michael performs his most daring experiments. The idea, they say, is to heal the soul and the physical body with good times and flavors that reach into the depths of one's being. They serve aguardiente infused with cubio roots, herbal and sweet drinks, and use their own homemade jams.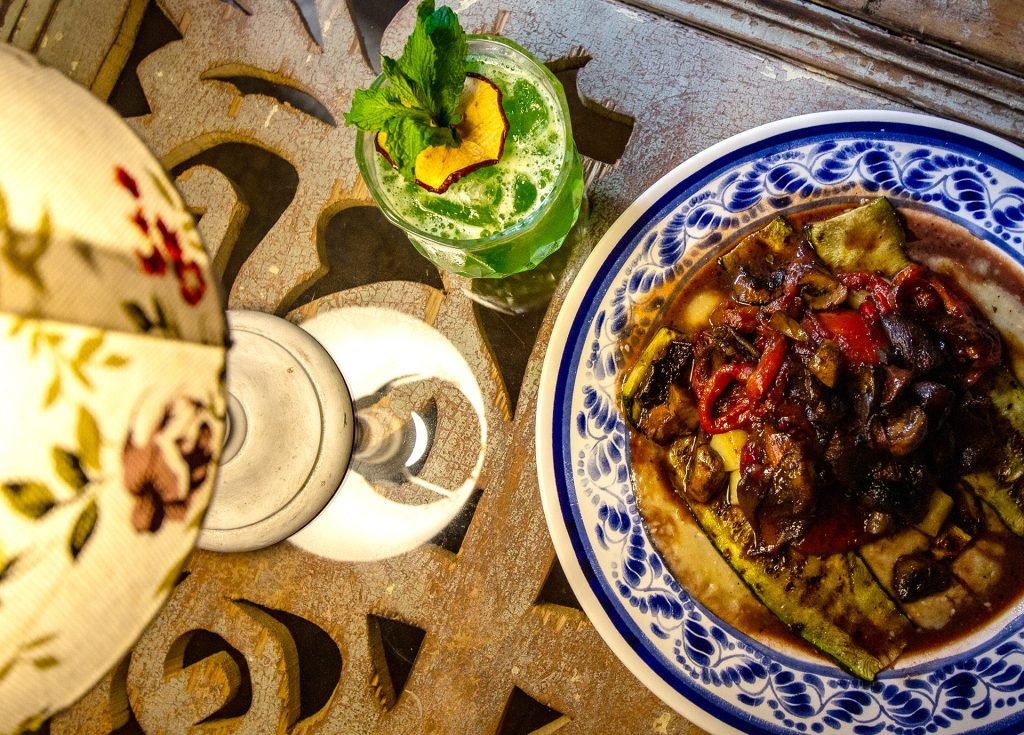 The old Chapinero neighborhood concentrates many of the city's best chefs in the radius of just a few blocks. A short walk takes us past El Chato, Leo, and Mesa Franca, three spots that made the 50 Best Restaurants in Latin America list, as well as an endless number of other places well-known on the new Bogota culinary circuit, and many local favorites.
We stop at HAB, where Pablo Tamayo, chef of the boutique hotel's exclusive restaurant, welcomes us. The building combines three large houses: the first, part of the city's heritage, is over a hundred years old, the second was an old convent, and the third is a modern building. All three have been enhanced with sleek design, spectacular rooms, and an inner courtyard oasis. And, of course, what we came for, the restaurant.
The menu is based on the farm-to-table concept, a trend that seeks to give new meaning to quality cuisine by emphasizing the bond between the restaurant's ingredients and the farmers who work behind the scenes. Each dish tells of the history and diversity of the land where it's components were grown and the hands that worked to harvest them. The restaurant's greatest ally is an organic farm located on the outskirts of the city; their menu is determined by what is in season there. They are careful to ensure the chef's touches only highlight the natural flavors of the products, which develop from the care they received from the time they were planted on the farm. The same farm products appear in a thousand different ways. The grilled artichokes are a perfect example, leading us to rediscover a flavor we thought we knew.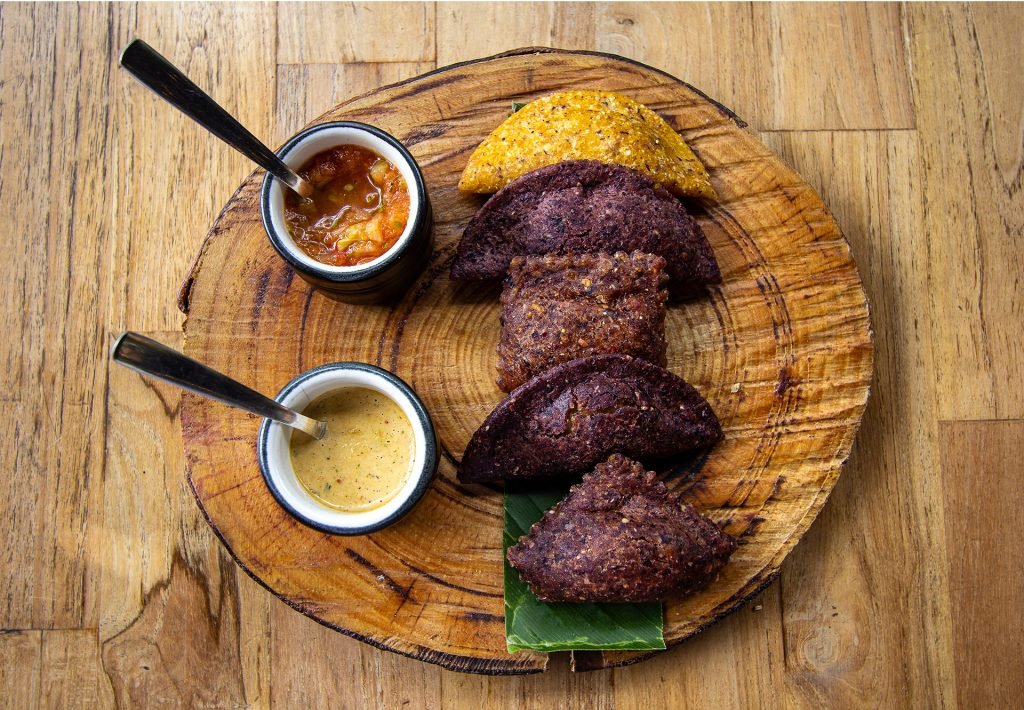 There is no better way to end this amazing trip than by enjoying the night. We close with a visit to Tejo La Embajada. We're welcomed by Daniel Lozano, who created this concept that introduces tourists to a sport with pre- Columbian origins.
It all started with a group of friends who got together to experiment with brewing beer. After three years, they found they had an expanding business on their hands. They decided that their beer, Non Grata, needed a sales point of its own. Unlike most craft breweries, which cultivate a European image, they looked inward, toward Colombia and its traditions. Tejo, an old game still alive in the Cundiboyacense countryside, which consists of throwing a metal disc onto a clay base that has triangles of gunpowder tucked into it—always with a beer in hand— was just the thing for the brand's next step.
And so this unique "embassy" was born to introduce this traditional and little-known sport to all corners of the world. Here the tejo courts, which were traditionally cramped, somewhat murky, and sometimes unsafe places, are attractive and offer traditional street food served in the best gourmet style along with craft beer.
After a delicious cauliflower burger, we're ready to start our own game. We end up jumping with excitement every time a mini explosion occurs. It is a surprising night that closes out this trip in an unexpected way; the best consular visit possible.