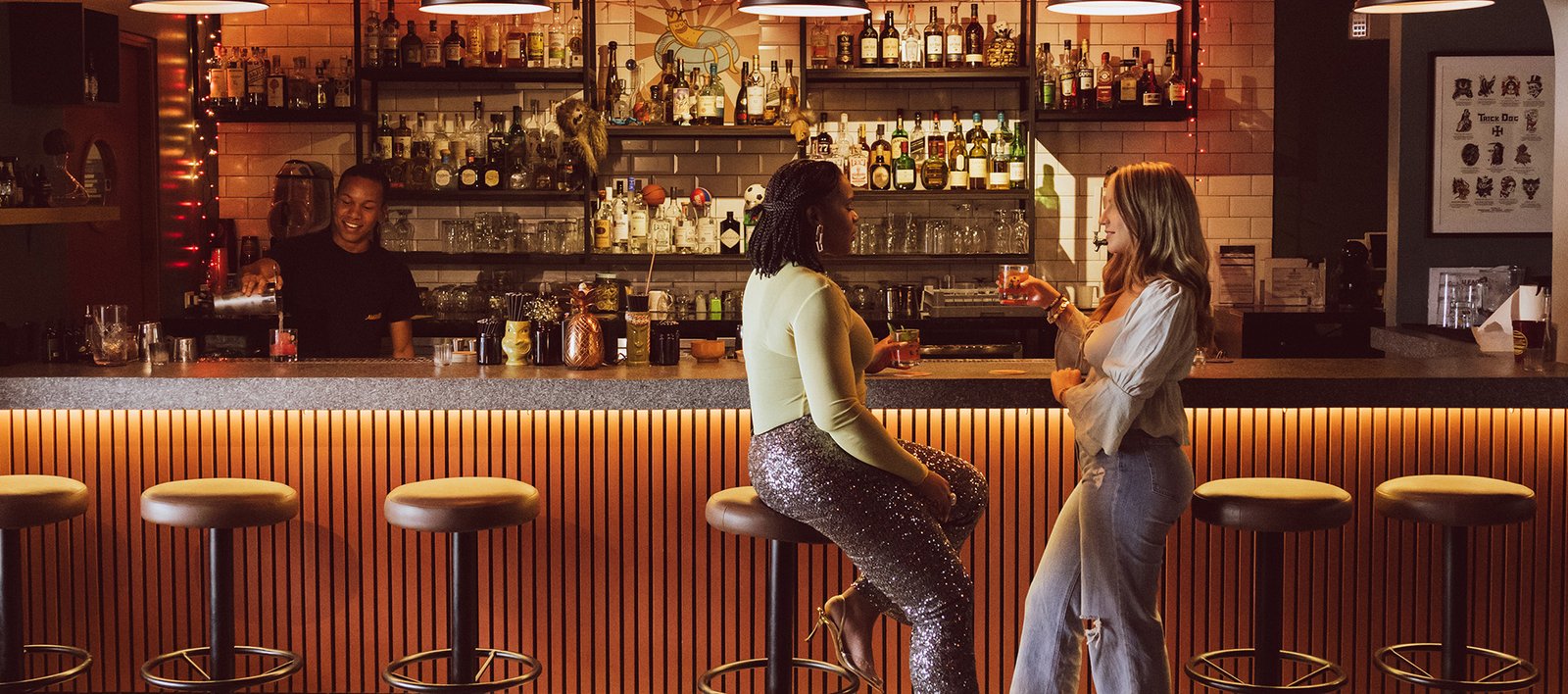 Bars, The New Tourism in Panama
There are few pleasures equal to getting together with friends for a great time. Some people gather around good food, but others find a cocktail or another adult beverage essential. In Panama, both pleasures combine at an array of bars with delicious food, sparking a new kind of tourism in the country.
By Alexa Carolina Chacón
Photos: Susana Aramburú
Unlike other places around the world, where drinking in a bar is considered an activity in itself (here's looking at you, London), bars in Panama always serve food. This is true at all the bars on our list. The difference between these bars and other restaurants that also prepare drinks is that the bars included here focus as much on the quality of their cocktails as on other aspects of the business. Their cocktail menus, specially designed to complement the culinary experience, are often separate from the dining menu. This gives the dining experience an additional quality that exceeds the expectations of local and international guests alike. Add in the ambience of these establishments —at once unique and eclectic— and you have a winning formula.
We introduce you to ten bars that represent the local scene in Panama, each aimed at a different crowd. During your visit to the Isthmus, you'll find yourself feeling at home in at least one of them. I guarantee it.
A classic in the San Francisco area that epitomizes the contemporary adult scene in the city. They began as a distributor of local craft spirits, but soon became popular for revolutionizing signature cocktails with innovative ingredients and techniques, in addition to inviting a steady stream of international bartenders to Panama. Its casual cuisine, prepared by Anti Burger, is praiseworthy and ideal for snacking as you sip cocktails and appreciate the weekly live DJ music. Amano is definitely synonymous with creativity in cocktails.
Calle Uruguay, Cd. de Panamá
This is Amano's more sophisticated brother. Situated in the heart of the city on Uruguay St., Mangle greets visitors with a wall of old-time memorabilia. And yes, that includes an original iPod. From 1990s gadgets to vinyl records, discovering hidden treasures in the decor is part of the fun. The menu is fresh and light, with several delectable vegetarian options. Make sure you try a cocktail made with Siete Misterios mezcal, a special house pour. One outstanding choice would be the Frozen Mezcal Paloma, a classic cocktail reinvented.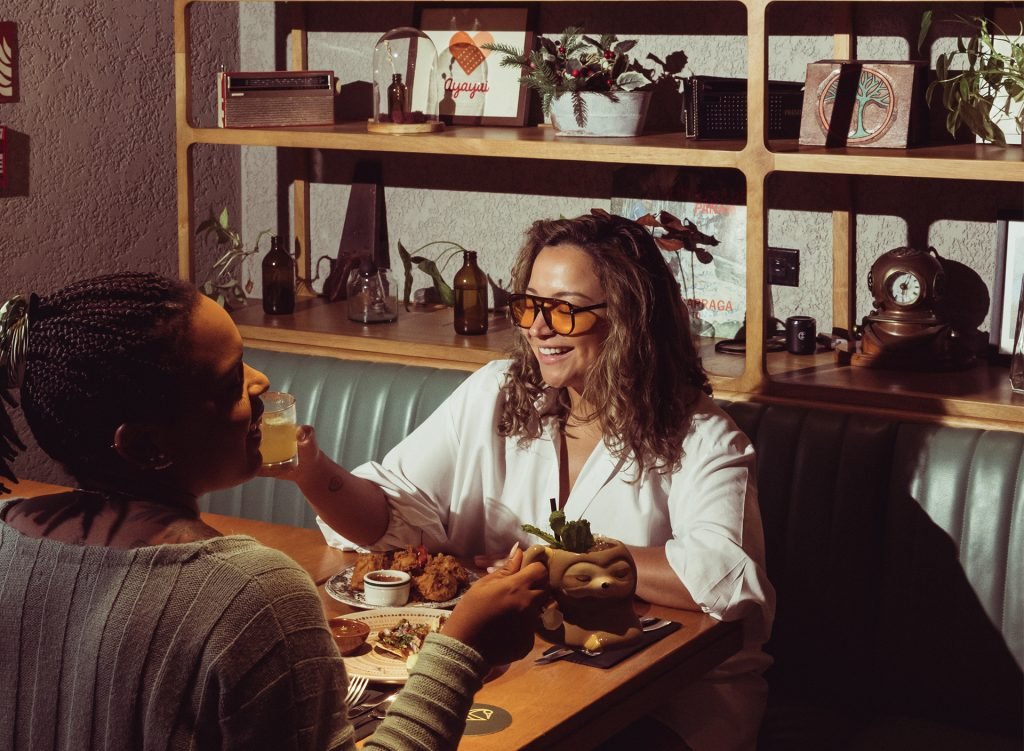 Imagine this: you arrive in Panama City for the first time, get a glimpse of the skyline bordering our bay, and dream of sipping a drink as you watch the sunset. One of the few places where you can make this dream come true is Filomena, in the Yoo building. Inside is an opulent yet inviting Italian restaurant specializing in seafood; outside on the terrace you'll find a more relaxed, but equally refined, atmosphere with a marvelous view of vibrant Balboa Avenue and the Coastal Beltway. The cuisine is a delight that cannot be described, it must be experienced. This is the perfect place for a refreshing Aperol Spritz or a Mai Tai Spritz, a specialty of the house with lime and prosecco. A great way to beat the heat.
Oceania Business Plaza, Punta Pacífica
Panama has very good Mexican food and many restaurants here will certainly mix up a spectacular margarita, but Wahaka goes one step further. Located in the Punta Pacífica area, this high-ceilinged restaurant gained renown for clearing away the low tables and turning the space into a dance floor in the evenings after guests finish eating. We recommend you arrive early to savor your chilaquiles (fried corn tortilla chips in sauce with cheese), flautas de pollo con mole (deep-fried rolled chicken tacos with mole sauce), or guacamole con chicharrón (guacamole with pork cracklings) paired with a selection from the extensive cocktail menu, and then dance the night away. There's no downside to the plan.
Av. Eloy Alfaro con calle 11 Este, Casco Antiguo
At the entrance to the Historic Quarter stands a bar that not only boasts one of the best views of the city, but is known for its lively ambience and special cocktails. Lazotea is the place: a top floor with the vibe characteristic of this ancient part of the city. Signature cuisine is accompanied by equally memorable cocktails. One popular drink is the White Sour, a subtle blend of ginger, lychee jam, soursop, and pink pepper. Lazotea is pure signature mixology.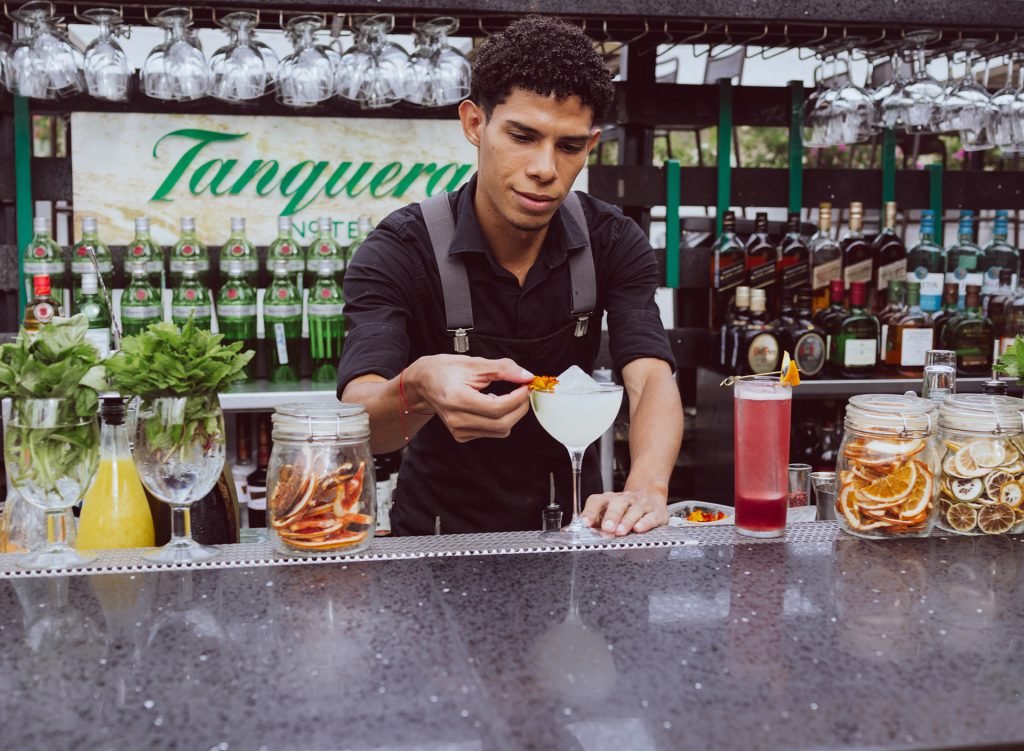 Ph La Trona, diagonal al Parque Urraca
A most appropriate name for one of the most popular bars in Panama right now. The name fits the star attraction of this bar: a piano that extends into a table more than six feet long, where guests can set their beverages as they listen to the music. If you're in the right mood and up for a challenge, you can request a song and sing karaoke to live music. If discos are not your thing, this is the perfect place to make new friends and have a wonderful time.
Calle 8 Este con av. B, Casco Antiguo
A classic in the Historic Quarter. Tántalo has been nightlife central in Panama City for eleven years. The hotel has been completely renovated and the cocktail and food menus have been given a 180-degree makeover as well. Start with dinner on the lower floor and then head up to the rooftop, where you'll find a dance floor and a DJ every Friday. This bar attracts free spirits from the Historic Quarter and international visitors who love the warmth of the terraces in our country. Every night on the rooftop is a happening with costumed dancers, lights, and an incomparable view of the city.
Calle 71 Este, San Francisco
What began as a small nook in the Historic Quarter (where they are still one of the best in the area) became a more elevated experience in San Francisco. The "pulpería" takes its name from a kind of convenience store in South America. As the name suggests, you can have everything from a good coffee to a delicious meal here. They are known for a cocktail selection that does the bar proud. I can boldly state that they serve one of the best espresso martinis I've ever tasted in Panama. And, of course, as their slogan notes, they are more than you might think, and they do in fact sell pulpo (octopus).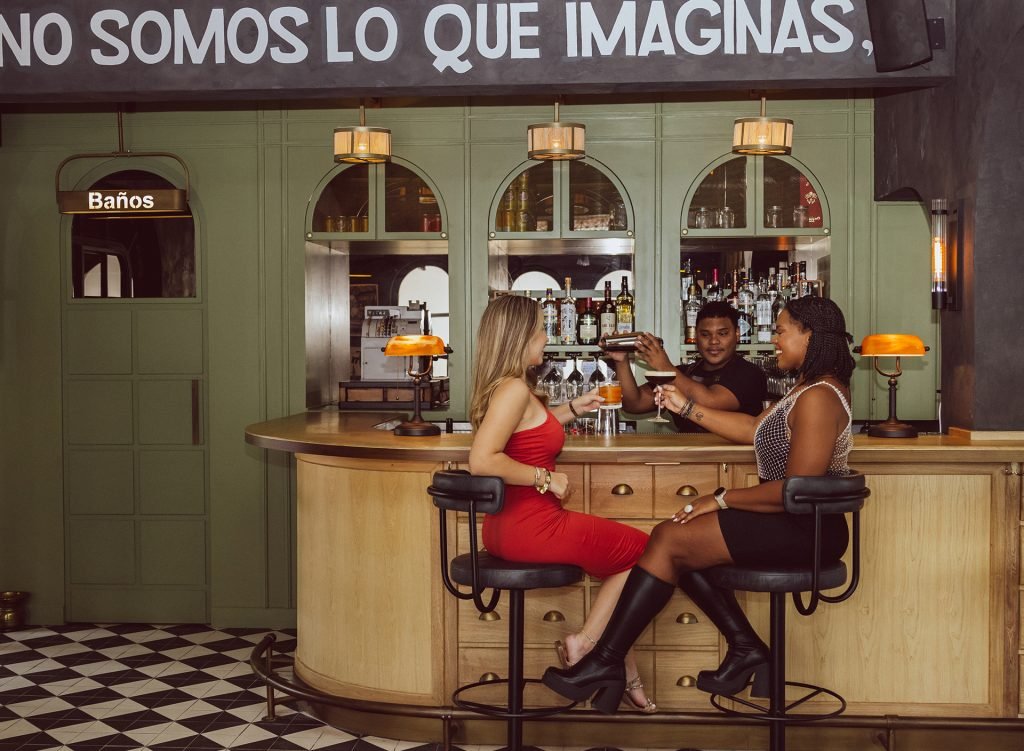 Calle 70 Este, San Francisco
The name is associated with a casual Mexican taco shop in the San Francisco neighborhood; the Maito group decided to change up the second floor of the establishment and turn it into a party space. If you prefer a party atmosphere with a live DJ every Saturday, you'll find it right upstairs. Mario Castrellón at the helm ensures quality cuisine. The bar invites you to enjoy a good tequila at a bar counter that takes its inspiration from a Day of the Dead altar. They are known for their margaritas and the famous "chilito caribeño," based on a chili-infused vodka. It's definitely for the brave and adventurous.
Panama Design Center, Costa del Este
The concept centers around what María Bombón would be like if she were real: what she would eat, how she would dress, and above all, what her restaurant would be like. Featuring a bar as captivating as the space, to step into María Bombón is to enter a provocative vortex of sensuality with décor highlights like warm red lights and touches of red. he sushi menu is outstanding and the signature cocktails have a sexy vibe. It's an ideal spot for a romantic date.