Pacific Riviera: Sea and Mountains Within Reach of the City
What will you find if you drive out of Panama City, heading inland? You'll strike gold in the form of sea and jungle. The 47 miles of coastline and mountains that constitute the Pacific Riviera are a haven of hidden tourist gems that are diverse, entertaining, and within easy reach of the city.
By Alexa Carolina Chacón
Photos: Paul Castillero
The Pacific coast of Panama has historically been a preferred vacation spot for residents of the capital city. Generations of Panamanians have acquired beach houses in this area, which the real estate sector has been developing since the 1980s. When I was asked to write this article on the Pacific Riviera, it brought my school days to mind. I couldn't help but recall those times when we went to a friend's house for a weekend out of the city, especially during Carnival time. Everything felt very small and local back then, but it is far from that nowadays. The Pacific Riviera of today has miles of extensive tourism infrastructure, perfect for Panamanians looking for a quick escape from routine, and even more perfect for tourists who want constant entertainment combined with the convenience of having everything close at hand.
You can't judge this area from the main road. Its true nature is revealed along the roads heading toward the beach or into the mountains. The Riviera also includes towns and attractions on the uphill side of the Inter-American Highway. rriba. You can find little-known places of astounding natural beauty that are not too hard to reach, complete with trails, lakes, and waterfalls. This article will give you an overview of some of the activities you might find interesting. Take notes!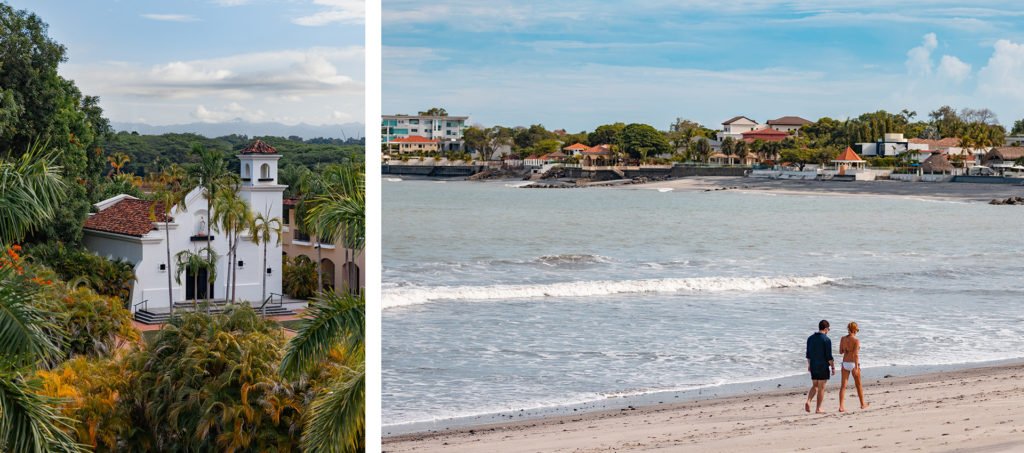 The Sea: The Star of the Riviera
The sea is the first and primary tourist draw on the Pacific Riviera. We suggest you begin by enjoying a day at the seaside without booking a hotel. It seems obvious, but it's worth remembering that the beaches of Panama are public. At beaches like Santa Clara, Farallón, Las Pozas de Gorgona, El Palmar, and Bijao (to mention those visited by the Panorama of the Americasteam) you can simply set up your gear and have a good time. They all have something to offer, but Santa Clara is one of the most comfortable. There you can rent palapas to stay cool in the shade as you lounge on the beach.
You can also enjoy the sea from the water itself. Several marinas along the Riviera rent out recreational boats for fishing, island-hopping, snorkeling, or just spending a day on the water with friends. At the Buenaventura marina, one option is a luxury catamaran that will take you to the islands of Farallón or Otoque, or even to the Las Perlas archipelago. You can choose half-day, full-day, or multi-day tours at sea. Dip into crystalline waters from a stand-up paddleboard, kayak, or inflatable platform when you rent a boat from the Outventure tour operator.
A tour to Farallón Island, located across from the beach of the same name, is a great choice if you don't have much time. From a distance, this unique volcanic island looks to be just a giant rock, but as you get closer you'll see that it teems with life, including enormous colonies of frigate birds, cormorants, and pelicans.
El Palmar, Punta Chame, Playa Malibú, and Playa Teta are surf destinations with warm water, rough seas, and a cozy ambience, imparting character to the coast. You'll be drawn into a sanctuary of relaxation and camaraderie at any of these beaches. Everyone pretty much knows everyone else, and if they don't, they'll soon meet in the sea. The water is full of young people and adults who run the gamut from seasoned surfers to novices. El Palmar is known as the home of the Palmar Surf School, whose 35 years of experience make them well qualified to teach you the sport. The Pacific Riviera sea is generous, providing an infinite number of ways to enjoy it.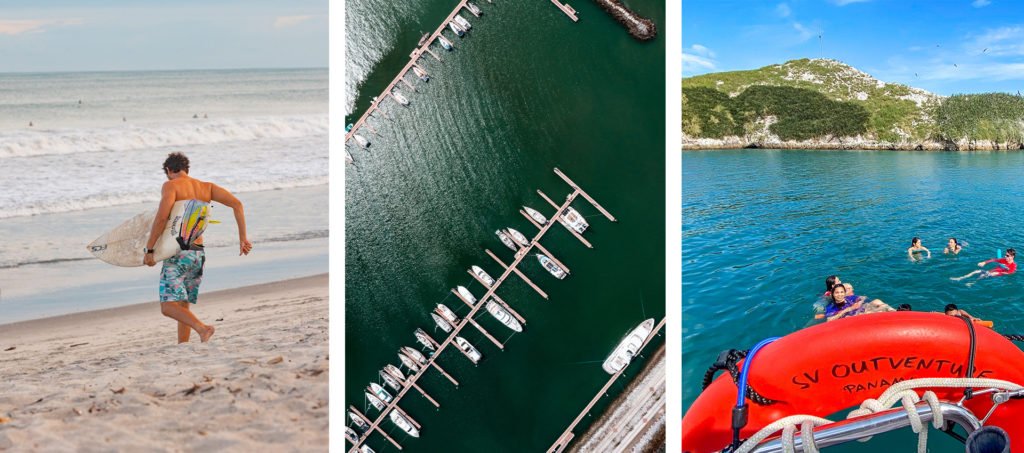 What do you feel like eating? Whatever it is,you'll surely find it here.
You eat well on the Pacific Riviera. If you ask me why, as a Panamanian I would say that it has to do with the local and international influences that have blended here over the years, along with the need to create varied, high-quality offerings for the region's growing tourism trade. The Kilian restaurant in Farallón serves sophisticated signature cuisine. We taste a beef carpaccio that can compete with anything found in the capital, and accompany it with fried ceviche and a memorable margarita.
If you're in the mood for something faster and more casual, head for pizza at Bar Picasso in Coronado. Known for its rollicking nights with live music, the bar's Italian-style thin crust pizzas also keep people coming back. If you prefer good fried fish or weekend sushi with an amazing view, Boga Bar is the perfect place. It's located at the Vista Mar marina where the luxurious yachts that anchor there provide the backdrop to your dinner. Xoko in Santa Clara, known for its octopus, clams, prawns, and musical shows, is a favorite for Mediterranean cuisine. Don't leave the area without stopping in at a quintessential Panamanian "fonda" (a small roadside restaurant with affordable Panamanian cuisine). Delicias Margot, on the highway across from the entrance to Coronado, serves fried breakfast foods all day long. We recommend the buñuelitos (fritters), lechona (pork), and fresh chicha (fruit drink).
Buenaventura is a beach community that has everything. It's almost a city in itself, with five-star beach resorts, a world-class golf course, popular restaurants, a marina that serves as a gateway to Pacific Ocean adventures, and real estate development for investors. Staying at The Buenaventura will give you access to the beach and the pool, just steps from its famous beach club, El Faro de Buenaventura.
The Green Side of the Pacific Riviera
When I saw the list of places to visit on the Pacific Riviera's long stretch of land, I was surprised by the large number of sites on the right-hand (i.e., mountain) side of the Inter-American Highway. It's a little-known part of the district of San Carlos, located in the first section of the Pacific Riviera. Before working on this article, this green side was a mystery to me, and it might be equally mysterious to other people who have only heard about the Riviera's famous hotels and legendary beaches.
A good place to start is San Carlos Lake, about 15 miles from the Inter-American Highway; the entrance is near Coronado. This lake, set amid high, rocky mountains, lies in a camping area that offers various activities, including hiking on Mt. Picacho, a small, rocky mountain that appeals to adventurers. The trailhead for the uphill path is just a few yards from the parking for the lake, so you can cover both in the same day. It takes about one hour and 45 minutes to hike up and back down 3,878-foot Picacho. Several viewpoints along the way provide excellent panoramic views. The demanding slope with loose rock is better climbed on a dry day.
The Sorá area of the San Carlos district features easy-access trails that promise a beautiful day in nature. The town of Las Filipinas, reachable via Altos del María, has a circuit of several small waterfalls. If you don't have a lot of time or you are not an experienced hiker, the first waterfall is just a 15-minute walk from your car. If you're alone or with children, it's recommended that you continue only as far as the second waterfall, since the trail grows more demanding from there. The area is cared for by a family who can provide any necessary help at the departure point. The fresh mountain water of any of the local waterfalls will tempt you to dive right in. It is reputed to cure any complaints and soothe any sprains. Totally revitalizing.
The Pacific Riviera is beach, river, and mountains. This familiar family vacation spot is no longer just a second home for Panamanians. Now it embraces anyone looking for a leisure destination. The magic is in its accessibility, friendliness, and the recreation on tap.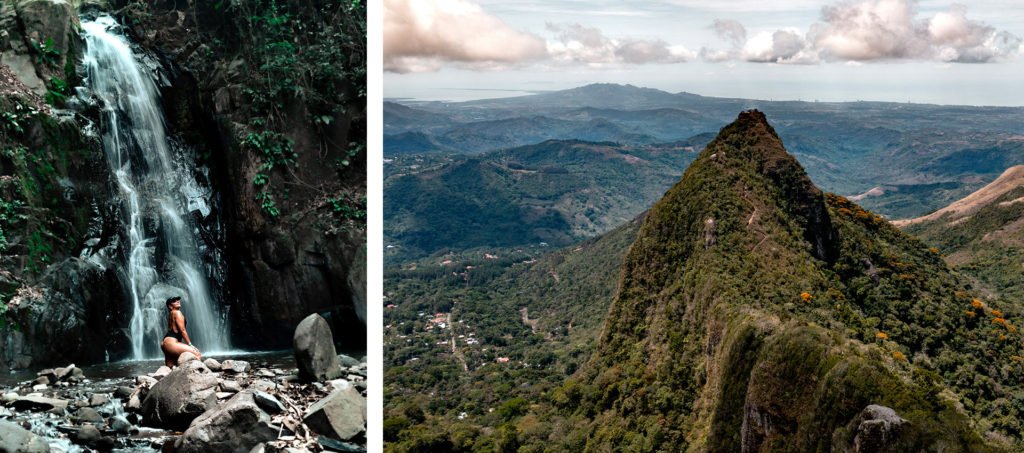 Of all the towns in this area, Farallón is most worthy of your time. It's known for the Royal Decameron, an all-inclusive hotel that draws many people to the Pacific Riviera, but there is much more if you continue along the highway. The road ends at Pipa's Beach House, a bustling beach club with facilities for lunch and small huts where you can spend the day. Restaurants like Kilian, for international cuisine, and Casa Greca, for acclaimed pizzas, round out the offerings.