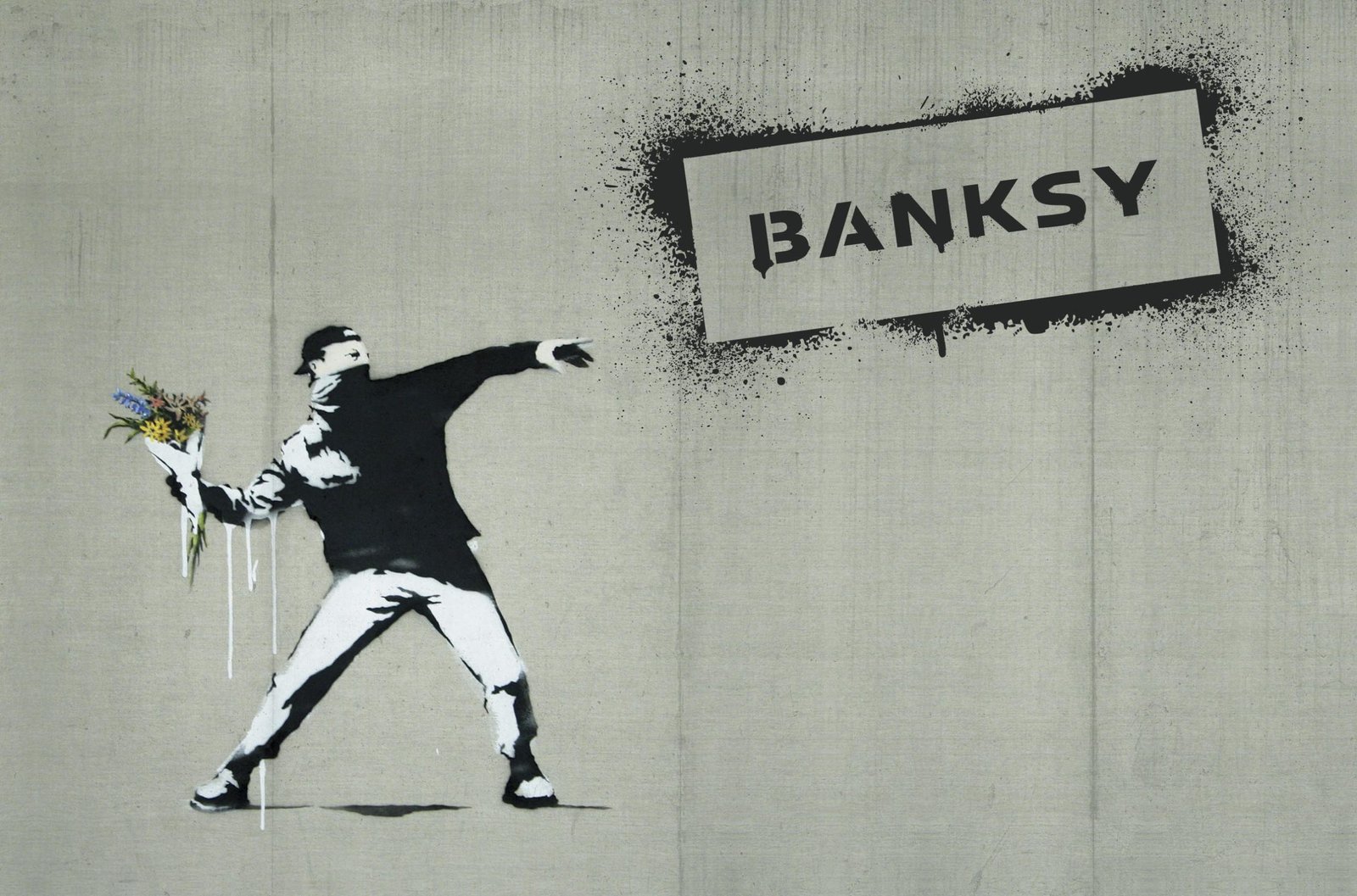 Banksy: Art with an identity
Beginning in late August, and for the first time in Buenos Aires, you can see an unprecedented exhibition of the work of the mysterious, controversial British artist Banksy, who is already a cult figure. 
By Paula Ríos
Photos: Courtesy, Getty Images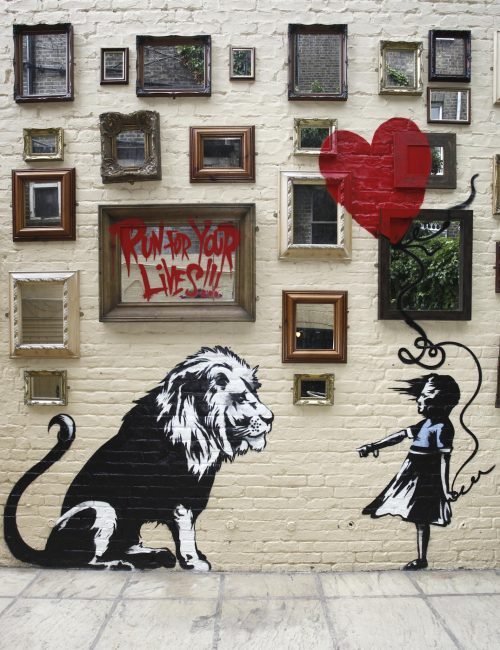 Banksy's unclassifiable talent and his original style have been seen on pristine, bare, damp, and crumbling walls across the world. Though he hides his identity behind a pseudonym, his works have sparked a revolution in the art world.  
Banksy's street and performance art is provocative and expresses dissatisfaction with the status quo. His critique of the art world led him to set up his own street stall in New York's Central Park, where he sold his original signed canvases for just sixty dollars. 
Banksy has pulled off more than a few pranks, including the creation of "Dismaland," a dystopian theme park ("unsuitable for children," in his words) in Somerset, England, where he displayed ten of his own works along with pieces by 58 other artists in a clearly ironic allusion to the idyllic universe of the famed mouse. On another occasion, he opened a hotel (Walled Off Hotel) with "the world's worst views," in front of the wall separating Israel and Palestine. He also shredded half of one of his works (Girl with Balloon) immediately after it had been auctioned off for £1.04 million. And in keeping with his style of peaceful resistance, he responded to the Covid-19 crisis by hanging a painting of a child playing with a super-hero nurse (Game Changer) on the wall of a Southampton hospital and then donating the work –which communicates a true paradigm shift– to the institution. 
With Crass playing in his head, Banksy got his start shaking cans of paint and imprinting his imagination on the walls of Bristol. Influenced by Parisian artist Blek le Rat, he recycled his images to shape his style and lift his voice. Banksy was also a part of the DryBreadZ Crew and worked with street artist Inkie. Both artists were persecuted by the police and accused of defacing public property. As a result of the police raids, Banksy began using one of his most characteristic techniques: the stencil, a simple time-honored method in which spray paint is applied over a pre-designed template.  
The artist presents ideas; he uses pop and punk styles to create combative works that highlight problems like poverty, inequality, war, violence, the vulnerability of children, and much, much more. Banksy is the symbol of the art that transcends aesthetic purpose, reflecting feeling and reality and fulfilling a greater mission; it is art that intervenes in our consciousness and invites us to reflect.  
"Banksy: Genius or Vandal?"
"Banksy: Genius or Vandal?" is now showing at the Pabellón Frers de La Rural in Buenos Aires. The exhibit has already welcomed more than a million visitors on its stops around the world. The show takes viewers on an unprecedented journey through original works donated by private collectors, including more than seventy creations made using various media and techniques like oil and acrylic on canvas, spray paint on canvas and wood, limited edition serigraphs, stencils on metal and concrete, sculptures, installations, videos, photographs, and virtual reality experiences. 
The exhibition also features a free audio guide (available in Spanish and English) that provides information about the artist and discussion of the works on display. The immersive multimedia installation, which highlights Banksy's most important pieces and outlines his eventful career, has already visited New York, Las Vegas, Brussels, Madrid, Barcelona, Milan, Lisbon, Tokyo, Hong Kong, Osaka, Hiroshima, Moscow, and Saint Petersburg.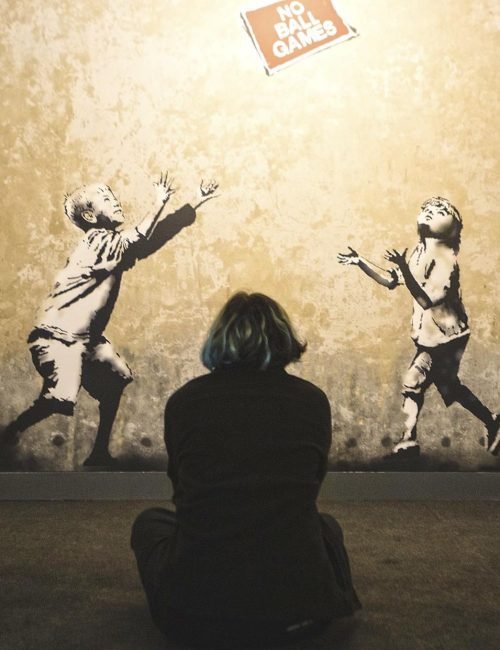 One of the works included in the show is Girl with Balloon, which features an image of a girl releasing a heart-shaped balloon. He first painted it on a wall under the stairs of London's South Bank. In 2014, he used a variation of this image for a campaign in support of Syrian refugees, adding the hashtag #WithSyria. The girl with the balloon later returned to the streets, in the form of a projection cast onto the Eiffel Tower no less! The animated video was narrated by Idris Elba and featured music by Elbow. The artist created several commercial prints of the image, including one that he destroyed after it was sold at a lavish auction. 
Love Is in the Air (also known as The Flower Thrower) is one of Banksy's most popular works. It shows a protester –dressed in a cap with a scarf covering his face– taking part in a protest. At first glance, he seems to be throwing stones or a Molotov cocktail, but a closer look reveals a bouquet of flowers in the protester's hand. The graffiti was originally painted, during Banksy's first trip to Palestine, on what is known as the Israeli West Bank barrier. The artist subsequently reproduced the image from the original template using various color combinations. 
Christ with Shopping Bags is a screen print released in 2004 in an edition of 82 prints. Despite its cult status, the image was never printed or reproduced again. In this work we see the crucified Christ —paradoxically without the cross— holding shopping bags in his hands. It offers a satirical vision of the true meaning of Christmas, pointing to values that are subverted by consumerism during a holiday meant to evoke peace, gratitude, and reflection.  
Also included in the exhibition is a version of Girl with Umbrella. After the tragedy wrought by Hurricane Katrina in New Orleans in 2008, while yet another hurricane threatened, Banksy painted fifteen of these images on the streets of the city as residents evacuated. Also known as Nola or Girl in the Rain, this is one of the only Banksy murals that can still be seen. It features a little girl with a confused expression carrying an umbrella that, instead of offering protection from the rain, is actually the source of the downpour. The artist reproduced several engravings of Nola in which the color of the rain is modified.  
Exhibition of the works of the artist Bansky
Banksy: Genius or Vandal? Is produced by Sold Out, IQ Art Management and presented in Buenos Aires by S2BN, DGE, and DF Group. It will be on display through the end of November at the La Rural Fairgrounds in Buenos Aires. Frers Pavilion. (av. Santa Fe 4363).