Los Carruajes: new gourmet market in Buenos Aires
After a long renovation process —awarded through bidding— the Mercado de los Carruajes in Buenos Aires hopes to become a global food hub. Since its official opening on February 15, the market has already attracted 43 food purveyors, with more to come soon.
By Paula Ríos
Photos: Paula Caffaro y Demian Colman 
The smell of coffee mixed with chocolate floods the premises as rays of sunshine filter through stunning, antique stained-glass windows in this restored building that has been named a Buenos Aires Historic Heritage Site. Exposed brick features prominently in the late 19th century structure, along with tiled and glazed ceramic walls, bronze door frames, and a majestic central dome.
This new and delicious food destination is located in the Buenos Aires neighborhood of Retiro (Ave. Leandro N. Alem 852). The two-story building with an elegant façade was built near the Government House in 1899, at the request of Julio Argentino Roca, to house the horses and carriages used by the president's office. Years later, the structure, designed by Italian architect Emilio Agrelo, served as a garage for several fleets of presidential vehicles.
Today, after a long renovation process —awarded through bidding— the Mercado de los Carruajes (The Carriage Market) hopes to become a global food hub. Since its official opening last February 15, the market has already attracted 43 food purveyors, with more to come in the short- and medium-term. "It is intended to compete with Madrid's Mercado San Miguel or New York City's Chelsea Market," Horacio Blanco, head of the market's board of directors, boldly asserts.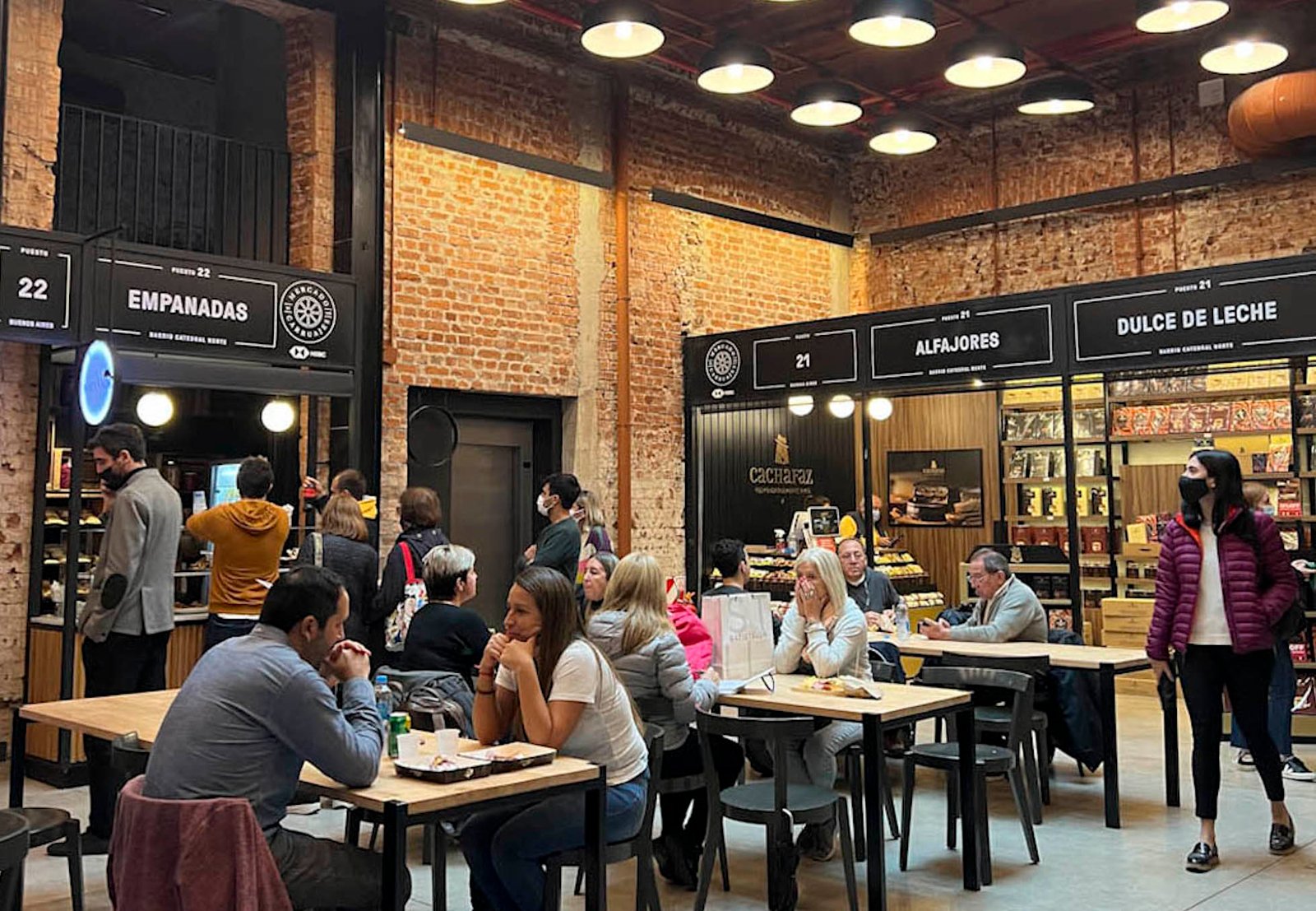 Daylight saturates the food hub, revealing the impressive variety of edibles. The diverse offerings include French pâtisserie, delicious cold cuts and cheeses, top-flight wines, organic vegetables, Japanese cuisine, Latin American fusion dishes, enormous savory and sweet crepes, and succulent grilled meats. There is also a flower shop and terrace bar, where green predominates the colors of the furnishings and the living plants that help oxygenate the surroundings. 
One of the most attractive and tempting businesses is tucked into a corner of the market. The classic Spanish chocolate shop, San Ginés, dates to 1894 and is renowned for churros and thin, crispy porras (fried dough sticks). Orders of churros —unusual in that they are not sprinkled with sugar— continuously flow out, ready to be ritually dipped into a cup of heavenly, thick chocolate. The menu also includes a large selection of fresh juices and sandwiches with serrano jam, chicken, or tuna, plus a vegan option.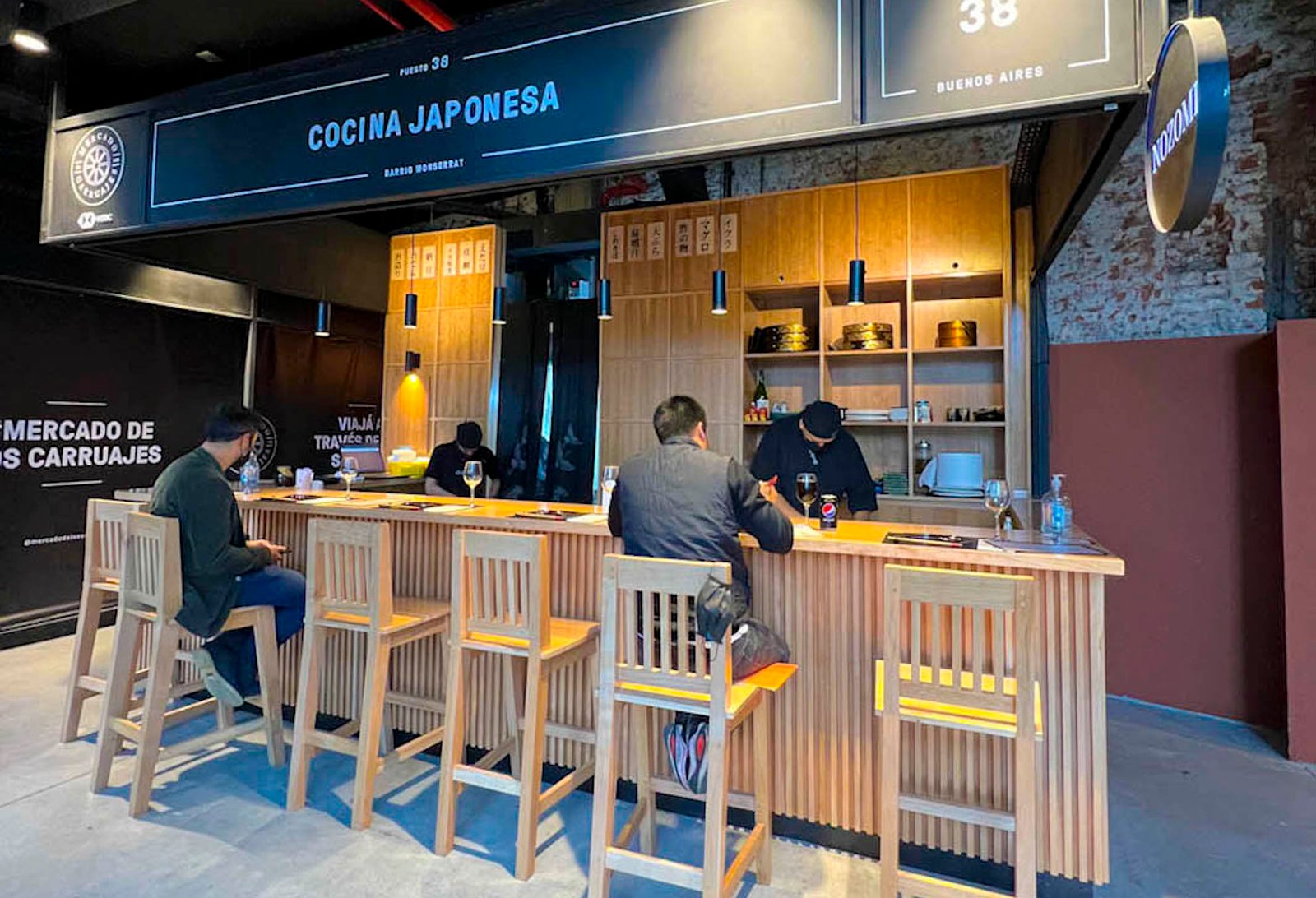 Turning left from the main entrance brings us to a colorful and eye-catching display case filled with pastries: brownies, crispy rum canelés (small fluted pastries with a custard center and caramelized crust), éclairs, macarons, tartlets…Gontran Cherrier is a little bit of France in Buenos Aires: it transports us straight to the Eiffel Tower and those Parisian cafés where you can sample croissants, pain au chocolat (chocolate croissants), and Viennese pastries. If you prefer something savory, don't miss the Mediterranean, smoked salmon, or veggie baguettes. Salads feature similar ingredients for a complete meal that will delight light eaters. 
On the first floor, grilled meats are the order of the day at La Cabrera al Paso, the legendary Argentinean grill created by chef Gastón Riveira. Diners can savor traditional cuts of meat, but the star dish is choripán. The chorizo sausage sandwich is accompanied by grilled bell pepper, lettuce, tomato, French fries, and a beverage. More than food, it's a feeling.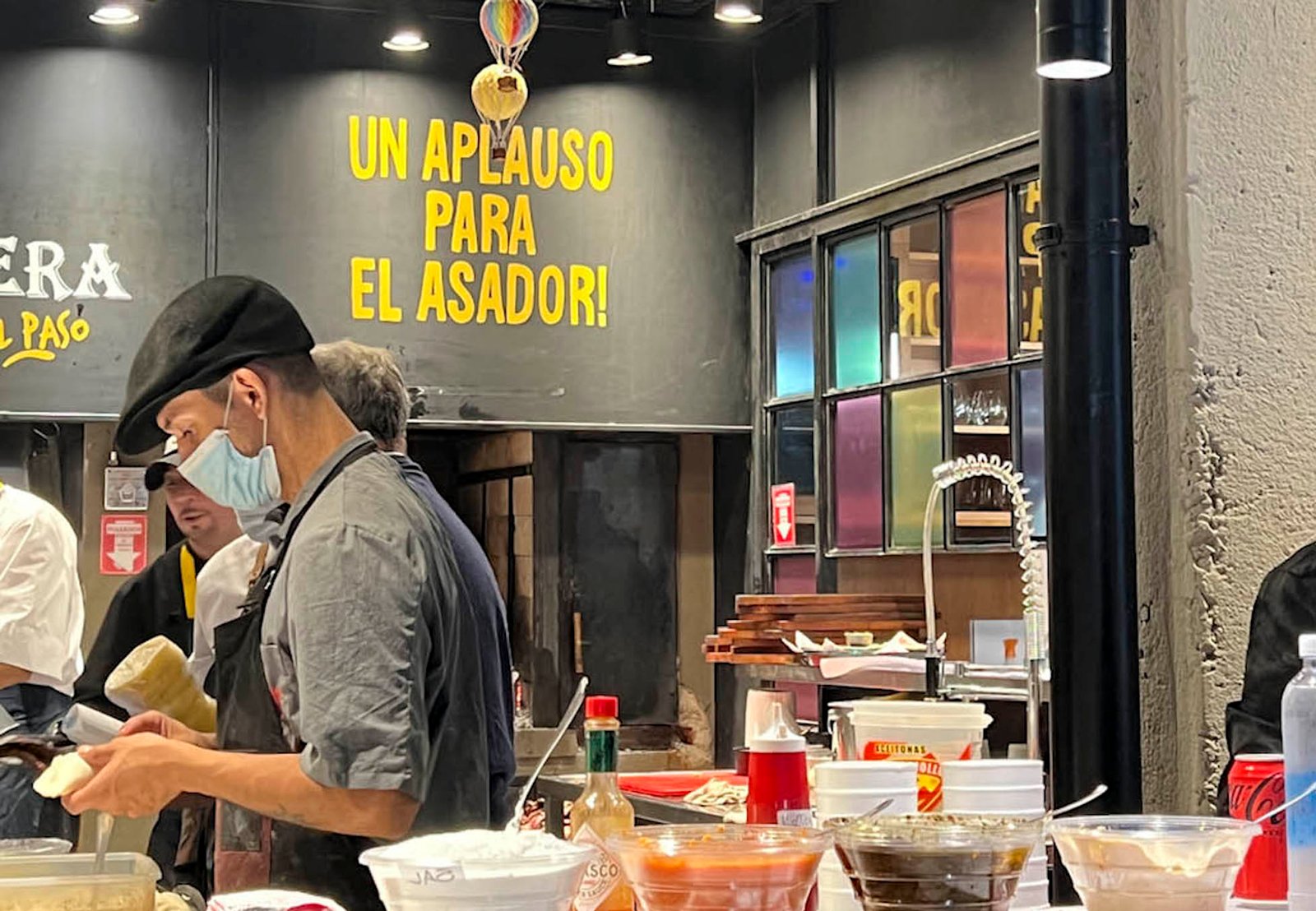 Continuing with our tour, we take note of the minimalist wood decor and spot a chef at work. Nozomi presents a five-course Japanese tasting menu for which the itamae (chef) composes a menu for the guests. There are also traditional dishes such as usuzukuri (shavings of white fish with trout roe), isobe ague (salmon wrapped in tempura-style seaweed, guacamole and ponzu sauce), and a wide variety of sashimi, nigiri, and rolls.  
Wild plants point the way to one of the market's essential stops: Amazonia Brasas, a kind of Latino fusion space known for its ceviches. Try jungle ceviche, with salmon, red onion, and passion fruit, or the Amazonian, prepared with sea bass, seafood marinade with tropical fruit, and plantain chips. And don't forget the octopus skewers and traditional cocktails like pisco sours and mojitos.
Patio de los Lecheros
Av. Donato Álvarez 175, CABA. 
At the beginning of the 20th century, a daily train brought milk here from dairy farms around the country. This is where milkmen (lecheros) loaded their carts with fresh milk for delivery. After years of neglect, in 2016 this enormous lot became the Patio de los Lecheros, a food haven that energized the Caballito neighborhood. The spartan open-air space serves grilled meats and Peruvian, Asian, and Mexican food in addition to pizza, empanadas, deli selections, and beverages of all kinds.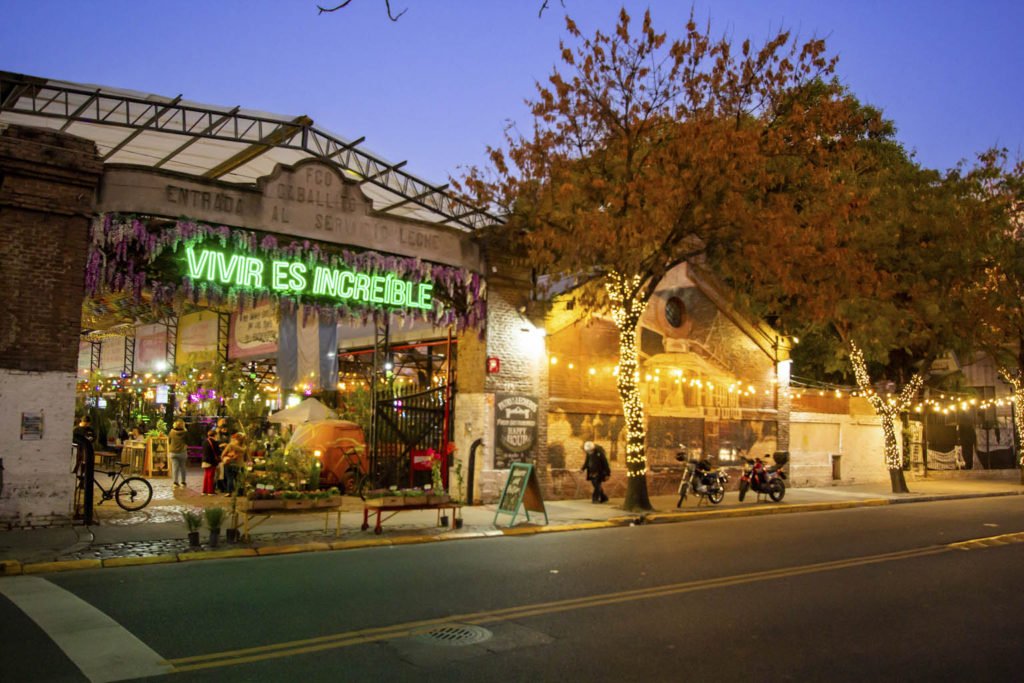 Mercat Villa Crespo
Thames 747, CABA. 
Sporting an urban vibe and modern design, the Mercat Villa Crespo houses more than thirty food stalls spread over three floors. They sell sweets, pastries, organic vegetables, Italian pasta, Asian food, wines, and beers. There is also an auditorium where events like cooking classes, workshops, tastings, and food fairs are held.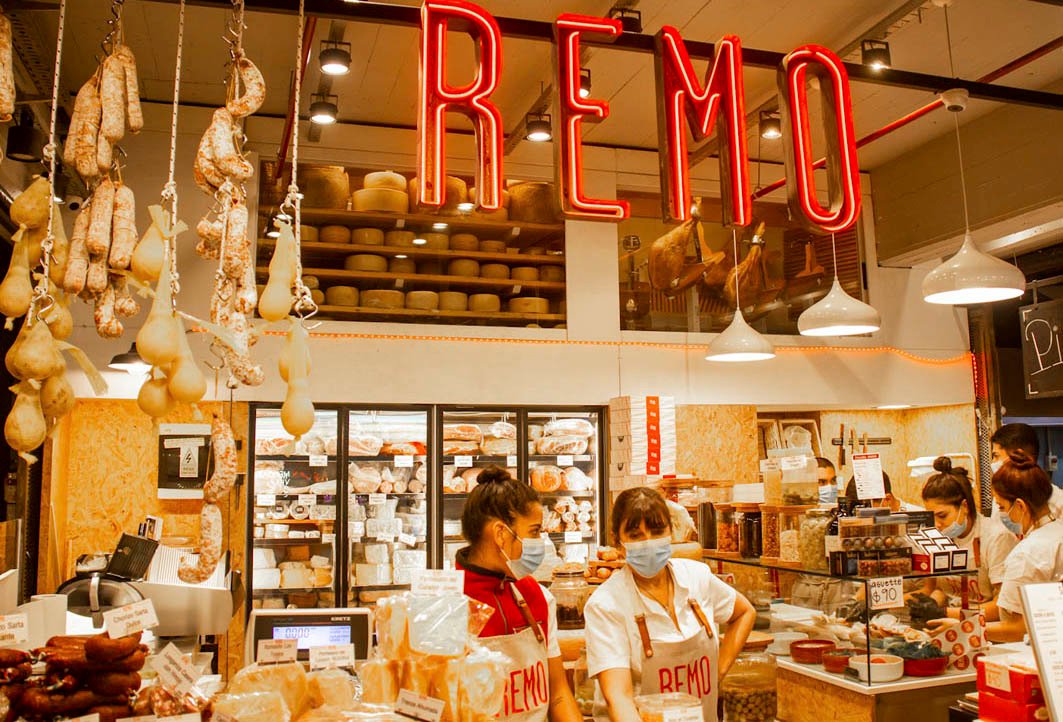 Mercado Gastronómico de San Telmo
Defensa y Carlos Calvo, CABA. 
instagram.com/elmercadosantelmo
Named a National Heritage Site, this lovely, old European-style building opened in 1897 to supply provisions to the new wave of immigrants. The original internal structure remains intact. Offerings include traditional coffees, classic Buenos Aires dishes such as grilled meats and choripán, along with Swiss, French, and Vietnamese delicacies. There is also a butcher shop and a rainbow of organic products. An amazingly eclectic range of products is available here in one of the oldest —and likewise most passionate about the tango— neighborhoods in the city.